Hornby Model Railway Locomotive Reviews - J83
---
---
Hornby J83. (R2164U) Rating 3/10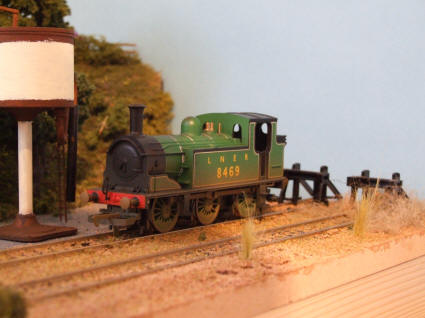 The Holmes-designed J83 was delivered to the North British Railway in 1901 and all forty of the class entered LNER service, with thirty-nine making it to British Rail ownership before the last of the class was withdrawn in 1962. The class was famously hard-working, with only three locomotives failing to manage a million miles and one, No. 9830, amassing two million.
Given the impressive nature of the prototype, it is disappointing to be so underwhelmed by the model. I will, as a result, be awarding this model 3/10 – it is even less accurate a model than the 4/10-awarded 'Smokey Joe' pug. However, there is an excellent reason why it is not 0/10, and I will explain it shortly.
But first, the detractions. This model bears a passing resemblance to the prototype, but there is little if anything that has been accurately reproduced. It is too tall and the wheels are too large. This is because it uses Hornby's standard 0-6-0 pannier tank chassis (albeit without traction tyres), with all its attendant problems – poor electrical pick-up, tendency to stall at low speeds, bizarre gearing giving a hell-for-leather top speed (I know of someone who has a J83 that will go faster than his HST!), and difficulty traversing insulfrog points. This last criticism is particularly pointed, as in real life this locomotive served as a shunter, and one would presumably use the model for this purpose on one's layout.
The livery is basic to the point where I wonder if it is painted at all – it certainly has the look of pre-coloured plastic. Having said that, the lining out of the side panels is done to Hornby's usual high standard. This example is weathered, which also serves to disguise some of the grosser flaws with the chassis detailing (or lack thereof).
The bodywork detailing is minimal to non-existent. There are no fitted wire handrails, representations instead being moulded in the plastic bodyshell (reminiscent of some of the worst aspects of Hornby Triang models, I'm afraid), and there is neither detailing in the cab nor glass in the crude cab windows. Couplings are of the large Lima 'D-ring' type, and the buffers are not sprung, although the rivet-work on the buffer-beam seems well done. Finally, the RRP on one of these is laughably optimistic. No one in their right mind would spend £45 on one.
Having said all of that, I shall now explain why this model is awarded 3 marks. It earns them for being absolutely brilliant at one thing. This is the perfect model for children who feel themselves too old for Thomas the Tank Engine (at, say, 8 years old) and who want something more like a 'grown-up train'. There is virtually nothing on the body of this locomotive that will get broken off by impatient little hands, and the warp-factor top speed gives the model quite a lot of play value. It is available as part of the 'Old Smokey' trainset, where it comes with two antiquated LNER clerestory coaches, manufactured with equally antediluvian tooling. Again, the play value of the set is high, even if its historical accuracy leaves a lot to be desired.
As I said, no one with even a modicum of sense would buy one for the same price as a Bachmann pannier tank or prairie, but they frequently crop up online separated from the 'Old Smokey' set at about £20 each (and with the reference number R2164U). This, I submit, is a far more reasonable price for a locomotive of 'Railroad' quality – although even the Railroad Jinty has fitted wire handrails. This is a model to be played with, and even with its many fearsome imperfections mine looks well enough as it rattles happily round my mainline with ten or so coal wagons.

Overall Rating: 3/10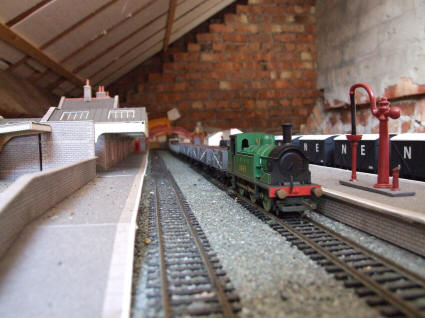 ---
Diesel and Electric Review List
---
Steam Locomotive Review List
---
Thomas The Tank Engine And Friends