Hornby Model Railway Locomotive Reviews - Class 31
Author "Peak" (forum member)
---
---
Hornby Class 31 (BR Blue weathered 31111) R2571 Rating 9/10
First impressions:
The model comes in a well-packed box, which protects the model from damage. It cost £55 from my local model railway shop. The packaging is easily removed without damage to the model.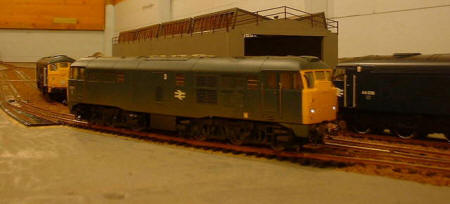 Included in the box were,
1. Instruction sheet.
2. Additional parts. Couplings, pipes and discs.

Detail: A quick look over the model proves it is very finely detailed with handrails and grab handles standing proud, especially on the roof (care must be taken not to damage these.) Bogies are also finely detailed. The model looks very much like a 31 although I have not measured it. The doors open and there is a working fan. There are also working directional lights. The model is finished in weathered rail blue with labels clearly printed, as are the numbers, the blue star codes are also clear on the face of the loco. The weathering is light but not so good on the bogies. A nice touch is that you can see the path of the window wipers as they have cleaned away the dirt!

I have fitted the pipes etc to one end of the loco (This is quite a fidderly task but well worth the effort) and the small Hornby coupling to the other.

Function: The loco has drive to all wheels and also pickups to all wheels. The loco's performance is smooth and quite with excellent slow speed response. The loco easily coped with nine Bachmann Mrk 1s even up my gradients.
Hornby Class 31 Features:
DCC Ready.
5 pole screw wound motor
All Wheel drive (Twin Bogie Drive)
All wheel pickup
Detailing parts
NEM Couplings
Sprung Buffers
Service Sheet: PDF ss-276D (128kb)

Decoder Fitting: I have fitted a Bachmann 3 function decoder to this loco which required the removal of the body. There are 4 screws to remove and you have to turn the bogies to get access to these, however I found that removal of theses screws was not possible, as the bogies do not turn enough! I had to remove the chassis from an upside down body leaving the loose screws in the chassis. There is an 8-pin DCC socket provided and plenty of room for the decoder underneath the circuit board.

Overall: Over all I would give this model 9 out of 10 with it only being let down by the bogie weathering. Hornby must be praised for there efforts with this loco, I would recommend it.

Class 31 Pictures:
R2421 - BR Class 31 CE 31110


R2413 - R2413 BR Class 31 31270 Weathered

R2649 - R2649 BR A1A-A1A Class 31 31165
R2420 - BR Class 31 BR Green D5512

R2572 - R2572 BR Class 31 BR Green
R2573 - R2573 BR Class 31 Fragonset
R2571 -R2571 BR Blue Class 31


---
---
Diesel and Electric Review List
---
Steam Locomotive Review List
---
Thomas The Tank Engine And Friends