Resources
---
---
Signs
Both road and rail use signposts to convey information for example speed limit signs. Nowadays signs are everywhere. To produce a good looking layout it is important to cover it in the correct signposts. This both gives you more detail in your layout and more accuracy. Below is a word document that you can download some signs which I have used on my layout.
Sample
Sign Sheet Download: Click Here
You can buy these from model shops but why buy when you can print your own. I printed mine on glossy photo paper and then painted the back grey for realism. I then mounted them on a length of thin metal rod which I also painted them an appropriate colour.
---
Brick
This is a red brick which has an old look to it. I have used it to line my loco shed. I am very pleased with the overall look of the building. All it needs is some roof tiles or corrugated sheets to finish it off.
Simply print this brick off on white paper (no need for photo paper as bricks are not meant to look glossy). You can resize them if you want them to be larger or smaller.
Sample
Brick Sheet Download: Click Here
---
Loco Shed
Simple print, glue to card and stick together.
Brick Loco Shed Download: Click Here pdf
---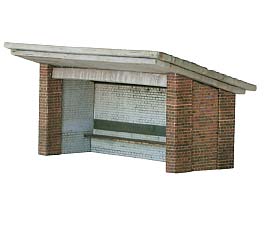 This free downloadable shelter has been provided by
Scalescenes.com
, so you can see for yourself how easy it is to download, print and create realistic scale buildings for your layout.
Scroll down, select your scale below.
Includes bench seat and easy to lay roof tiles.
Realistic optional graffiti for modern image layouts
Easy to follow illustrated instructions.
Available in OO and N scale.
---
Future
I hope in the near future to create buildings that can be downloaded and assembled but I will have too look in to this.
If anyone has any resource they would like to share please email me at: info@newrailwaymodellers.co.uk