Hornby Model Railway Locomotive Reviews - Class 67
---
---
Hornby Class 67 (Rising Star 67027) R5222 Rating 7/10
The Hornby class 67 is based on the Lima tooling acquired when Hornby purchased Lima. The class 67 is not the most beautiful locomotive but I cant hold this against the model.
Function: Although this model lacks some detail this model is fully fictional under the bonnet so to speak. The Hornby Class 67 comes with all wheel drive, powered by a 5 pole skew wound motor. This model is DCC Ready and comes with the usual DCC chip sleeve. It has no traction tires and and has pickups on all wheels. Tested on DC operation it had excellent slow speed control as well as a respectable top speed. The loco managed tight corners and standard points with no problem and seems to have more than enough power and weight to pull a descent sized train. I have not yet tested it on DCC operation but I would expect it to be very similar to DC operation
note: When also tested using a DCC controller using the DC control option it was very noisy and slow. I would not recommend this method of control but then as it is DCC ready it is simple enough to fit a DCC chip.
This model has directional front lights only. This is not necessarily a problem as it should spend most of its time pulling coaches or wagons.
Detail: At first glance it looks like a very highly detailed loco but when you look closer you realise that the grills are painted on and you cant see through them. The most detailed part of this model seems to be the bogies which do look nice.
This model only comes with standard tension lock couplings which can be removed if like me you prefer not to have a coupling on the front of the loco. Detailing features on this model include glazing flush with the body work, window wipers, detailing pack (includes break hoses chain couplings), moulded exhaust manifold, and detailed bogie. This model does not have sprung loaded buffers.
The interior of the cab is poor with no driver and no room for one to be put in because the floor of the cab is about the same height as the window. I believe this the result of the transfer box which transferring the power from the motor (mounted in the middle) to the bogie intruding in to the cab space.
Hornby 67 Features:
DCC Ready.
5 pole screw wound motor
All wheel Drive
All wheel pickup
Detailing parts
Directional Lights
Service Sheet: PDF ss-290-259 (208kb)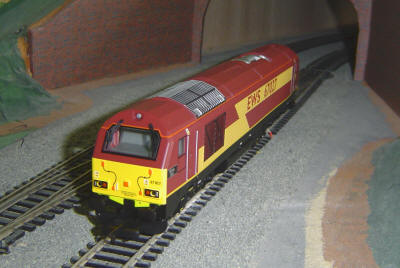 Overall: I was tempted to give this model a "Recommended" rating but it had too many minor limitations (cab detail, standard couplings) that I could only give it 7 out of 10. I think it is unlikely that this model will be improved any more in the short turn as their are many other models crying out for retooling like the class 37, 56 (soon to be released), and 47.
Class 67 Pictures:
Available liveries:
---
Diesel and Electric Review List
---
Steam Locomotive Review List
---
Thomas The Tank Engine And Friends