Hornby 2008 Product Release Information
---
---
---
Highlights of the 2008 Product list
---
Hornby SkaleScenics - Long seen as the weak link in Hornby's range. The Announcement of a new extensive range of scenery materials is very welcome. The range includes a wide selection of ground cover, gravels, foliage, and trees (including tree kits).
---
Hornby SkaleAutos - To accompany the new scenery products Hornby are to produce a range of quality 1:76 diecast models under licence from oxford diecast. "The ever growing range of model cars, buses and lorries will over time cover all the key periods in railway modelling history." The initial range of cars, lorries, and buses will be released through the year on a relatively frequent basis. Click here to see the range
---
Hornby Skale Lighting - Another Skaledale accompanying product range is Hornby Skale Lighting.
The range is designed for use with Skaledale and Lyddle End buildings. The range consists of 6 items designed to allow you to easily use the accessory power output of your controller (12V - 16V AC/DC) to bring realistic lighting to your Skaledale model railway buildings. Click here to see the range
---
Hornby Railroad Range - Now into its second year the Railroad models introduced to cater for Beginners / New Enthusiasts is to have 7 new locomotives, 5 new wagons, and 2 new coaches added to the range. The Range is also to have its own Train Set (R1107 Bartello's Big Top Circus Train Set). The new models also include locomotives that are both DCC ready (R2775 Regional Railways Class
37, R2785 BR 'Evening Star' Class 9F, R2779 LNER 'Falcon' Class A4 and R2707 Virgin HST Pack) and DCC fitted (R2738X BR 'Mallard' Class A4 DCC FITTED). To go with the Class A4's in this range is a version of Hornby's LNER Teak Composite and Break Coach.
The Ex lima car transporter has been added to the range along with a double level car unloading Terminal R8263. The car terminal is definitely designed to give operational interest to young modellers and is a toy rather than a model.
It's no surprise that the very popular Virgin HST has been added to the range as a loco pack especially with the announcement that Hornby will be producing a super detail version of the HST this year. Click here to read on
---
Diesel and Electric Locomotives - This year the Class 153 is to be given the super detail treatment. The model is to feature a motor bogie (5-pole skew wound), directional lighting, NEM couplings, and will come in both DCC Fitted and Ready versions. The Class 153 will be available in 5
liveries; Central Trains, Northern Rail, Arriva Trains Northern, Arriva Trains Wales, and Wessex Trains.
As well as different liveries of 2007 models Hornby have also re-released the class 87 and 86, from the former lima tooling comes the class 20 which is to have new detailing including windows and a new chassis with the new motor bogie (5 pole skew wound motor).
Also, note the welcomed introduction of DCC Sound to the Class 56 and 60 Click here to see the range
---
Steam Locomotives - 2008 sees 7 special or limited edition models, 3 totally new steam locomotives and a raft of old favourites in new guises allowing an increase in options for people already possessing members of those classes. Click here to see the range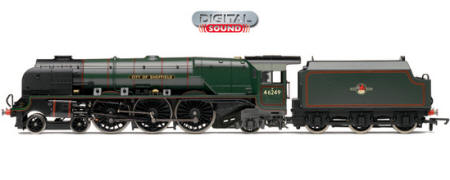 Also, note the welcomed introduction of DCC Sound to the BR 4-6-2 Duchess Class (R2782XS)
---
Train Sets - After the release of a new range of train sets in 2007 including 8 analogue sets and 4
digital sets, Hornby will only release 1 new set in 2008 - a Digital Eastern Pullman (R1097).
---
Train Packs - The HST will be released in 5 liveries (Virgin, BR InterCity Executive, BR InterCity, Grand Central Trains & GNER) The models will feature all wheel drive, directional lighting and come in both DCC Fitted and Ready versions. Click here to see the range
---
Track Power and Control Accessories (DC and DCC) - Along with the addition of a 4th radius track (following on from PECO's introduction of a single 4th radius track in 2007), we shall see a redesigned standard controller using the control knob from the digital controllers. Like the previous version it also requires a wall mounted transformer to operate.
To counter the appeal of the Bachmann Dynamis, Hornby are to release a wireless (IR) hand held controller called "Access One". Connected to the Hornby Elite you can enjoy totally wire free train control. The Infra Red handheld unit includes many features that are incorporated into the Elite control including selected CV changing, large 4 digit display plus function control. The Access One IR Control may also be connected to the Hornby Select Unit but with limited function control.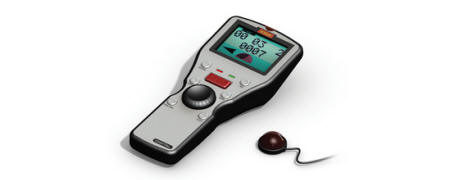 In the digital range of accessories Hornby are to produce a new loco decoder called the "Sapphire Decoder". This decoder will be available in 2 sizes (R8245 Sapphire Decoder and R8246 Mini Sapphire Decoder). Set amounts of "water" and "fuel" can be stored in the Sapphire providing real time fuel consumption. Burn rates can be selected. The decoder has a low speed "gear" for shunting operations.
To allow for operation of standard motors Hornby are to produce an Accessory Decoder (R8247) which will produce via changing the settings of the CV's graduation of varying "bursts" of current up to a constant current.
Hornby's new surface mounted point motors which were expected at the end of 2007 will now be released in 2008. Click here to see the range
---
Coaches - As well as a selection or re-liveried and re-numbered coaches there is also an addition to the Maunsell coach range. Click here to see the range
---
Wagons - New for 2008 is a Shark Brake. Produced in Loadhaul, EWS, and Departmental liveries this new model features NEM couplings and detailed interior and exterior.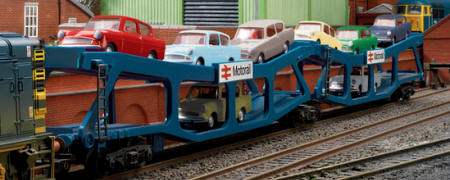 Along with this new model comes the return of some older models. To go with the new SkaleAutos range Hornby are to release the Cartic Car Transporter (R6397) with 8 SkaleAuto cars to go along with the exiting Carflat car transporter (R6398) which has finally lost its plastic Ford Sierra for 3 of the new SkaleAuto vans. Click here to see the range
---
Skaledale - There are lots of new additions to the Hornby Skaledale range including more modern and industrial buildings. Last year we had a complete Gas Works. This year Hornby have produced a complete Coal Mine. There is not much to say about these models except they look realistic. I will leave it up to you to pass judgement on them. Click here to see the range
---
Lyddle End - There are 37 new additions to the Hornby Lyddle End range including a complete Mine Workings. There is not much to say about these models except they look good. I will leave it up to you to pass judgement on them. Click here to see the range
---