---
---
---
Contents
---
Intro
There are many manufactures of model trees, suitable for any gauges of model railway and buying them is often a quick and depending on manufacturer relatively cheap way to cover your layout in trees. The quality, look and price of the trees varies drastically between manufactures. If you don't like the idea of making them read the reviews of trees I have experience of below. click here
If on the other had you want to spend the time to make your layout look unique and actually make your trees and bushes you couldn't do better than to read Pete M's article on building Model Railway Trees for Sea Foam.
If you personally have a method of making realistic model trees please let me know so I can post it here. Email me at info@newrailwaymodellers.co.uk
---
When positioning your trees try to bare in mind the loading gauge of your widest and longest rolling stock. Better to find out if they are too close before you glue it in place.
In the past trees were cut down near railway lines due to the problem of leaves on the line. This is especially the case near stations as leaves can make it impossible for a locomotive to pull away after taking on passengers. On the Lincoln to Peterborough line trees have been cleared from around stations for this very reason, and I would assume this is a practise on other lines.
There was also the danger of fires caused by the burning embers from the chimneys of steam trains as well as sparks from the tracks. Nowadays burning embers are not a problem but the proximity of large trees to overhead power lines are. Trees can be brought down in windy conditions, blocking the line and bringing down the power cables as well. Tree branches can also trip out the power lines resulting in them having to be reset.
Bare in mind this information when locating your trees. Or like me and many other modellers, ignore it and just make your layout look good.
---
Hornby Skale Scenics Sycamore Tree Kit (R8944)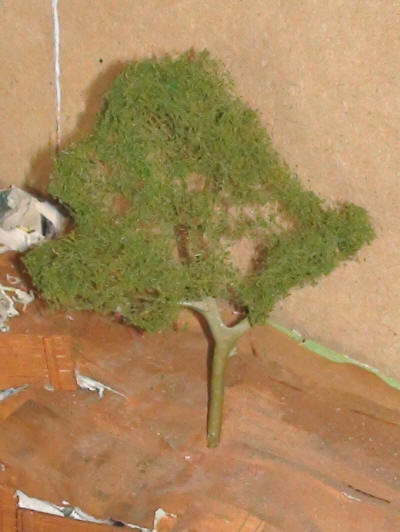 This Sycamore Tree Kit includes 16 flat tree armatures with three bags of fine foliage clusters. You will also require (but is not included) some glue to secure the foliage to the armatures. I would recommend a glue spray such as Deluxe Scenic Spray.
First of all you will need to bend the branches of the tree armature to the desired 3 dimensional shape remembering that trees are not perfectly symmetrical. I would use some pictures of real trees to guide you in shaping the armature.
Once you have the armature into a shape you like, take some of the foliage out of the pack and pull it apart without detaching pieces from the whole. Spread this over the top and spread it over the branches.
What you are trying to do is create the outer shape of the tree. You should try and ensure that none of the branches are sticking out beyond the foliage.
Once you are happy with the shape you have created, simply spray some clear drying glue over the top (I used Deluxe Scenic Spray) and sprinkle over some of the loose foliage scatter that has fallen off.
To the right you will see Hornby's representation of this kit in use and above and to the left is my second attempt.
From looking at the ready made trees in the Hornby Professional Skale Scenics range you can see that the materials in the kits are the same. I would expect that after some practice you could create trees that look as good if not better. For the price of £8.99 (RRP) you have the potential to make up to 16 trees which I think you will agree is a bargain.
Click here to see a video of me making a tree with this kit.
---
Sea Foam:- Quick and easy, great looking trees.
So you've finished the landscaping, you've covered every inch with scatter and your mind now naturally turns to trees; that essential feature that takes you from wasteland to landscape. So what are the options? Well as in nature there are endless different varieties to choose from, the most common being the array of 'bottle brush' trees.
The effect can vary from unconvincing (far left) to not too bad (2nd from left), strange topiary (3rd and fourth from right) to strange continental (5th from left). The little cherry tree on the right being a nice 'architectural' cherry tree from 'Busch', ok on it's own but hardly suitable for a wood. On the whole the effect is unconvincing and in large numbers will give your layout a strange German Expressionist landscape.
So what's the solution? You could try etched brass:
(Authors view of etched brass trees.)
Or you could try Sea Foam. Still not the cheapest option, but if you've spent a few hundred pounds on rolling stock and locos, endless months building and testing your layout, why compromise on the scenery. For £20.00 you can buy a big box of Sea Foam (I think smaller boxes may be available).
Assuming you don't want bare trees in mid winter, you will also need, some fine foam flock (about £1.40-£2.00 a bag), and a spray adhesive (£5.00+) (diluted PVA in a plant spray will work). You may also have to hand a scissors, craft knife, tweezers and a sieve.
Production is quick and simple. Select a stem of sea foam, trim/pluck to your desired shape and size.
Spray all over with adhesive and sieve the flock onto the 'sticky' stem, make sure you give it a good coverage, although bald patches can be touched in after.
A quick shake, to remove the excess, and put to one side to allow to dry.
Instant tree in less than a minute. And a wood in less than ten minutes!
Planting on your layout is easy, drill a small hole just smaller than the stem, dip the base of your tree in neat PVA and insert. You may wish to cover the excess glue with a bit of fine scatter.
The bushes around the tree are coarse clump foliage
For even better trees, mix various shades of flock to achieve a more varied colouring. The finished trees can be airbrushed with some highlights. The trunks can also be painted to give variation in colour, pretty much anything you fancy!
Depending on the size of tree you make, a box should provide you with at least 40 good trees, any clippings and scrags can be utilised as undergrowth, nothing is wasted. They make great specimen trees for your main scenic areas, but similarly good coverage for the backgrounds. The final trees probably cost in the order of 50p-£1.00 each, less than a better than average bottle brush. Savings can be made in making small trees (so you get more for your money) also you can use up all your excess and left over scatter and flock for foliage, (even static grass looks good!).
Give it a go, you won't be disappointed!
---
Manufactured Model Tress Reviewed
If you are not interested in making your own trees your only other option is to buy them. There are an endless number of manufactures but I can only speck for the ones I have purchased.
In the past I have used Gaugemaster trees. You can buy an assorted bag for £10 which will have more than enough trees of different sizes to fulfil you needs.
A. Gaugemaster tall model tree large pack 10+
B. Gaugemaster model apple tree £3+ for three
C. Gaugemaster small model tree in blossom. Large pack £10+
D. K & M Large model deciduous tree. £1.50 each
Model tree "B" and "D" are my favourite and are also the most expensive. I like the "B" because it is not un uniformed shape. Trees very rarely grow perfectly round unless they are conifers (and I should know as I have a degree in forestry). Best to pick a variety of trees to give a more realistic look. Although the large Gaugemaster trees packs are cheap, the packs contain trees that are almost identical (except in size and blossom) and that have the same uniformed roundness, which is not often found in nature. They are great for an avenue of trees were uniformity is what you are looking for.
If I were to buy ready made trees I would go for the Hornby Professional Skale Scenics range of trees as they produce a far more realistic look than any of the above mentioned trees.