Hornby Model Railway Locomotive Reviews - 'Princess Royal' Class Pacific
---
---
Hornby 'Princess Royal' Class Pacific. (R2448) Rating 7.5/10
The 'Princess Royal' -class pacific's were designed by William Stanier and constructed for the London, Midland and Scottish Railway between 1933 and 1935. They were designed to haul the fast express train 'Royal Scot' (the rival service to the LNER's famous 'Flying Scotsman') from London Euston to Glasgow Central. By November 1962 the last of them had been withdrawn from service, although two have since been preserved.
Hornby's model captures the look of the prototype well. These were large, graceful engines, and Hornby has accurately reproduced what was, for many, the most elegant pacific to run on British metals.

The model is locomotive (as opposed to tender) driven, with electrical pick-ups on all wheels, giving it a very large electrical footprint to facilitate smooth slow-speed running. The motor is very responsive, but my major criticism of the model lies with the motor's power output: the model seems underpowered. It will stroll away with a twelve-coach train, if you have the space to run such a thing, but it won't achieve a scale top speed with it. The engine could do with being considerably heavier, and it could use a more powerful motor.

Aesthetically, the model's various liveries all seem well-applied. The real locomotives enjoyed many changes in colour and livery during their lives, with LMS maroon, BR Blue and BR Green all appearing at one stage or another, enhancing the appeal of the model. My example, the 2007 release of 'Lady Patricia', is in BR Blue with factory-applied weathering, and you can see for yourself how well it looks. It is particularly impressive when coupled to Bachmann BR Mk1 coaches in crimson and cream.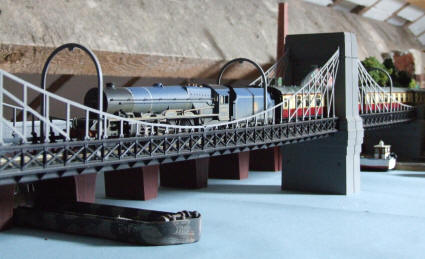 I have one final reservation. Although the front coupling is a narrow tension lock coupling in an NEM pocket (not fitted as supplied), due to the redesign of the locomotive chassis to incorporate the motor (the Princess Royal class has been part of Hornby's range since time immemorial, but until 2000 only as a tender-driven locomotive), the older tender design still has a Lima-style large 'D-ring' tension lock coupler. This is not only unsightly but may cause problems when running with NEM-coupled stock. Although mine runs well with the Bachmann Mk1s, tackling 2nd radius curves at full speed, derailing is a real danger with Hornby's Pullmans. This is because the coupling on the Pullmans is mounted on a swivelling pivot, but the action of the pivot is too stiff to cope with the broad D-ring on the Princess's tender. Thus Pullman trains, at least on sharp radii, need to run more slowly. Having said that, you can see that on straight track at least a commendably close coupling between locomotive and stock is achieved.

Overall this model is well worth buying. It looks excellent, is a huge improvement over the older tender-driven versions, and is mechanically sound (it will run for hours non-stop without problems). My reservations about it only apply to those wishing to run scale-length expresses at speed, or fast Pullmans round tight corners, but given that these are likely to affect a minority of modellers they can be safely ignored by the majority.

Overall Rating: 7.5/10
---
Diesel and Electric Review List
---
Steam Locomotive Review List
---
Thomas The Tank Engine And Friends