Model Railway Scenery Review - Mid-Terraced House
---
---
Hornby Skaledale Mid-Terraced House (Left and Right) - R8621 and R8622 Rating 7/10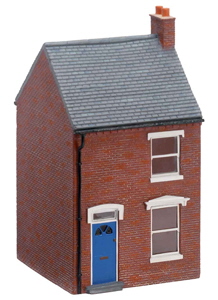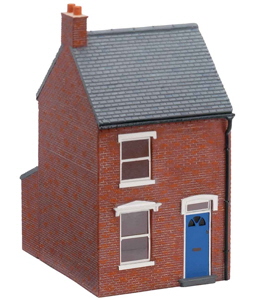 Review: What a lovely detailed buildings. This Hornby skaledale terraced house looks like time has been well spent on ensuring everything is done to make this building look realistic.
The roof tiles have not all been painted one colour, some of the tiles have been individually painted a dark grey or light grey to highlight the individual roof tiles. This also appears to have been done on the brickwork on all sides of the building, some are painted or decorated a brighter red. On each side of the house you will find a drain pipe, all these little details add to the realistic look.
Although the windows are made from plastic it only lets the house down when looking up close.
Both the front and back doors have been painted blue, with the handles and letterbox painted dark brown to add to the very nicely decorated house and I feel makes them stand out from the rest of the house.
The only real let down I found personally up close is the painted white painted windows ledges, but this is not noticeable at a distance.
I feel that both buildings would look good on any layout.
---