Model Railway Scenery Review - Coal Hopper
---
---
Hornby Skaledale Coal Hopper - R8712 Rating 2/10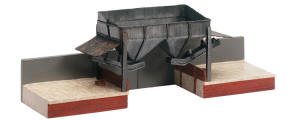 Review: The Skaledale Coal Hopper comes in three pieces, two side platforms with one centre metal coal hopper unit. Detailing on the side platforms is minimal but realistic. Both side platforms are weathered making it look like coal has dropped onto the platforms. The grey back walls could use some weathering to help add to the realism.
The metal centre coal hopper unit itself doesn't look brilliant. It appears to be poorly constructed, with a few sharp areas. The two conveyers underneath the hopper have a good level of detail but have been poorly fitted to the hoppers. Rusting has been added to the side covers, two chutes and coal shields. The two hoppers do have two holes at the bottom for the coal to fall through. Hornby Tender Coal 15g - R8112 might be suitable
This model could look impressive but there are areas which really let it down. The two side platforms are well constructed and I have no complaints about them, but the coal hopper itself, has been poorly put together. Some of the welding of the metal legs and two chutes hasn't been completed, leaving sharp edging. On this particular model I found a chip in the top of the metal which you could catch yourself on, so be careful when handling this item out of the packaging. I would strongly suggest filing down any sharp parts, before adding to any layout. Three out of the four coal hopper units legs are not straight, and this is very obvious when looking at the model head on, with all legs having sharp edging.
Overall, the problems found with this model could only be on the one being reviewed, I shall take a look at a few more and update this review shortly. Currently I cannot recommend anyone purchase this model unless they are willing to put the time and effort into reconstructing it.
---