Bachmann Model Railway Locomotive Reviews - J39
---
---
Bachmann - J39. (31-854) Rating 8/10

Nigel Gresley designed the J39 in 1925, with the first entering service with the LNER in 1926. It rapidly became the Group Standard 0-6-0 goods locomotive and eventually 289 were built, making it the single most numerous of all Gresley's designs. They proved competent on all the traffic they handled, which ranged from short pick-up goods to heavy coal trains to express passenger services in the summer excursion season. All were withdrawn between 1959 - 1962, with none finding their way into preservation.

Although they might be called handsome by a good-natured liar in the dark, it is fair to say that these engines' charm did not rely on their beauty. Rather, they are a supremely functional design, and the relatively heavy weathering done by Bachmann on this version highlights the hard-working nature of the prototype.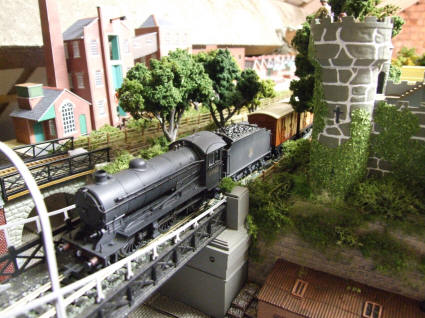 The Bachmann model is one of their older offerings, as it still has a split-frame chassis. While this adds considerable weight to the locomotive, it makes conversion very difficult for those operating DCC systems. It is definitely not DCC ready! Performance-wise, the model reflects the competence of the prototype, having no difficulty on my layout with 20+ loaded coal wagons up a slight grade. Controllability is good, with the motor responding sensitively to input from my Gaugemaster controller, although it suffers from the traditional Bachmann defect of having no electrical pick-ups in the tender. The model thus has an electrical footprint similar in size to Bachmann's GWR pannier tank.

This particular model of 64960 comes with slim couplings and in BR unlined black, with the large early 'cycling lion' logo apparent under a layer of dirt on the 4200 gallon tender. The livery is well applied, with the weathering particularly effective: it is, as I said, relatively heavy by RTR standards (although specialist weathering services such as that offered by TMC would no doubt consider it no more than 'medium' weathering.) As such it is ideal for those modelling a realistic early BR scene, and the model's versatility as both a passenger and a goods engine ensures that there are plenty of layouts on which one or more will find a home.

Overall Rating: 8/10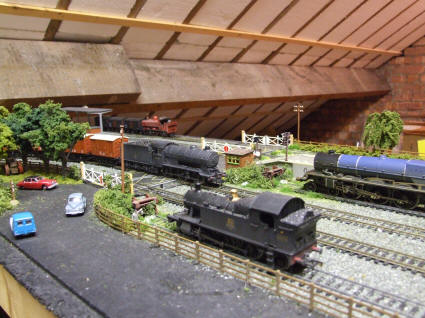 ---
Diesel and Electric Review List
---
Steam Locomotive Review List
---
Thomas The Tank Engine And Friends