Model Railway Electrics - Lights
---
---
---
There are two types of lights, Filament Lights and Light Emitting Diodes (LED's)
Filament lights (incandescent lights)
Filament lights produce their light as a result of passing electricity through a thin piece of wire (filament). The electricity passes through the wire heating it up until it produces light. The glass bulb stops oxygen from reaching the filament which would result in the wire burning out.
The most common filament lights used on model railway layouts are "Grain of Wheat" and "Grain of Rice Bulbs" due to their small size. Filament lights can come in many colours although the colour comes form the colour of the bulb/lens rather than being produced by the filament.
Because filament lights produce light by heating wire it is not surprising that the bulb itself also becomes hot. This can pose a fire risk in some circumstances. This heat is a waste product and accounts for approximately 90% of the power consumed meaning filament lamps are very energy inefficient.
Filament lamps do however produce a more natural light. As filament bulbs have in the past been the main source of light in homes it is not surprising that they still produce the most realistic light when lighting model railway buildings. LED's tend to produce a light that is more akin to that produced by modern energy saving light bulbs than the incandescent bulb. The time period you are modelling may affect your decision on lighting.
Grain of Wheat and Grain of Rice bulbs often come pre fitted with wires to allow for easy connection to a power source.
Where to use: Street lights and Building lights.
Advantages: Produces a more natural white light. Light is not restricted to the direction of current they are connected to.
Disadvantages: Become hot when in use, less reliable than LED's, more
power hungry than LED's, and are more fragile than LED's (glass bulb).
Light Emitting Diodes (LED's)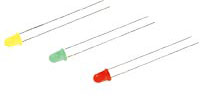 It is important to remember when using LED's that they can only be connected one way round and for this reason you should use a Directional Current (DC) power supply. You should connect the positive (+) wire to the anode (a) and the negative (-) wire to the cathode. You can identify the cathode and anode by the length of the lead coming from the LED. The shortest lead is the Cathode (you may also notice that the cathode side has a flatten surface.) and the longest lead is the anode. If you are unsure because for example you are using salvaged / second hand LED's you can look inside the LED. The side with the largest wedge shaped electrode is the cathode. Of course you can simply use trial and error.
You can connect LED's to an Alternating Current (AC +/-) power supply but the led will only light when the current is the correct way round resulting in the LED turning on and off at the frequency of the AC power supply.
LED's require a very small amount of current. Standard LED's usually require a resistor to be placed in the circuit to reduce the current. Failure to do so will result in the LED burning out and becoming unusable. A 1k resistor should be enough to connect an LED to a 12V (volt) or less power supply.
LED's are available in a range of colours although you will pay a premium for Blue and White. LED's are also available in a wide range of shapes (round, square, rectangular, and triangular) and various sizes. Personally I tend to use 3mm (millimetre) LED's when the LED is to be on show as they are closer to scale without becoming too fiddly to wire. I have used them to build railway crossing lights, and railway signals but they would also be perfect for streetlights.
1.8mm rectangular LED' s are perfect to be converted into railway lamps by simply painting them and using one of the leads as the handle. I have also seen them widely used for locomotive directional lighting.
In general round LED's are easier to fit as they only require a hole drilled or you can use LED panel clips. LED holders provide a quick and effective way of connecting your LED to a power source without the need to solder wires onto LED's.
Tri-colour LED's - LED's also come in Tri-Colour combination of which the most useful version is the Green / Yellow / Red.
The LED comes with 3 leads one of which is the common feed, one for the Red and one for Green. The yellow is produced by supplying power to both the red and green LED. The mixing of red and green produces yellow.
Where to use: If using batteries, Where heat is a problem (fire risk), When requiring large numbers of lights.
Advantages: Low power consumption, Very reliable when correctly powered, Does not get hot.
Disadvantages: Can only be connected one way round when using Directional Current (DC).
---