---
N Gauge Class 150 and Class 101 Update
(16th April 2007)
Bachmann Europe Plc has today issued the following statement to clarify the position regarding two of its forthcoming models in the Graham Farish N Gauge range.
Development work on the Class 150 is now proceeding apace following completion of the drawings. This applies also to the OO gauge model being produced in parallel.
The Class 101 requires a new chassis and samples should be available towards the end of the year. This is the last of the original Graham Farish models to be reintroduced and over the last 7 years Bachmann have extensively re-engineered the old range. Bachmann can now concentrate fully on expanding the Graham Farish range with an exciting programme of new models.
---
Underground Ernie track packs now available (16th April 2007)
Bachmann Europe Plc has today released track packs A, B, C and D to extend the Underground Ernie Circle train sets. The track components allow the layout to be extended as outlined on the track mat supplied in the set.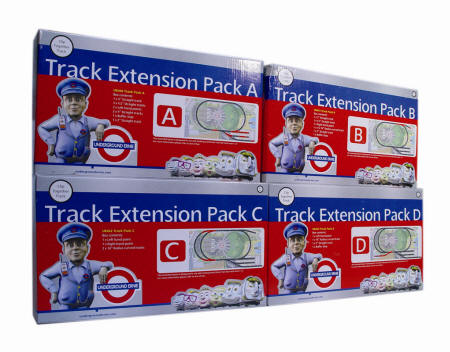 Four different track packs are available. Track pack A (UE450) retails at £19.99, B (UE451) at £13.99, C (UE452) at £15.99 and D (UE453) at £11.99.
Further track packs, trains and accessories are being developed for release later this year.
---
Mehano ICE3 takes to the rails (4th April 2007)
Mehano have released an HO model of the DB (German Railways) ICE 3 (Inter City Express) electric multiple unit.
Siemens working closely with German Railways (DB AG) and Netherlands Railways (NS) built the prototype sets. All the traction equipment is arranged under floor and individual traction motors drive half of the axles providing excellent acceleration. ICE 3 units can carry single or multi-system electric supply capability that enables the trainsets to be used on various European rail networks including Germany, Austria, Switzerland, Belgium, France and the Netherlands. The eight-car ICE 3 sets can be strengthened to 16 carriages by attaching a second set. The units travel at speeds of up to 330 km/h and each set accommodates up to 458 passengers in comfort.
The eight-car Mehano ICE 3 model measures 228 cms in length. It has bi-directional lights, working pantographs, a metal chassis, carriage interiors and close couplings between the carriages. It is recommended that these eight-car models use track of a minimum radius of 400 mm. The accompanying leaflet (with text in the English language) contains maintenance instructions, an illustrated guide to spare parts and information on digital operation.
Mehano are releasing these ICE 3 units in DC and AC Digital Sound formats in Deutsche Bahn and Netherlands Rail versions. Full details of the models that are currently available are listed below.
M2368 ICE 3 DC RRP £197.00
M2371 ICE 3 AC Digital RRP £224.00
This DC version of the ICE3 train offers remarkable value at less than £200 for a full ICE set (DC version) measuring 228 cms long!
The Mehano range is distributed in the UK by Bachmann Europe Plc. and can be obtained through your Bachmann dealer. Details of Mehano stockists in the UK can be found on the Bachmann website at www.bachmann.co.uk and clicking on stockists.
---

Mehano release

Alstom LINT 41 DMU

(4th April 2007)

Mehano have released their HO model of the DB (German Railways) Alstom LINT 41 diesel multiple unit. The Mehano range is distributed in the UK by Bachmann Europe Plc.

Alstom LINT 41 trains are light, innovative ("LINT") diesel multiple units designed for regional traffic at speeds of up to 120 km/h. Since the delivery of the first LINT vehicles in 2000, Alstom has sold over 335 of these trains in Germany, the Netherlands and Denmark to both private and state transport authorities. The trains are equipped with air-conditioning, a toilet, a modern passenger information system, a wheelchair ramp and aids to assist visually and mobility-impaired passengers. The low floor provides easy access for all passengers.

The articulated models feature bi-directional working red/white lights, a metal chassis, flywheel drive to two bogies, close coupling of the two carriages and some "add-on" detailing parts. It is recommended that these two-car Mehano models use track of a minimum radius of 360 mm. The accompanying leaflet (with text in the English language) contains maintenance instructions, an illustrated guide to spare parts and information on digital operation.

Mehano are releasing these LINT diesel multiple units in various number and livery combinations (including Deutsche Bahn (DB Regio AG), Syntus, Vectus, Nord West Bahn and Alstom). They will be available in DC, DCC Digital Sound, AC and AC Digital Sound formats. The digital models are fitted with 21 pin decoders. Full details of models currently available are listed below.

M53270 Nord West Bahn RRP £151.00

M54318 Alstom RRP £151.00

M54322 DB Regio AG RRP £151.00

M54330 Syntus RRP £151.00

The models can be obtained through your Bachmann dealer. Details of Mehano stockists in the UK can be found on the Bachmann website at www.bachmann.co.uk and clicking on stockists.
---
DCC Logos introduced (3rd April 2007)
Bachmann Europe Plc today announced that it is introducing two new logos to show which items are fitted with 8 pin and 21 pin decoder sockets. These will appear initially on the Bachmann website at www.bachmann.co.uk in the products listing section of the site.
Sales & Marketing Manager David Haarhaus said today "we appreciate that the introduction of the 21 pin socket has caught some people unawares in the past and in order to differentiate between the two types of sockets in use in our DCC READY products, we are introducing two new logos to show which locomotives require 21 pin decoders to be installed".
Bachmann will shortly be introducing a new 21 pin decoder (36-554) which will retail at £10.95. 21 pin decoders are now fitted by many European manufacturers.
---
Limited Edition Models (2nd April 2007)
The term "Limited Edition" refers to items which are not in the annual Bachmann catalogue and consist of a much smaller run than those produced for normal distribution. These items are usually produced for retailers, model railway magazines, our own Bachmann Collectors' Club or exhibitions which are part sponsored by Bachmann. Understandably there has been a growing interest in these items and following much adverse comment, Bachmann Europe Plc wishes to clarify its position relating to Limited Edition items.
Limited edition models have a minimum run of 504 but can also be 750 or 1008 pieces. Producing a limited edition model involves considerable risk on behalf of the commissioners and there are examples that have failed to sell in the past. Some sell out quickly but others do not.
For Bachmann to rerun any Limited Edition model there has to be detail differences, livery changes or a change of running number and/or name. For example, the Freightliner / Shanks Class 66 locomotive has now received a revised livery and will be rerun. It has acquired the 40th Anniversary logo applied and has had yellow squares applied to its cab sides to indicate its suitability for infrastructure work. Additionally the model will receive weathering to its roof around the exhaust ports.
Additionally the new Southern Class 171 being produced for Model Zone will consist of a two car unit and will carry a different running number from the previous example. The livery is consistent across the fleet of Class 171 units operated by Southern Railway.
Finally the Class 158 produced for Model Rail, Scotland was the first unit to carry the First ScotRail livery. Examples have previously been produced in the initial ScotRail and 'Whoosh' liveries and in the interim livery adopted by First Group after they won the franchise from the previous operators, National Express Group. As this livery is being applied across the whole fleet operated by First Group in Scotland, further models will no doubt appear during the lifetime of this franchise with the only difference being the running numbers carried by the unit and on individual vehicles. The model produced for Model Rail, Scotland is the only Class 158 so far to have carried this livery and our Class 170 has already carried it. We have at no time stated that we would not release further Class 158s in this livery, although clearly a change of running number will be required. It will be seen in Scotland at least until October 2011 when the current franchise expires.
Graham Hubbard, Managing Director of Bachmann Europe Plc said today "we appreciate that some of the limited edition models are purchased for investment rather than operational use but, the usual caveat of prices moving up and down applies and we would express caution to anyone who purchases models purely for financial investment. We consider that our policy of batch production remains a fair and honest one and that Limited Edition models will only be repeated if we can clearly demonstrate differences between the original and subsequent production. Although we rarely repeat them, there is nothing to stop us repeating items that have appeared as part of our normal range. We trust that by issuing this statement, we have clarified our position on the production of Limited Edition models."
---
Graham Farish Class 57 to appear at Alexandra Palace Exhibition (19th March 2007)
Bachmann Europe today (19 March 2007) announced that they have released the first of their N gauge Class 57 locomotives in time for the forthcoming London Festival of Railway Modelling being held at Alexandra Palace on 24th / 25th March.
Two of the four versions of the new model have so far been released. These are Freightliner's 57003 'Freightliner Evolution' (371-651) and Porterbrook 57601 in the distinctive purple livery (371-653) it carried prior to sale to West Coast Trains.
These state of the art models have 6 axle and flywheel drive, directional lighting, detailed cab interior, fine etched steel grilles and is DCC friendly. Each has a recommended retail price of £78.50.
The Class 57 fleet made its debut in 1998. Freightliner asked Brush Traction to completely rebuild six former Class 47 locomotives and to fit reconditioned General Motors 645-12E3 engines. A further six locomotives followed between Autumn 1999 and April 2000. The funding for these locomotives was provided by train leasing company Porterbrook.
Keen to test out if a similar rebuild would interest the passenger operators, Porterbrook funded the building of a prototype passenger locomotive with electric train supply (ETS) to power the ancillary equipment such as air conditioning and catering equipment. As this required more power this locomotive had a more powerful General Motors type 645-12E engine fitted. This locomotive became 57601 and emerged in Porterbrook purple livery. It went into service with Great Western Trains hauling sleeper trains to and from the West Country.
Virgin Trains ordered 12 Class 57/3 locomotives for hauling its new fleet of Pendolino trains when diverted over non electrified routes such as Crewe – Holyhead, the Settle-Carlisle and the Carlisle-Glasgow line via Dumfries, the latter two routes being extensively used for diversions during engineering works. These were also available for rescuing any trains in trouble and have become known as 'Thunderbird' or International Rescue locomotives. Virgin in a blaze of publicity obtained a license to name their initial 12 locomotives after characters from the cult television programme. The first 57301 'Scott Tracy' was named by creator Gerry Anderson at Euston station, suitably assisted by a life size puppet. All were delivered between June 2002 and September 2003. These again had an upgraded engine to provide the additional power. A further four locomotives were provided in by December 2004 and again carried names from the TV series. All were subsequently fitted with Dellner couplings for coupling to Pendolino units.
Following trials of 57601, First Great Western ordered four 57/6 locomotives of its own (57602 -5)which were funded through Porterbrook. These were delivered during 2004 and have been named after West Country castles. These are used on the overnight Sleepers and on some other services when required.
No.57601 was returned to Porterbrook and was subsequently sold to West Coast Trains, the charter and short term hire operator based at Carnforth. It now carries that operators maroon livery.
---
General Utility Vehicles (19th March 2007)
Bachmann Europe Plc has been contacted by a number of customers who have purchased the recently released General Utility Vehicles (BR Mark 1 GUV).
A number of these have suffered some distortion and any purchased which have bowed slightly should be returned to dealers for exchange or refund.
Our factory has established that this has occurred during the curing process following painting and livery application.
Not all vehicles have been affected in this way and we are currently checking on those that we have in our warehouse and also those still in production in the factory. No further models of the Maroon (39-271) and RES (39-270) will be released until these checks have been concluded.
Bachmann Europe apologises to customers for any inconvenience this may cause.
---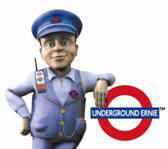 Underground Ernie and Bachmann assist BBC Radio Leicester's Ruby Rainbow Appeal (2nd February 2007)
Bachmann Europe Plc based in Barwell, Leicestershire is helping BBC Radio Leicester raise money for its Ruby Rainbow Appeal during the stations 40th Anniversary celebrations. The popular radio station was the first BBC local station to be set up in 1967 and is aiming to raise £400,000 towards building an extension at the Rainbows Children's Hospice on the edge of Charnwood Forest near Loughborough.
BBC Radio Leicester has an Underground Ernie Circle set that was signed at the London Toy Fair last week by the voice of Ernie, Gary Lineker. Gary signed the set during a live radio interview from the Bachmann stand with presenter Tony Wadsworth.
The Bachmann Collectors' Club have also donated one of their limited edition models of Freightliner's Class 66 locomotive. The locomotive (No. 66540) was named 'Ruby' on January 24th 2006 at Coatbridge to celebrate Freightliners own 40th Anniversary. The model comes complete with certificate No. 40 and the back of the certificate will be signed by BBC Radio Leicester's presenters. Only 504 models have been produced.
Both items are being auctioned by BBC Radio Leicester for the appeal which is sure to attract some competitive bidding from model railway collectors, autograph hunters and football fans. To place your bid listen to Charles Dagnall on Saturday morning February 3rd from 9-12 noon and Tony Wadsworth's Sunday show February 4th 9-12 noon on BBC Radio Leicester. More details can be found at www.bbc.co.uk/leicester . The bids for Underground Ernie and the Class 66 'Ruby' begin at £100 each.
The models were handed over to presenter Tony Wadsworth during a live interview with Bachmann's Public Relations Manager, Dennis Lovett on Wednesday.
---
Bachmann Announce New Models for 2007
(24 January 2007)
Bachmann Europe PLC announced new models today (24th January 2007) at the opening of the 2007 British Toy & Hobby Fair held at ExCel in London's Docklands.
The OO scale Bachmann Branchline range sees the addition of one new steam locomotive, the much requested G2a Class 0-8-0 better known as Super D's. These will be joined by the Class 150 diesel multiple unit, 4Cep electric multiple unit, Class 66/9 diesel, Ivatt 2MT 2-6-0, Standard 76000 2-6-0 and the LMS 4-6-0 locomotives (Patriot, Rebuilt Patriot, Royal Scot, Rebuilt Royal Scot and Jubilee). In addition Bachmann will be introducing 3 new wagon types (VDA, BDA bogie bolster and a series of ventilated vans).
In N gauge, Graham Farish are introducing two new steam locomotives, one new diesel locomotive, two modern high speed diesel multiple units and five new wagon types. 2007 will also see the delivery of the Class 150 diesel multiple unit, Class 42 Warship diesel, the Standard Class 3MT 2-6-2, Jubilee Class 4-6-0 and the Stanier coaches previously announced.
The Underground Ernie range of OO gauge electric trains will also be expanded considerably following the successful launch of the Circle train set last November. Additional trains in the form of Bakerloo, Jubilee and Victoria will be added, along with a range of track packs, buildings and accessories to complete the track mat included with the initial set.
The new 'Dynamis' Digital Control System was also launched and this will be available in the Spring. The new system is fully NMRA compliant.
Garden Railways will also see a major boost during 2007 with the release of the Class 66 locomotive by Aristocraft and the development of intermodal wagons for it to pull.
New models will also appear in the Liliput, Bachmann American and Bachmann Chinese ranges and these will be announced at Toy Fairs over the next few weeks.
Graham Hubbard, Managing Director of Bachmann Industries PLC states "2007 promises to be even busier than last year when we introduced many new products and gained the world wide license for Underground Ernie. For the first time at a London Toy Fair we can show not only our highly regarded scale models but a range that will interest toy retailers. Our Underground Ernie range offers excellent value for money and provides plenty of play opportunities as well".
---
Mark 1 RMB coach released (9

January 2007

)
Bachmann Europe PLC has today released its Mark 1 Restaurant Miniature Buffet coach (RMB). 82 examples were built at British Railways Workshops in York and Wolverton between 1957 and 1962.
Prior to the introduction of these coaches, on train catering was provided by full kitchen cars which provided an at seat service and an associated buffet counter for take away meals. The RMB was provided for shorter distance routes and cross country routes where a full restaurant car service could not be justified and the fitting of small buffet counter allowed light snacks and drinks to be served.
The first batch of 12 vehicles (No's 1801 – 1812) was built to diagram 97 by British Railways at York between June 1957 and March 1958. They were fitted with BR1 bogies and had 48 seats fitted. Following trials it was decided to reduce the seating to 44 to allow additional stock storage facilities to be provided. All further batches were built with 44 seats and the original 12 vehicles were later retrospectively converted.
---
Collectors' Club Fairburn locomotive sets a new record (22

December 2006

)
Collectors Club Fairburn locomotive sets a new record
The Bachmann Collectors Club limited edition Fairburn tank locomotive (32-875K) in Caledonian blue livery has sold out in just three weeks, beating the record set by 9F Black Prince by a week!
504 examples were produced and each had an individually numbered certificate signed by the locomotive owner Charles Maher. The blue livery was carried by locomotive No. 2085 after preservation for a 10 year period. The two remaining Fairburn tank locomotives were both purchased from British Rail for use on the Lakeside & Haverthwaite Railway in Cumbria. Earlier this year, Bachmann launched the new Fairburn Tank locomotives at Haverthwaite station.
Graham Hubbard, Managing Director of Bachmann Europe Plc said today we are delighted that the Fairburn tank carrying this livery has proved popular with our members and that they appreciate the added value we have provided in the form of an individually numbered and signed certificate. We have more exciting plans for 2007.
---
Underground Ernie Circle Train Set arrives in time for Santa (

14 December 2006

)
Bachmann Europe PLC announced today that the first Underground Ernie set featuring Circle, has arrived at Barwell in good time for Christmas and these are now being shipped to Santa for Christmas deliveries.
The first set (UE101) features the two car 'Circle' train with moving eyes and includes a full colour Track Mat, Ernie figure, 2 platform sections, track oval with siding and a controller / transformer. (NB for the DCC enthusiasts the train is fitted with an 8 pin DCC socket).
Colin Allbright, Bachmann Design Engineer for the Underground Ernie project said today "these fantastic starter sets will allow you to recreate your favourite stories from the hit Children's programme. There is considerable play value to attract the next generation of railway modellers and we shall be adding more trains and accessories next year to expand the initial set".
Bachmann Europe Plc signed up with Joella Productions to produce the sets in April this year. Colin Allbright explained "since then we have worked very hard with the creators to ensure that the models accurately represent the characters on the television. The model has been manufactured by our parent company Kader's toy division".
The set has a recommended retail price of £59.99 and can be obtained through Bachmann stockists for immediate delivery. Delivery by sleigh is not included!
Further details regarding new Underground Ernie products will be revealed at the London Toy Fair in January.