Hornby Track Cleaning Coach (4 wheel coach) Review
---
---
Hornby Track Cleaning Coach (4 wheel coach) (R696) Rating 5/10
The track cleaning car is only really any good for maintaining a clean track not for making a dirty track clean. This means they need to be run regular. This Hornby model has a very fitting maintenance livery which gives it true purpose for running. Probably best to make up a maintenance train which on occasion you bring out and run. The coach that has been used (4 wheel Coach) is fictional and was never built in reality. This may put of some modellers that are looking for accuracy above anything else.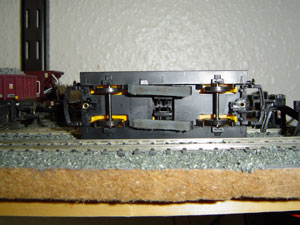 This model works by rubbing two abrasive pads which are spring loaded under the car along the track. It is meant to be pushed rather than pulled along but I find this leads to derailment at any minor imperfection in the track. Best to pull it behind a shunter (or any other powerful loco). I replaced the plastic wheels on my older model with metal wheels which helps give the model weight. The current model comes with metal wheels.
Overall I do think this model is worth buying even though it is not a model of a real coach. I use mine often on my layout and it does seem to work. As I said above you can make up a maintenance train to pull several of these coaches plus for example a maintenance crane, breakdown crane, or flat bed wagon. Best to couple this coach directly behind the loco to avoid derailment of the other coaches due to the pads catching on any gaps in the track.
---
---
---