Hornby Two axel china clay hoppers (MGR CDA) Review
---
---
New ECC weathered. (Two axel china clay hoppers MGR CDA) (R6223) Rating 8/10, Much improved model
This new model features NEM coupling, spring loaded buffers and a weathered finish. The chassis has had some changes and the whole model is more detailed than its previous version.
I am assuming that the track handling of this model has also been improved although I haven't brought any of this model yet. A picture of this model will be coming soon.
---
ECC closed Hopper (R6106) Rating 3/10, Its an average model with poor handling.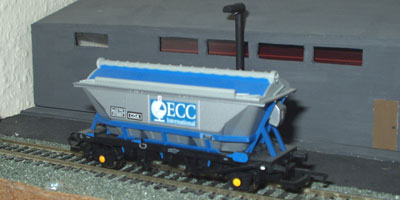 The detailing on this model is good but it looks a bit plastic. This model is not weighted and came with plastic wheels. All in all a very basic model. This model has very poor handling problems due to the design if the chasse. It derails at points and is unstable even on straights. I have managed to modify it so that it runs better, but it should have been made better in the first place. Its my understanding that there is a new version of this out with spring loaded buffers and more detailing. this may be the case but it still may have a handling problem. my advise stay away from this one.
---
---
---