Hornby BR Carflat Car Transporter Review
---
---
Hornby BR Carflat Car Transporter (R6143) Rating 6/10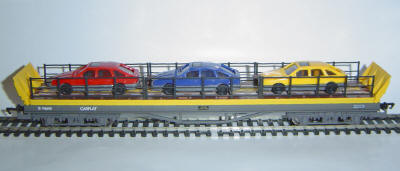 I always thought the Hornby Carflat Car Transporter looked plastic and poorly detailed. This was probably the case in the past but in my opinion the current version looks good.
The Hornby Carflat Car Transporter still comes with the very poorly detailed plastic Ford Sierra cars. Personally I would use not use those cars (may be weather them and use them in a scrap yard scene) replacing them with a more detailed Hongwell cars.
It might be advisable to secure the cars onto the transporter as they will move if you start or stop suddenly. You might however see this as a challenge to your driving sill.
The Hornby Carflat Car Transporter is a double bogie wagon with two movable ramps either end (allowing you to unload a long train without un-coupling each wagon) and six metal removable fences which help in keeping the cars on the model.
This model does not have sprung buffers or NEM coupling but it does have metal disc wheels. Additionally the body and bogies are sufficiently detailed but are in need of some weathering.
Overall this is an average model that lends it self to some modifying (weathering) with none of the extras but no defects.
---
---
---