Heljan Model Railway Locomotive Reviews - Class 57
Author "rmg1919" (forum member)
---
---
Heljan Class 57 Locomotive - First Great Western (5704) Rating 7/10
This was my first Heljan model and so I was slightly worried. I had no reason to be though. Aside from the odd blemish the Heljan Class 57 is an excellent model.

The most striking characteristic is the weight of the locomotive. It seems incredibly heavy - much more substantial than a Hornby, or even a Bachmann locomotive typically seems. The weight reassured me, and when I went to run the locomotive I was impressed by the smoothness of acceleration and deceleration.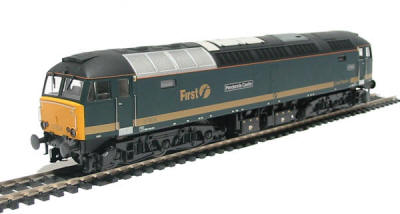 ---
Details:
Model Number: 5704
Running Number: 57 604
Price Range: £37.50-£83 inc VAT (Yes, rather ridiculous I know!)
Other Liveries in Range: Virgin Thunderbirds (but without 'Thunderbirds' licence)

---
Top speed at first seemed a little on the slow side, but running the model in, soon saw an improvement and it is now one of my favourite locomotives.

So, there's nothing wrong with it? Well, sadly there are a few problems.

Firstly, there is the issue that it is slightly out of proportions. The Model is, apparently, wider/fatter than it should be by something like 2mm on each side, giving a total of 4mm, which means that in real life it would be one foot wider than the real class 57. Had I not learned this through another forum I would not have noticed. I might have noticed, had I then purchased a Bachmann 57, but I am impressed enough with the model not to let this worry me. The flaw has resulted in the Heljan 47/57 range being described as "TubbyDuffs".

Secondly, the directional lighting is really rather pathetic. The mechanism definitely exists (when you take it apart you can see the bulbs and wires etc.) but the lighting seems weak and 'underpowered'. The red lights are particularly hard to see. Therefore, this is something I am in the process of fixing by replacing the bulbs with superbright LEDs (see this thread for details).

Thirdly, and this may be a one-off problem with my loco, is that the buffers are only sprung at one end. I am awaiting clarification on this issue.

Aside then from this models slight 'obesity' and rather poor lighting, the model is very good. It has a good amount of detail and the livery seems well-applied with all the various warning stickers present.

My final observation is that the locomotive retails for anywhere between £83 and £37.50. At £83 the price is too steep given the two flaws already identified. But, at the £40 mark it does seem like a bargain - and with some stockists having something of a clear-out it is now possible to pick them up for £37.50. Indeed, I was so impressed with "Pendennis Castle" (57 604) that I have subsequently ordered "Totnes Castle" (57 605).

In summary then, provided the price is right (£40 or less) it really is a bargain. The detail is high, the motive power is smooth and plentiful, and with a bit of work the lighting can be easily fixed.

Furthermore, the model comes DCC ready - complete with DCC socket.

---
At a Glance

Good Points
Good detail

Good power and excellent pick-up

Can be found at very good prices

DCC ready with a socket
Bad Points
Directional lights very poor

Slightly out of proportion (4mm overall width) and so you may wish to directly compare with the Bachmann 57.
Further Observations/Other Reviews

Model Rail (Source: Suchampal) in their review have criticised the bogies for not being accurate. This view seems to be backed up by this post on Electric Nose.

---

Overall Recommendation

Highly Recommended - an absolute must for those modelling a 57 era and FGW geography - and best of all, it can be found at very attractive prices. The only caveat: if the thought of fixing the lighting, or of having a slightly 'obese' loco on your layout frightens you, you may be better off looking at Bachmann.
---
Resources
Model Photos:
Real Train with Running Number:
---
Diesel Locomotive Review List
---
---