Bachmann Model Railway Locomotive Reviews - Class 66
Author "Metrocamel" (forum member)
---
---
Bachmann Class 66 - Freightliner (32-732) Rating 10/10
The Bachmann Class 66 is a great model and a must for any modern image layout. It has excellent detailing features such as a crewman in the cab at one end, meshed grilles on the roof and sprung buffers. Detailing parts are provided but in my opinion add little but trouble to the model. The model runs superbly. It makes a powerful sounding noise as it gets going and although it has only pulled as many as nine average size four axle hoppers it shows that it is capable of a lot more.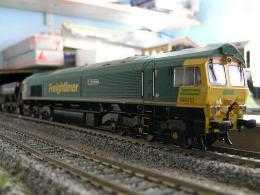 66612 Forth Raider at rest.

Slow speed control is great and all wheel drive and pickups mean stalling is not a problem. There are no traction tyres. With drive to all twelve wheels they aren't needed. Lighting is in the form of red tail lights and a top lamp with headlights on either end. The tail lights will light on whichever end tails the Loco while the top light and one of the headlights will light (which one depend on the night and day settings) at the leading end.

The setting is controlled using a switch under the model. The lights are very good quality and in the blue white colour which is more realistic than yellow. They will brighten at higher speeds but are mostly constant.

Pulling wagons this loco is very reliable. It's couplings are NEM design and so do cause some problems such as the couplings missing or coming loose. The Loco seems very powerful and as such would likely pull far greater than the nine wagons tested. Bachmann included etched nameplates with my model to go over the painted ones. I chose not to add these. The livery is very sharp. Freightliner in my opinion suits this Loco best. There are a lot of good touches such as horn grilles and chain couplings which make the model look that bit better.

On gradients this model has not been tested but my best guess would be that they would impact it's performance due to it's reasonably heavy weight. Points are usually no problem and after a few adjustments to the track the Loco ran smoothly though all of the points.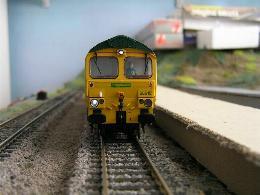 Headlights.


Taillights.
---
Overall

Overall this is a great Loco and a balance between pulling power, reliability, realism and detail are what makes it. If you're looking for a powerful heavy freight loco for modern image then look no further than the Bachmann Class 66.

---
At A Glance

Good points
Bad points
---
Resources
Name- Class 66 Locomotive.

Manufacturer- Bachmann.

Liveries produced- EWS, Freightliner, GBRF. Locos produced with various numbers and names.
Class History - http://en.wikipedia.org/wiki/British_Rail_Class_66

Notes - A Bachmann built Class 66 is now available in EWS livery with inbuilt DCC sound.

Available from - Most stockists.

Upgrading the model - Expressmodels for some interesting lighting options.
Class 66 Pictures - Visit Railway Pictures for more
---
Bachmann Diesel and Electric Review List
---
Steam Locomotive Review List
---
---