Hello,
I decided I should post an update on my layout - I'm afraid the images aren't brilliant because they're taken on my mobile phone, but they'll give a general indication of work-to-date.
If you're interested, this thread started October 2006 in 'Track and Layout Design'
http://www.newrailwaymodellers.co.uk/Fo ... sc&start=0
The layout is called Frankland, it's N gauge and sits on top of the single bed in my spare room. I'm using Peco code 80 flexitrack and electrofrog points. The theme is broadly Southern Railway / Southern Region somewhere in the suburbs of South London.
The main lines have been laid and partly ballasted and painted. The yard will be next and is slowly starting to take shape.
Scenery and buildings are to follow - but I have just made a backdrop to bring a bit of colour to proceedings.
Original Plan: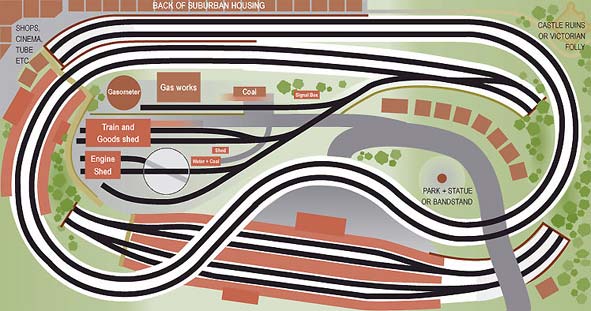 The basic plan remains much the same except the yard is going to change and I've added a bay platform to the main station (Frankland). There's going to be a lot more buildings too. Oh, and I'm going to add a small 'halt' top right.
Frame:
Open frame construction. It looks wonky in the picture for some reason - but isn't (!)
Baseboard:
A variation on Sundeala, 9mm. Here you can see my first tests of inclines with curves on. I spent a lot of time on this as I read inclines with curves are a big no-no. They're about 1:30 with minimum 12" radius. My maximum 5-carriage trains are quite happy with this.
General construction:
I cut away the baseboard from areas that didn't need it to reduce weight - and built higher levels using off-cuts of wood, baseboard and hardboard.
There are tunnels at both ends of the layout. I've over-engineered access to the tunnels to be on the safe side. You can't really see in the picture - but the trackbed over the tunnel on the left is supported by a hardboard section a little wider than the track, which sits on a 'slide-out' supporting shelf underneath on which removable scenery will be placed.
Frankland Station:
This is the main station area - the higher level track will run on a closed-arch viaduct behind the station. The foreground will be filled with platforms and station buildings.
In the distance the track will disappear under the High Street.
This viewpoint is from the High Street which will run over the railway at the eastern end of the Station. The piece of card in the centre represents roughly the position of the road which will run down from the High Street to the station.
Inclines:
At the back of the layout are two sets of inclines - one rising east, the other west. I've painted up a rough sky-blue backdrop and placed a couple of temporary (dodgy) buildings against it to start giving me a sense of scale and proportion to what I'm doing.
Yard:
I've started laying out the yard - which I think is going to be different to the original plan. The circular section of cardboard is where a gasometer will be.
And that's it for now - 7 months work - slow I know but both time and money are short for me. But I do find it enjoyable and relaxing. I'm looking forward to geting to grips with scenery - and also buying two more controllers, eventually I'll have cab control for three sections (2 main lines plus the yard).
Comments, questions and observations welcome ... !