After reading the boards for a while & admiring the quality of the layouts on here. I thought I'd take the plunge & create a thread for my layout Rayne St.
AlthoughThe village of Rayne in Essex did have a station on the old Bishop Stortford to Braintree branch line which closed in the 1960s. Rayne St though, is a fictional n-gauge layout, with a terminus & a branch station. I aim to set it in the period of 60's to late 70's so I can run both steam & diesel. But then again if I see something I like.....
I started the layout in 2007 & is in the form of an L shape. 6ft down one length & 6ft 6in down the other, the 6ft board is 22ins wide & the other is 18ins.
I'll show how the layout had progressed during this time. There is still plenty to do & although not much got done in 2010 I hope to be doing a lot more this year.
I hope I've followed the instruction on how to post images correctly, so here goes.
Bases boards mounted up on the wall 13/01/07. The step between the two is intentional so I can create some scenery below track level, including a low level viaduct.
1st track laid 31/01/07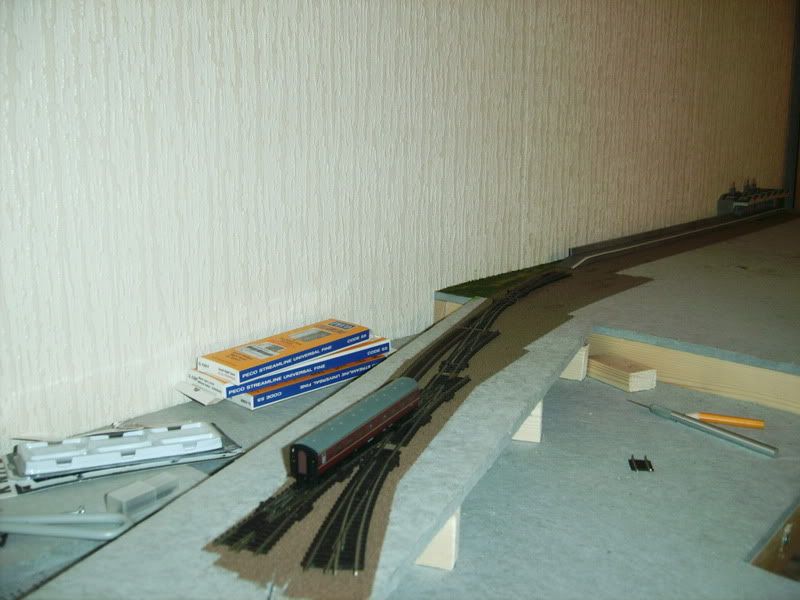 EDIT.........Yeyyyy it worked!!!!

Steve