Normally i model in 00 but a couple of years ago i treated myself to the N gauge colliery set by Farish to see how i got on with the smaller scale, the space benefits being obvious. I quickly made a baseboard up and got the track laid but soon after i lost interest thanks to a very boring trackplan and started a new 00 layout. Anyway back to today and ive had to break up the 00 because of having work done on the house so it seemed like a good time to have another go at the N to keep my hand in until i can restart a new 00.
Using the old base board which is 48"x27" and made of 9mm ply, i started making some trackplans using Anyrail. After a few false starts i decided on my 4th attempt shown below'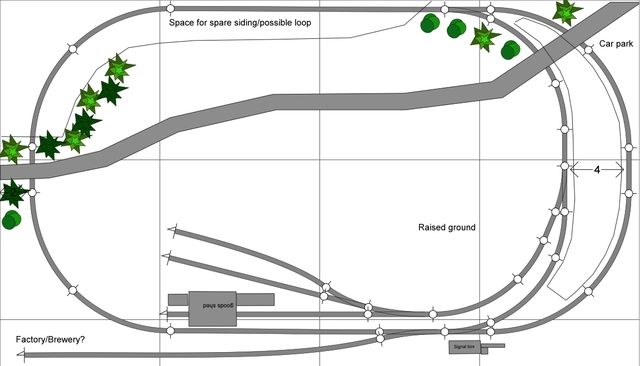 The island station is on the right in a shallow cutting, this gave me a passing loop and access to the goods yard, along the bottom i added a siding which leads to a factory. There will be a back scene set forward at the back and to the left giving a hidden run and a possible storage siding.
Track down, TBH i love this part but N isn't for me ive decided, i found it so fiddly and spent ages realigning fish plates and tightening them up. I used small pieces of double sided tape to hold the track in position until i ballast.
I started putting the buildings in position until i found what looked ok.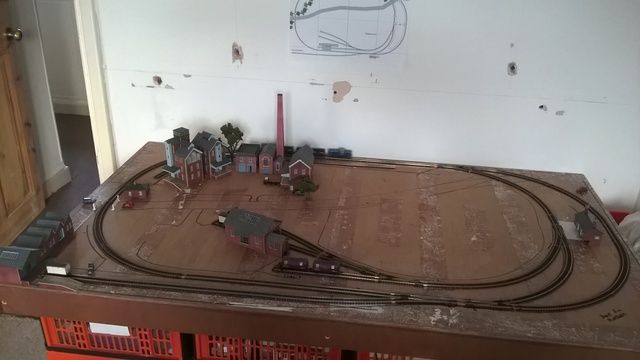 Then made a start on the scenery using Celotex board, more expensive than polystyrene but easier to carve and shape and with the added bonus that being foil backed gives a good surface for double sided tape or hotmelt glue. Besides the polystyrene balls drive me crazy!!
Then added a few more bit to get the feel for the layout and started on the road bridge