"I am really pleased for my first attempt."

Justifiably so! Nice work.
---
I have been having a play with the airbrush and 3d printer this weekend, which has resulted in a little progress.
I had already painted the fuel shed using the airbrush, so this weekend I have weathered it. Firstly it was given a thin white coat to make the paint look like it had been bleached in the sun, followed by a general dirty weathering from the bottom up.
I had a play on Sketchup and drew up some hose reels for the fuel hoses. Certainly not perfect, but with some orange wire wrapped around, they looked ok to me.
Then it was off to the layout for a quick photoshoot.
This is the photo I have been using as a reference: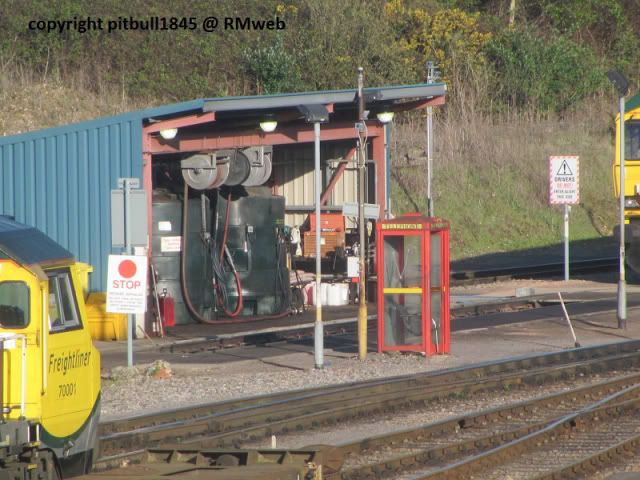 And my effort so far: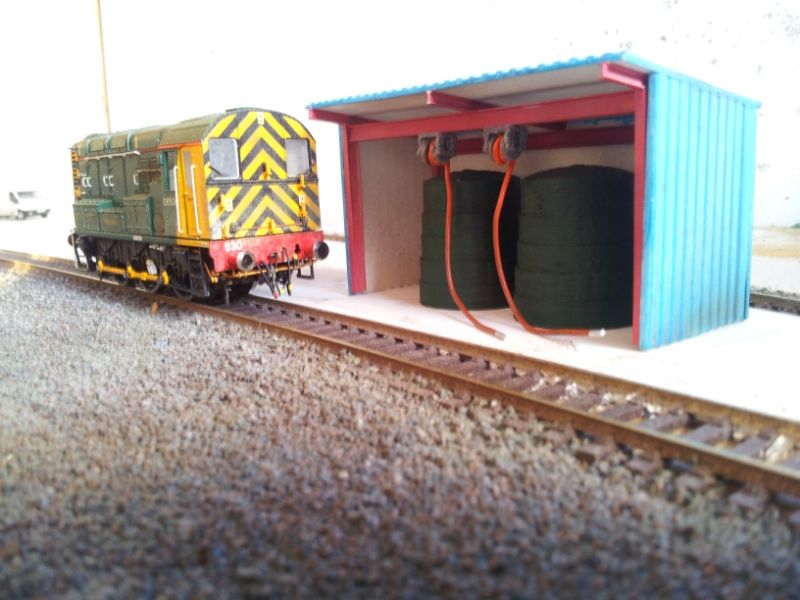 The next step will be to print a workbench and some containers to fill up the area around the fuel tanks.
Dave
---
wow the fuel point looks great
---
Very nice ..... loads of sound as well.
I do still fondly remember Chadwood, is that still tucked away
in the loft ?

Geoff T.
---
Thanks for the comment Shaun, very much appreciated.

Geoff, yes Chadwood is still sitting there in the loft. In fact I went up inp the loft yesterday to fetch a couple of bits down and couldn't resist taking up my Hornby select and running a couple of trains around. Needless to say the track needs one hell of a clean but I did manage to get a loco around a few laps without too much effort. I do have a plan in the back of mind to resurrect in one day, although it does need some major alterations to make it run well. But this is really for another day / year. I really must concentrate on the job in hand. Hopefully if everything goes to plan, we hope to have an extension to the house built later this year which will include a study / model room big enough to fit First Avenue in, so I should be able to make much more progress. Fingers crossed!

Thanks for your continued interest. It really spurs me on.

Dave
---
Recently I gave been inspired by seeing other modellers making trees from cables, so today I decided to have a go for myself. I had an off cut of 8 core cable and formed a tree shape by twisting pairs together to form branches before split them. On other forums I have seen people then cover them with DAS, but I don't have any I decided to try using hot melt glue to cover the wire and hide the twists. I also ran some holt let down the outer sheathing of the wire to take off the smoothness. Once dry I have applied a grey primer ready for some browns later. So far I am really happy with my attempt. I will certainly have another go and try some more.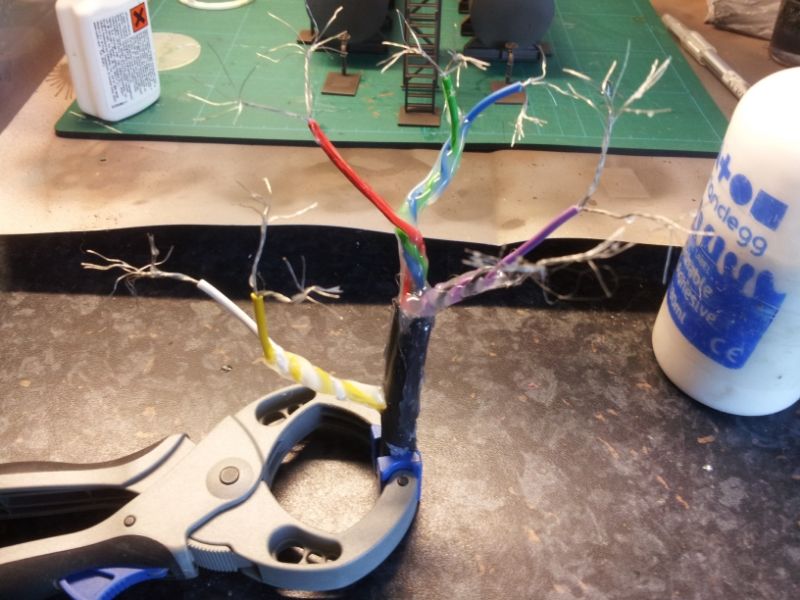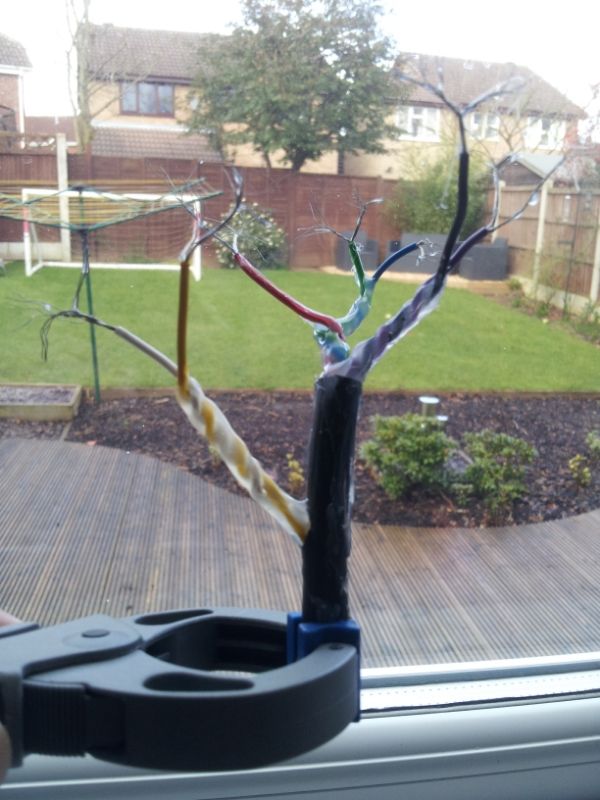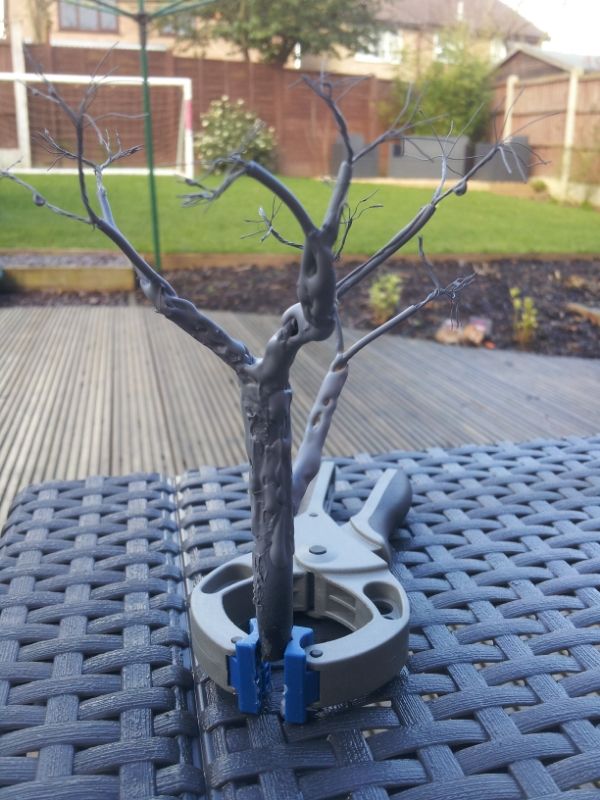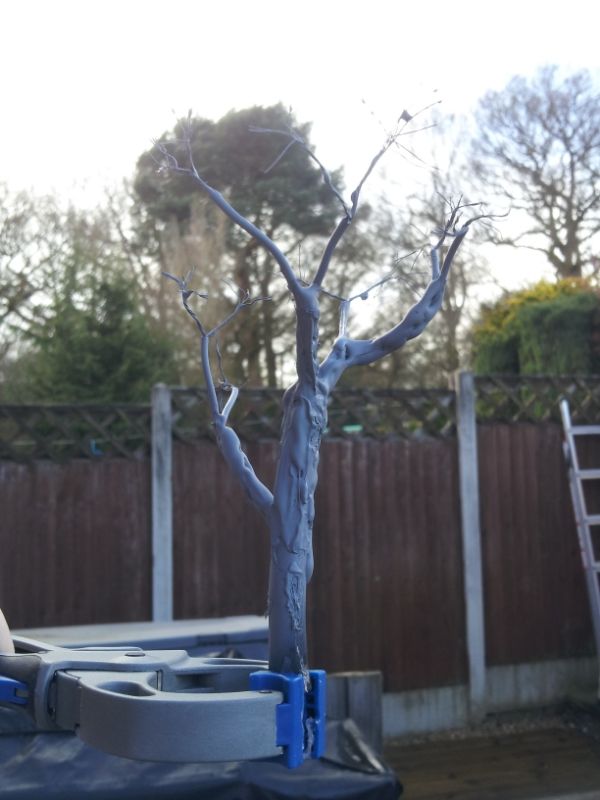 Dave
---
"So far I am really happy with my attempt."

Justifiably so! Good tree!
---
Now painted, some lichen laid on top to try, and temporarily installed on the embankment.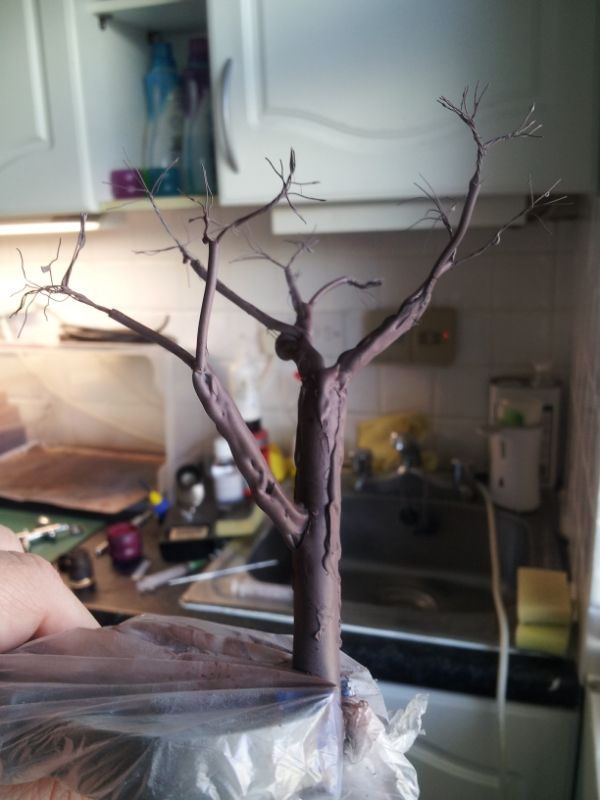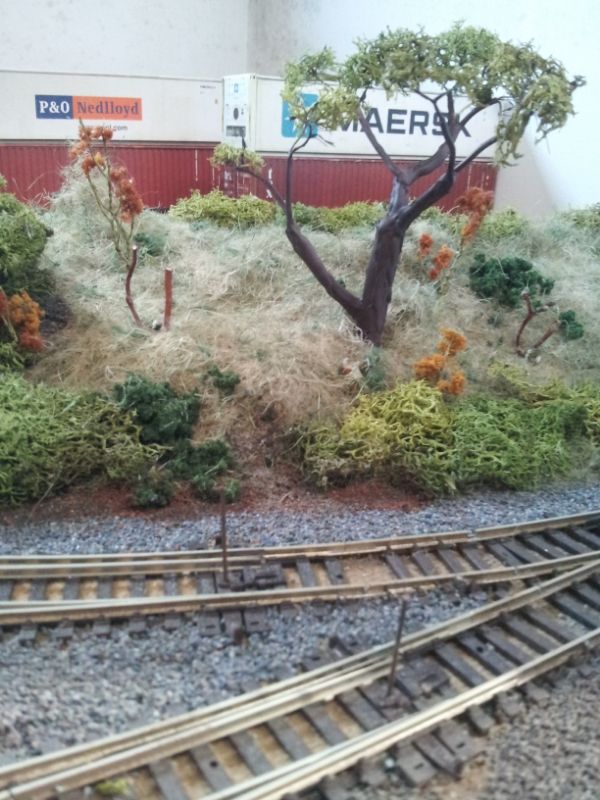 Really pleased with it, so I am off to make some more now!
Dave
---
---
Return to "Personal Layouts - Under Construction"
Who is online
Users browsing this forum: No registered users and 11 guests