Hi everyone,
I'm back, did you miss me.......???? No!! Oh well.
So I was really fed up after my N Gauge adventure layout wasn't much fun to play with......it looked great thanks to all the help I got on here but it was like well............tricky....
Running the trains was hard as the gradients meant that the wagons and coaches kept uncoupling on the slopes with devastating results.....
I could never just let a train run as it would crawl up one side of the layout and then fly down the other with devastating results....
My track laying was rubbish so there were inevitable consequences.....
The sidings were poorly thought out and were pretty much useless as I had to keep shunting onto the main line....
However I had a ton of fun doing it and learnt a lot so I took it all to pieces and rescued pretty much everything I could, right down to the scatter!
Bogside is a kind of long running layout with a double linked loop courtesy of a x-over on one of the corners so I get a nice long run......
It has 2 passing loops to store other trains, 6 coaches long or 20 wagons, nice and long......
I have a good sized yard, only 4 sidings but long and also a long storage siding rotting away in the middle, I also built in a direct line from the main line all the way around and straight into the yard which also serves as the headshunt, it's nifty and makes for fun operating.....
My idea was that it would be some type of transfer terminal just off a main line somewhere where wagons would go to be switched over to other services, I mean you know me, never was much good at the detail....certainly didn't really want to go with a station...that'll be for the 3rd layout a year from now when I have more experience with this fiddly sized stuff!
Stock is mostly blue diesel but a couple of kettles have crept in simply to run Sunday Specials.........a 9F on a rake of southern coaches...(Yes I know!) and a nice Ivatt 2MT on a short rake of LMS......
There is a disused Butlins Camping Bunglaw Site in the middle, works are going on but it's been closed a long time.......
Big long tunnel at one end and a short high one at the other just to keep the interest up when running, you just can't beat seeing trains going into and out of tunnels....
I have done this on a very strict budget, no fancy underlay just foam, no fancy ballast just scatter and reused pretty much everything I could lay my hands on....
There are a zillion things to do and I am in no rush....
1. Get the track looking more realistic, especially the track bed at the sides.
2. Fit backs to the tunnels so you can't see inside.
3. Much more realistic colouring around the rocks and the camping village....
4. Erm loads of other stuff!
Anyhow enough of all the bull, here are the pics, enjoy, don't criticsize too hard as I say, I have hardly started really but I really wanted to get something down just so I could run some trains........
Here is an overall view from the North End Tunnels, it looks a bit green but not in real life so is probably my crap camera!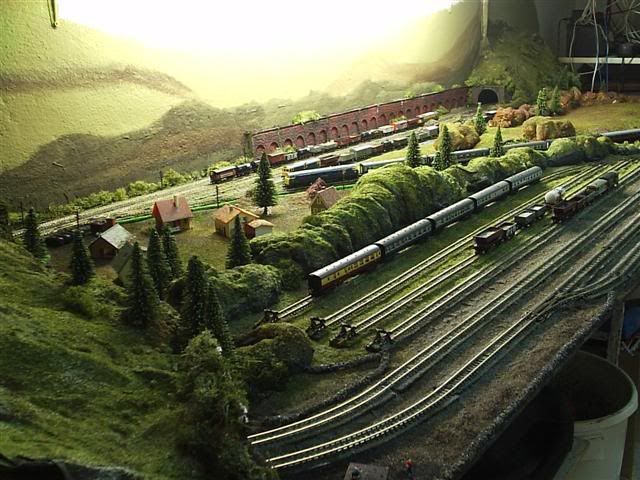 North End Tunnels entrance with guys arsing about supposed to be working....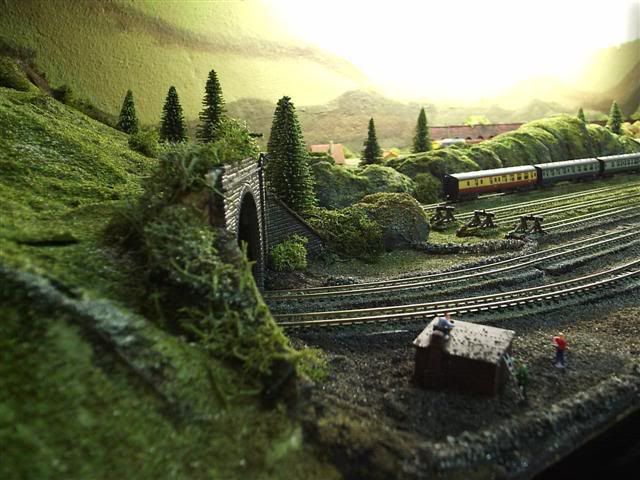 A couple of views of Bogside Holiday Camplet....closed in 1978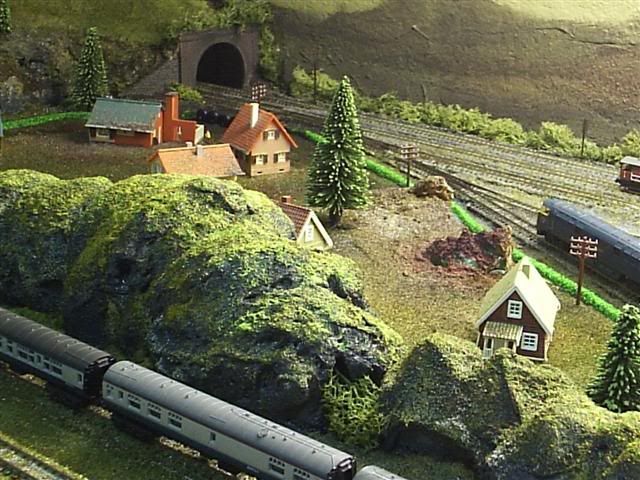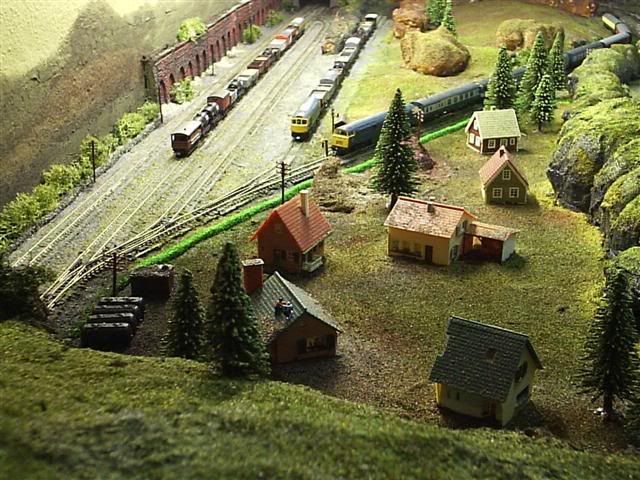 The top of North End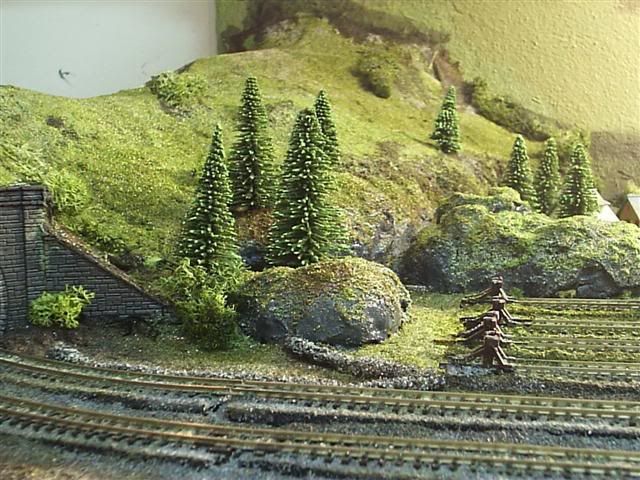 The Southern Tunnel
From the top of North End
Main Transfer Yard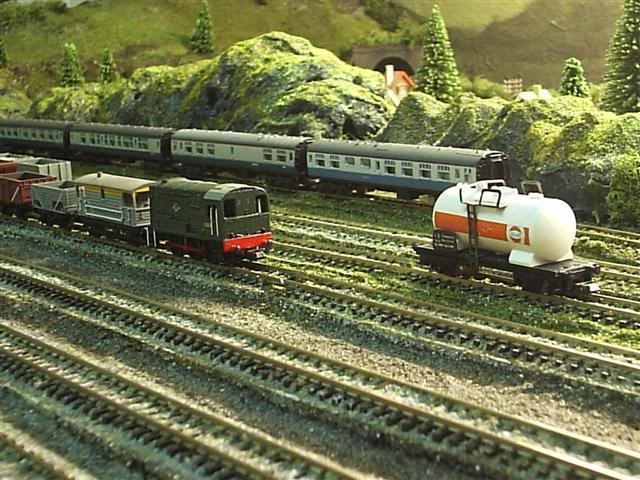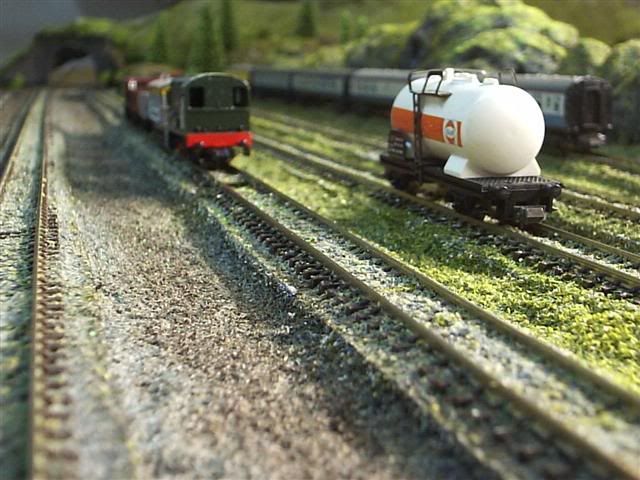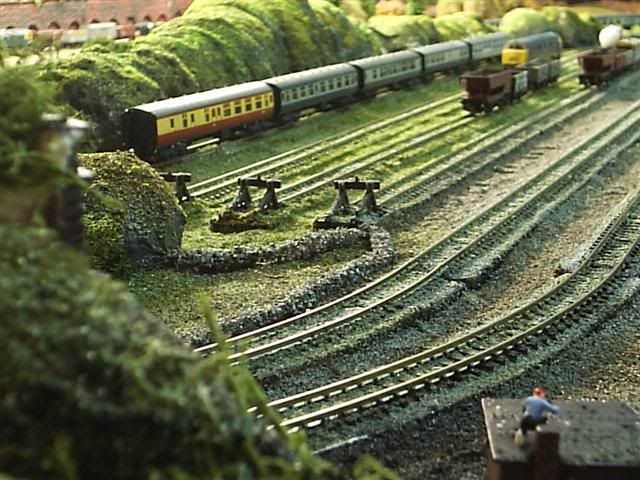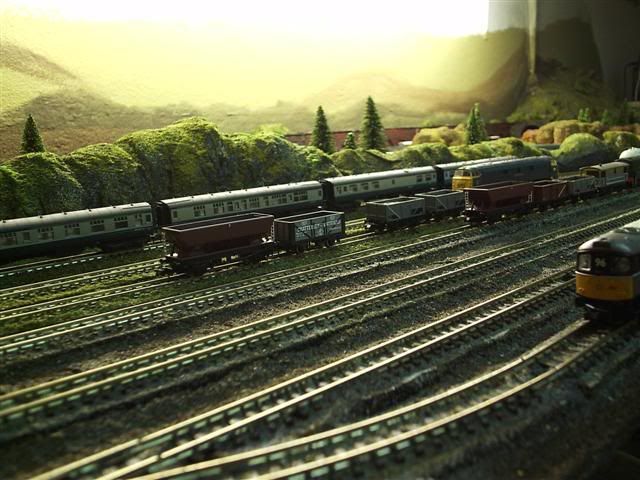 Class 33 on the back run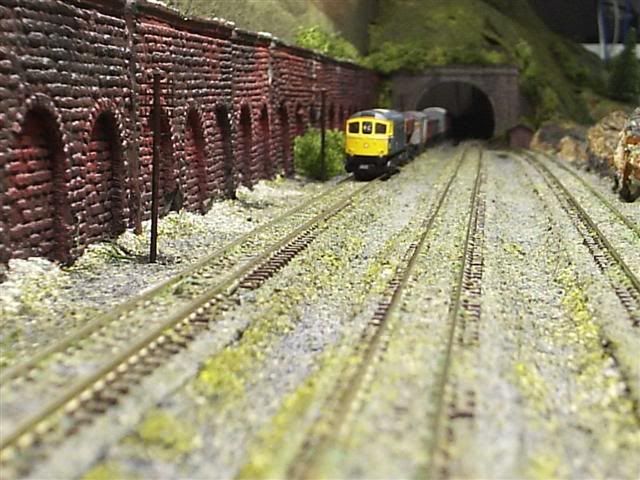 Centre storage siding for the excursion stock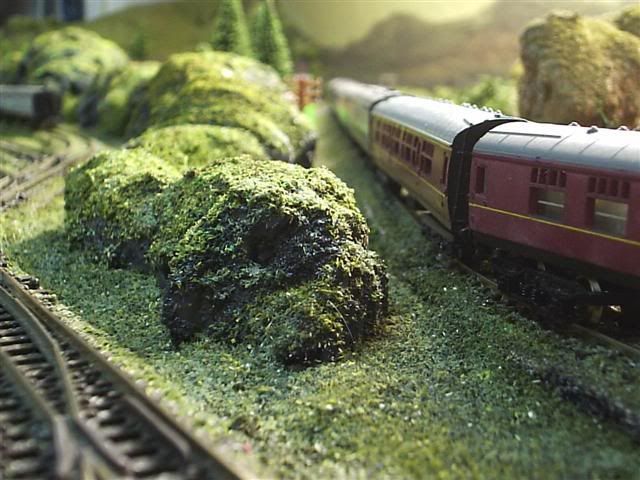 Tim's house.....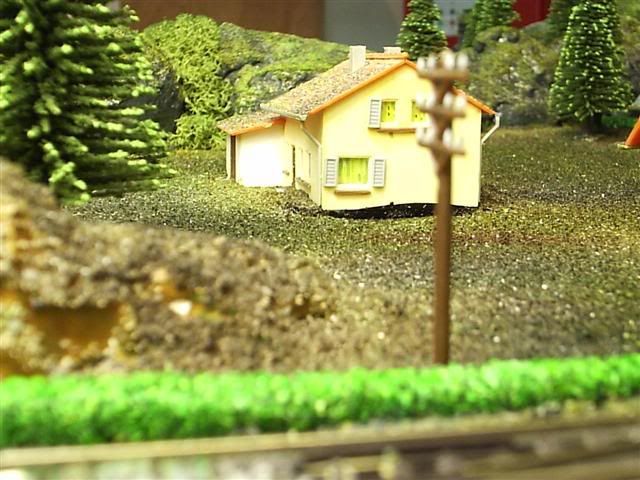 Tim's house opposite Michael's bungalow and Lofty's summer retreat!
Western waiting for the go
Yep, Derek is still trainspotting....all the way from the other layout!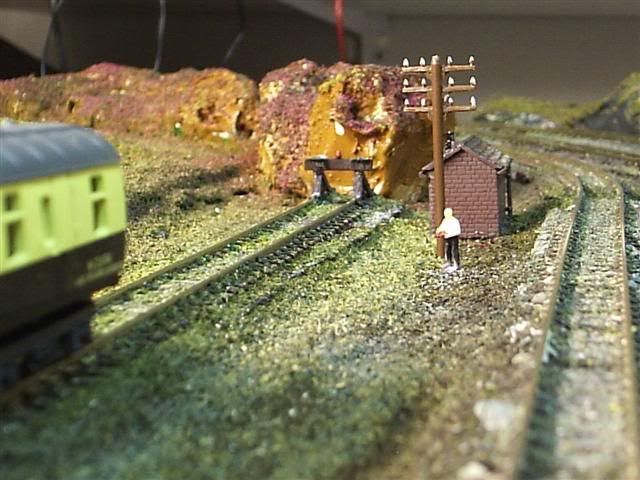 Oooooh, Minitrix 9F with working headlamps! (How insane is that!)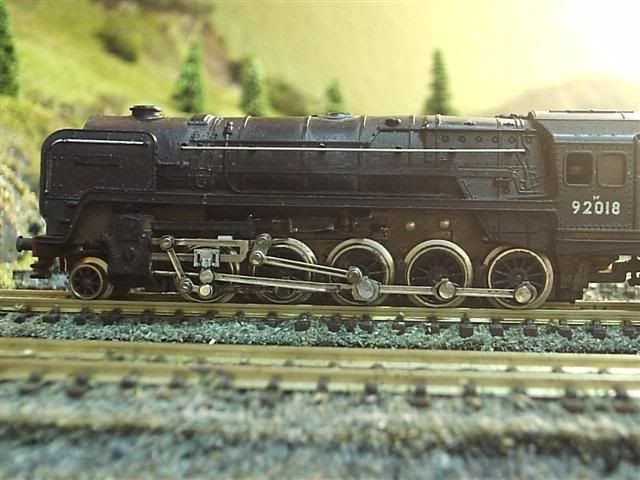 And the Ivatt....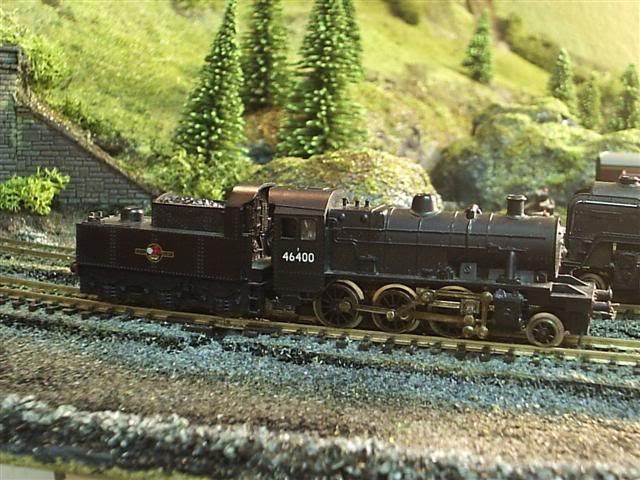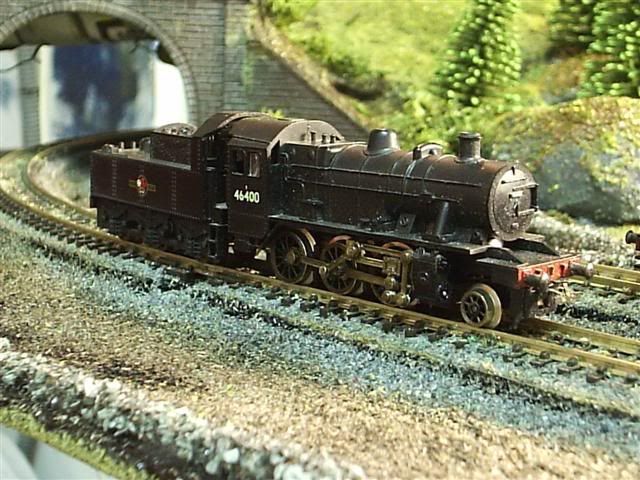 Class 25
So yes I know that's way too many photo's sorry, I wont be doing many updates, perhaps one every couple of weeks just to show that I am not leaving it bright green with no ballast!
I have got a bit of a vid to post later of the 9F pulling the 6 Southern coaches, warts and all, no editing, I'll whack it on if only to hear the delicious sound as it passes the camera....
Cheers guys,
Gav The Spav.