---
---
Posts: 13484
Joined: Thu Mar 11, 2010 12:06 pm
Location: Bottom end of N. Warks line
Hi Biscuits - Nice bash.
The board (phpBB) software can't handle images wider than 800 pixels. I found it pays to use your own software to produce a lower resolution version before trying to up load. Some hosting sites can do it for you but ones that try to do it on the fly when being browsed fall foul of phpBB's check before downloading.
---
---
That's a great job.Some slightly bigger photos and a bit of detail on what you've changed and how you did it would be great
---
Thanks for your interest. Yes the ptotos are not the best! First efforts - ironically the loco looks better in the flesh.
Modifications are:
Remove buffers & couplings from chassis, file ends flat, create platicard curved partition (so the bogie rotates freely), fill with lead offcuts/pva
Body - first appreciate the fine detail on both mouldings which were good for the time.
Remove buffer beams & replace with those from a dapol/airfix 03
Remove & raise fuel tank to give roughly square rear windows
Remove moulded on horns, exhaust, headlamp & bonnet top details (mine had a melted bonnet from a faulty motor & needed filling - it was easier to remove & replace the small details)
Add bonnet & roof rectangles to represent vents/inspection hatches, replace bonnet details
Add 03 horn & an exhaust stack with split pin support to cab, add rainstrips
Add plasicard to front grille to resize
Replace headlamp with one from the dapol 03 kit
Add window bars / flush glaze
Modifications are based on the Hunslet 0-6-0.
Learn to recognise the number 8 - no. 9 is a WIP 06!
The changes are subtle but make a huge diference.
I'd like to do 2 sister locos by replacing the sides with grilles from an 03 and another by shortening the body & removing the petrol tank.
An enjoyable project and cheap as the loco only cost a fiver plus an 03 from the scrap box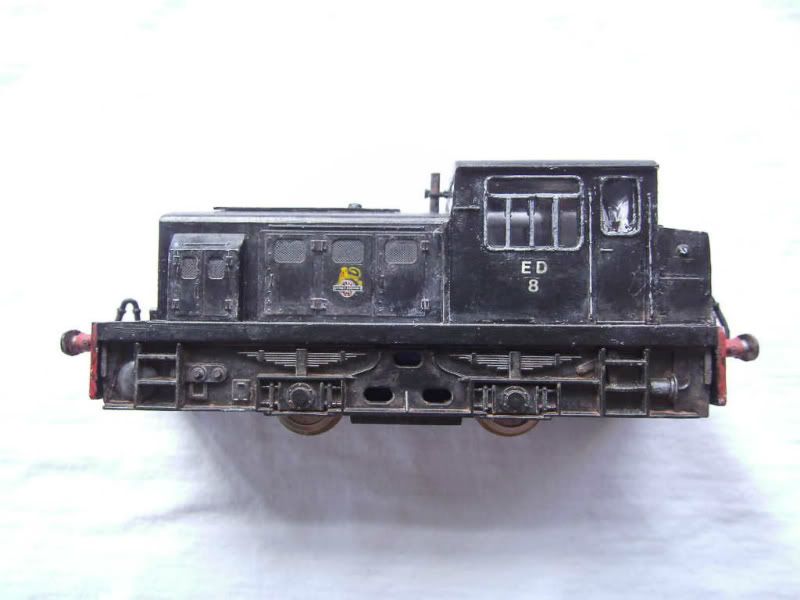 Last edited by
Biscuits
on Fri Mar 30, 2012 11:07 am, edited 2 times in total.
---
---
---
I like that. It looks most effective.
---
---
Return to "Scratch and Kit building"
Who is online
Users browsing this forum: No registered users and 6 guests