I really should have done this a while ago, frankly it's a bit embarrassing that I've been here for a few years now, clocked over 1000 posts, and the thread I've commented most in is Someone else's layout
And my actual modelling contributions to this forum can best be described as sparse
. So here's a thread for "Things what I does." Occasionally featuring my barely started heritage layout in ex-LSWR territory bordering the GWR (So I can have the right architecture the the right rolling stock!), but more often just what I happen to be doing at the moment.
So, first a little bit of catch up from the last couple of months or so. I've taken rather a liking to the LSWR, but I had already decided to go for the usual cop-out of a heritage railway for my layout so I could run what I liked. But heritage railways still have to be based in an area, so it will become a sort of a semblance of Corfe Castle for one of my stations, and I've been having my first real adventure into plastic scratch modelling in making a few of the buildings there. I posted them on Geoff's general scratch building thread, but I'll put them here as well:
This was my first attempt, the waiting room on platform 2. apart from the hipped roof this was a relatively simple design. I was quite pleased with this for my first effort, but although my attempt at guttering doesn't look
quite
that bad in real life, I will come back to it!
My next building was perhaps rather adventurous, going for the signal box:
Windows were the main problem, I didn't really fancy doing them in plastic strip, and I couldn't really find any propriety ones that really matched, apart from some bespoke made ones costing more than I was prepared to pay (which to be honest, wasn't necessarily a lot!).
So I drew up the window frame pattern, taped it to the back of some acetate, put some masking tape on top of that and scored the masking tape along the lines that could just be seen from the pattern behind. The individual strips were then peeled off leaving the squares of masking tape where the panes were to be left there, then slapped some off-wite paint on, and then removing the masking tape. It went surprisingly well!
Each window took me about 20 minutes to do, so it took me a while to do 5 but I'm very pleased with them, and I will be using this method again. The only propriety item here was the staircase as I didn't fancy making that.
I then went for something a little simpler, the goods shed, although a lot more difficult to get right there weren't very many pictures. This is only part finished at the moment, but looks like this:
At one point the sliding doors were going to be functional, but then they weren't.

Oh well...
You can just about spot in the signal box picture something which I made a start on ages ago then put away again, my short LSWR bashed train: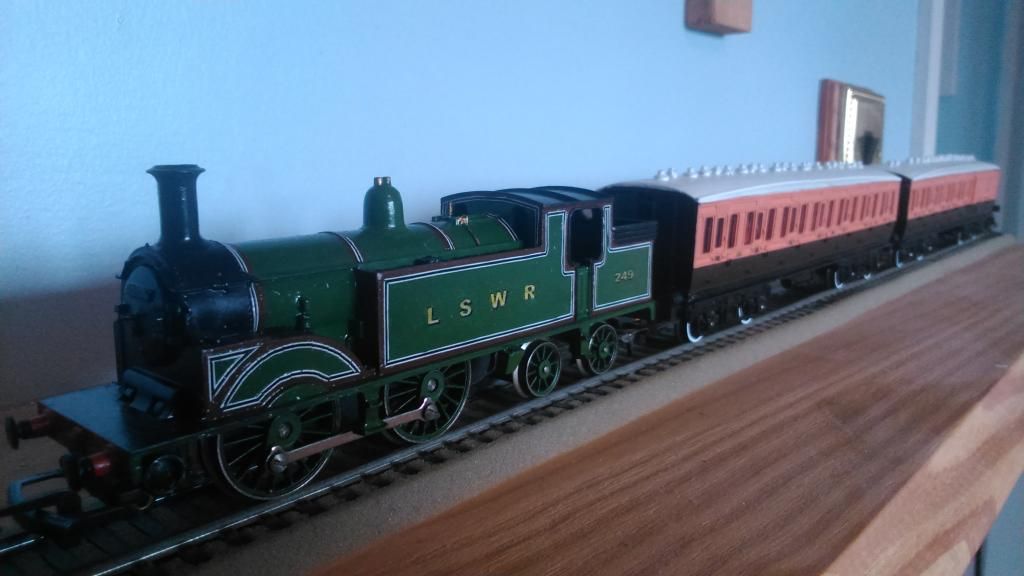 This was my first proper attempt at repainting stock, all done by hand brush painting, the lining was my first attempt to and went well I think, especially considering that the lining on the wheel splashers all had to come from striaght lines as there were no others that fitted. the coaches are tri-ang clerestories with the roofs re-hashed, and all the lettering is home made in MS publisher using some clear backed transfer paper, meaning I had to paint where the transfer was going white, then paint around it once it was stuck on.
More recently I've been distracted with a small diorama based on the bridge at Winchcombe station on the GWSR, where I volunteer in the C+W department: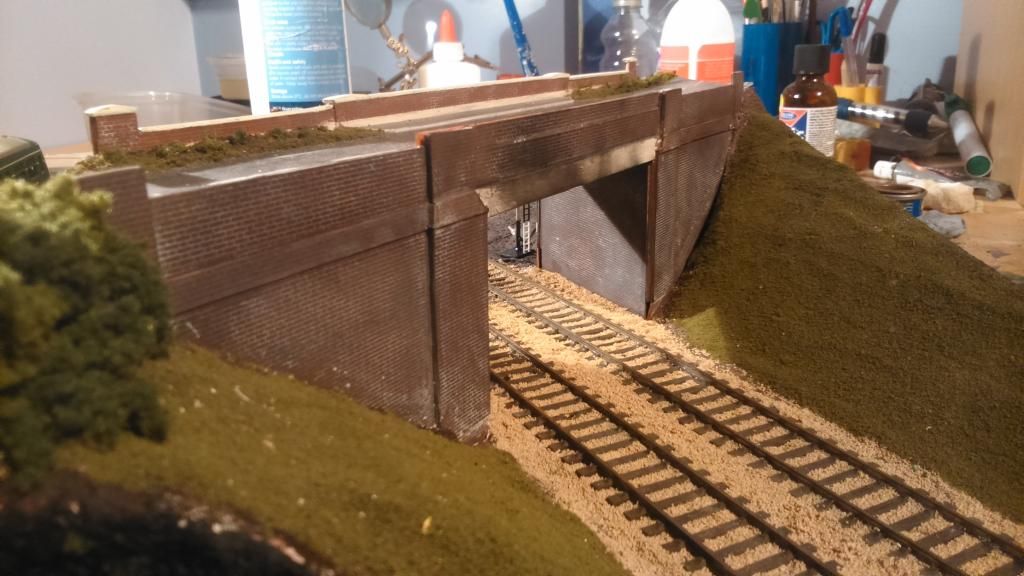 Bridge was scratch built from plastikard, embankments made from plaster bandage on wire mesh, and the signals are the only things I've had to buy for it so far! Perhaps one day it might form part of a larger layout, but I've got other stuff on the cards first.
Anyway, that's what I've been up to, further posts as and when, probably just on my diorama until it's finished, then moving onto more buildings - the main station building at Corfe castle is next up...