Hi all.
I know when I want to buy a loco one of the first things I do is look for reviews.
So here is my 2 bits worth. It is only my opinion through my experience but I
thought it might interest some people,.
I won't go into packaging and pics of how it came because any decent model
producer always carefully packages their models. Lets just say it came to the
opposite side of the world in mint condition.
At first glance I would have to say the model is beautiful and its looks
don't diminish with closer inspection. The cab has interior details and
the general paintwork and level of detail is well done. I think the rods and linkages
are awesome and certainly up to my expectations for a N gauge model.
Far more detail than other products I have seen.
The photos,
I only have a few photos as I've no tripod and its difficult to get close ups.
Out of a dozen shots only 3 were half decent , so here they are.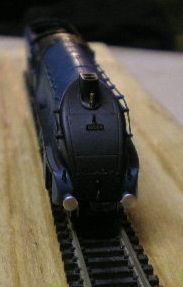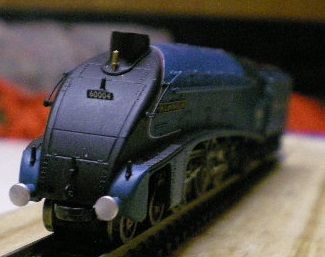 Motor Performance,
At first it ran like an absolute wreck , sounding like a cement mixer
BUT
90% of this was caused
by not having the
decoder tuned
. I was supplied a viessmann 5241 with the model by my retailer.
I would not recommend this decoder for the beginner "like me" as I had great trouble getting
the motor load settings right.
Finally, with decoder sorted the rattle had almost gone. The rattle comes from the tender
wheels. I believe is common to this model and is the only draw back. I do have to say I've
been running the model for about three days and it seems to improve every run.
Bar the rattle I am 90% happy with the motor performance. I will try a different decoder
as soon as the postie arrives. I've purchased a Zen decoder to try.
Track Performance
.
Derailing,
As you may notice from a close look at the last pic above I have made a very small lead
weight "painted black" that slots into the front NEM socket. I had some problems with the front
bogie derailing. I put this down to track as my layout is exposed to fairly bad temperature changes.
It varies from 2deg C to 45C although I have heat and aircon the layout is at its mercy during
working hours when I'm absent.
The extra weight has totally cured the problem and as I only wish to run this loco on Mainline and
passing tracks with trailing rakes the loss of the front coupler is no problem. When I get time I will
add the detailing parts chain couplers.
Curves,
The tightest curve on my layout is 10 3/4 inch or 280mm.
I must say its difficult to estimate my radius exactly as it is not set track and sweeps into a tighter
curve, but the measurement of the diameter is 21 1/2 inch from center rait to apposing center.
I dont think I would suggest going any smaller than this as once or twice I believe I have seen the
drive wheels slip but only with a fair load of rolling stock. Fortunately there is only one curve this tight on my
layout. I would recomend 12 inch min to be safe.
Drawbacks
The noisy tender and the Drive shaft easily pops out from the cab if you are not very careful picking up the model.
No instructions regarding the additional parts. No instructions with exploded diagram of mechanism.
Dont let the drive shaft fall into the loco it a *%#@ to get out.
Always
insert drive shaft with loco on an
"uphill slant"
.
Bottom Line,
Overall I would definatly recomend this model on the grounds that you have well laid track with minimum radius
of 12 inch.
I would love to hear what others think of this model and please feel free to comment on my review.
It's my first review.
Stew