The Hornby N15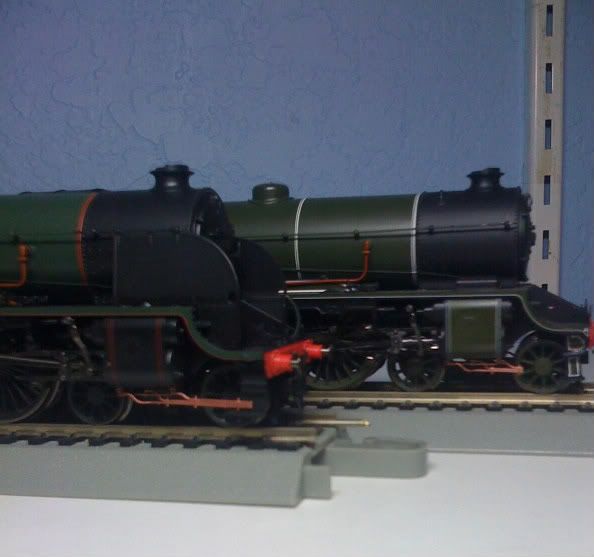 The Prototype:
Perhaps better known as 'King Arthurs', the L.S.W.R/S.R N15 class was an express passenger locomotive originally designed by Robert Urie, redesigned by Richard Maunsell, and modified by Oliver Bulleid. The class of 74 locomotives was built in four batches starting in 1919 and ending in 1926. 44 of the class were built at the Southern Railway's Eastleigh works and 30 by the North British Locomotive Company in Glasgow. With their driving wheels at a height of 6 ft 5¾ inches they could easily haul an express passenger train with no problem.
The N15 has a complex build history, mainly because they were built in so many batches with modifications to each batch. The first batch built by Urie consisted of Nos. 736-755, the first Maunsell batch was a rebuild of the G14 class and consisted of Nos. 448-457, the Scotch Arthurs built by the North British Locomotive company consisted of Nos. 763-792, and the last batch built by Eastleigh consisted of Nos. 793-806. There are slight differences on each batch of locomotives, which give a great number of possibilities for the modeller to look out for when choosing the appropriate names and numbers when re-naming a model. I will do my best to explain these later on.
The only member of this class saved from scrap was No. 30777 'Sir Lamiel', which currently runs on the mainline on railtours.
Review:
Basics-
Hornby initially released four versions of the N15, in four different liveries spanning most of the different types of the class. They then later released four more in the same year, since the model sold so well. It has been one of the best selling models in the past few years, and it certainly set the level of detail for an RTR locomotive. The N15 has sold so well that it has had 15 different versions in the past three years! I have listed them all below.
Standard Releases:
R2580- 736 'Excalibur' in SR Lined Maunsell Green (8 Wheel Tender)
R2723- 751 'Etarre' in SR Lined Maunsell Green (8 Wheel Tender)
R2620- 746 'Pendragon' in SR Lined Malachite Green (8 Wheel Tender)
R2623- 30737 'King Uther' in BR Lined Green with Early BR Crest , With Le Maitre Exhaust (8 Wheel Tender)
R2583- 30453 'King Arthur' in BR Lined Green with Late BR Crest (8 Wheel Tender)
R2725- 30450 'Sir Kay' in BR Lined Green with Late BR Crest (8 Wheel Tender)
R2581- 30764 'Sir Gawain' in BR Lined Green with Early BR Crest, Weathered (8 Wheel Tender)
R2622- 30778 'Sir Pelleas' in BR Lined Green with Early BR Crest (8 Wheel Tender)
R2836- 797 'Sir Valence' in SR Lined Maunsell Green (8 Wheel Tender)
R2582- 30803 'Sir Harry Le Fise Lake' in BR Lined Green with Early BR Crest (6 Wheel Tender)
R2724- 30800 'Sir Meleaus de Lile' in BR Lined Green with Early BR Crest (6 Wheel Tender)
R2621- 30799 'Sir Ironside' in BR Lined Green with Early BR Crest, Weathered (6 Wheel Tender)
Limited Editions:
R2638- 30777 'Sir Lamiel' in BR Lined Green with Late BR Crest, as per NRM condition (8 Wheel Tender)
773 'Sir Lavaine' in SR Lined Maunsell Green, as part of the White Pullman set (8 Wheel Tender)
797 'Sir Blamor de Ganis' SR Lined Maunsell Green, as part of the Southern Belle set (6 Wheel Tender)
Note that an 'X' after the product number denotes that it is DCC fitted
Cost: Hornby has reasonably priced the models with an RRP of about £117 for a DCC ready version and £134 for a DCC fitted version. If you shop around they can be bought between £70 and £95, which puts it right with the T9 and the new Schools class. Though the limited edition versions often sell for silly amounts of money on ebay.
Points for Value: 10/10
How It Looks:
Note some of the small detail differences in the photos
Front Comparison: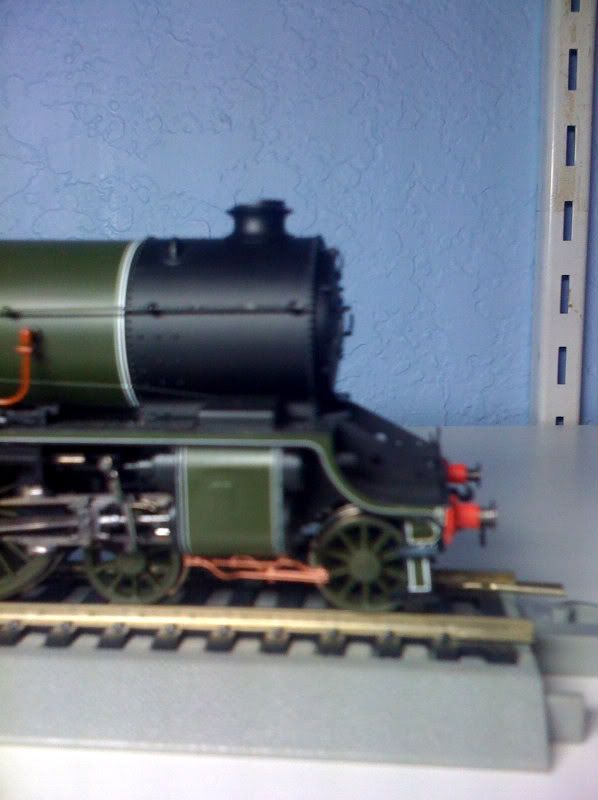 Urie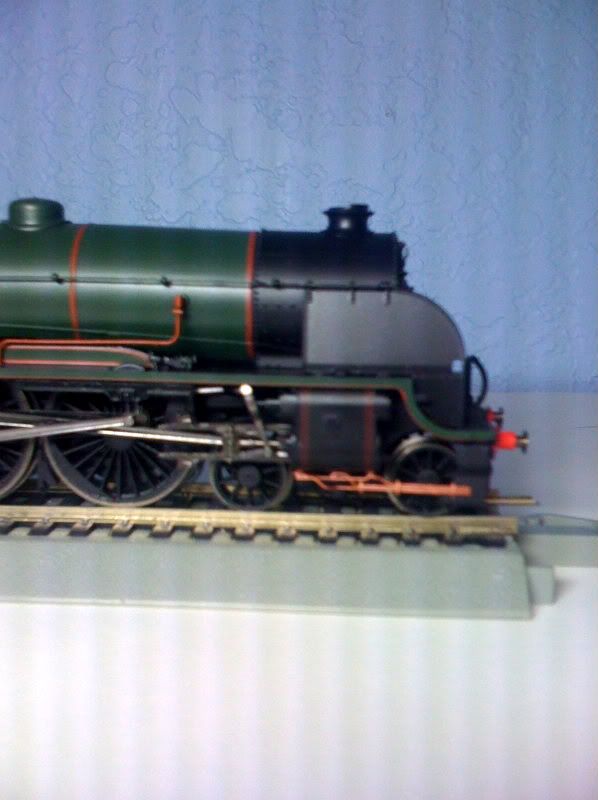 Maunsell
Together
Tender Comparison: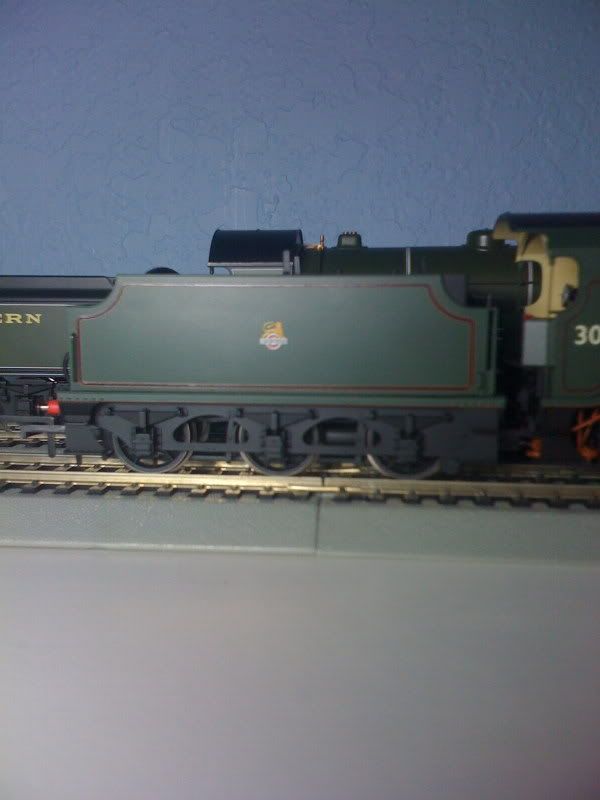 6 Wheel
8 Wheel
Cab Comparison: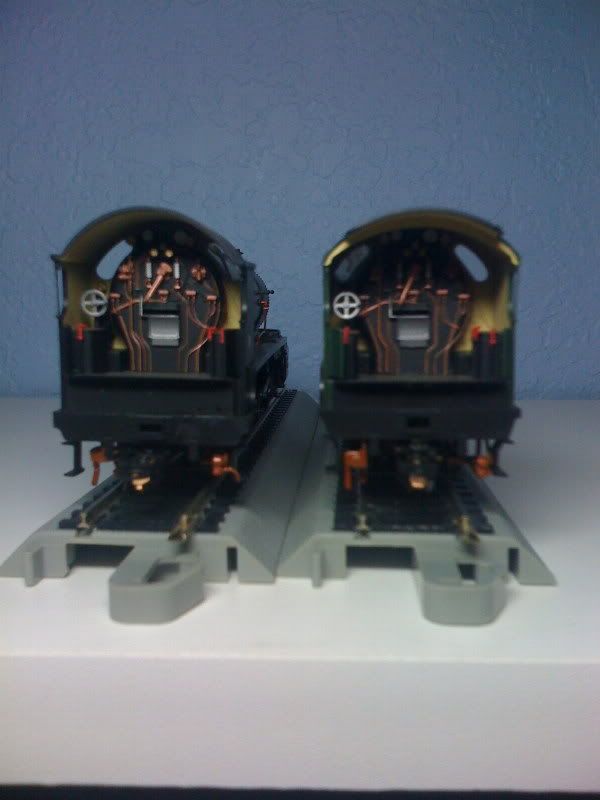 Interior & Footplate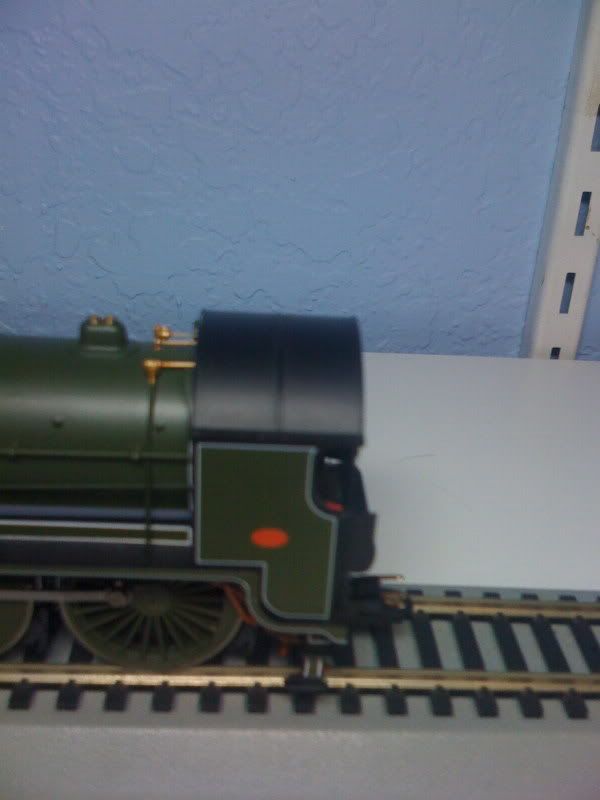 Urie
Maunsell
Head to Head: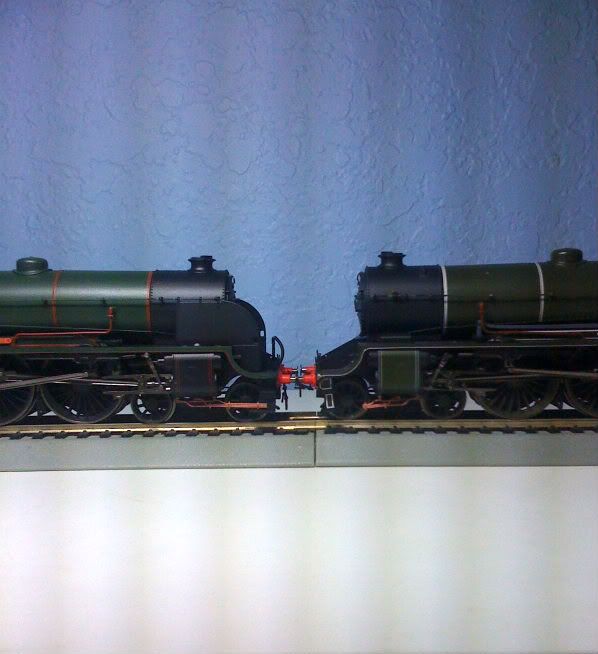 Before the images of the new T9s, Schools, and Standard 4s were out the N15 had set the bar detail wise. With lots of separately applied detail like smoke deflectors, chimneys, steam pipes etc, and by far the most detailed cab to date, which included water gauges, complete with water levels! As per Hornby standard, there is also a bag of detail parts to fit if the buyer wishes. The front steps, drain pipes, front coupling and brake rodding was included in the bag as well as unpainted figures of a driver and fireman. There are no glaring errors on the N15, which certainly is a plus in the looks department.
Points for Looks: 10/10
Running:
The N15 is a great running locomotive, and features pickups on all driving wheels, as well as on all tender wheels. The locomotive connects to the tender with a standard Hornby pin which has copper attached to conduct the electricity from the tender to the motor. There are no traction tyres on any of the drive wheels, since it is a larger locomotive and is perfectly capable of handling prototypical length trains without help. Both of my N15s can haul 9 coaches, 2 new Hornby Maunsells, 5 new Bachmann Mk1s and two Bachmann Suburbans, as well as two Hornby Passenger Brake Van 'C's. They do not seem to have any problem over point work. The only downside of the N15s running qualities lie in the front bogie, especially if the front detail is fitted. The bogie will derail on anything less than a third radius curve if the front steps and drain pipes are fitted, this can be remedied by moving the steps farther out and cutting the drain pipes shorter. Also the bogie is not sprung at all which can lead to it derailing, I have added a spring to one of mine and it seems to be fine, and the other never needed it.
Points for Running: 8/10
DCC:
If you bought a DCC fitted locomotive then this section is not of much use to you, but if you are looking to convert a DCC ready locomotive then this might help. In order to get into the locomotive you must remove the screw under the front bogie and then the screw under the loco/tender connection. Then very carefully lift the cab end up and slide the body forwards until it unclips from the front of the loco. If not done carefully you can damage the delicate connecting rods. The DCC socket is located near the front of the loco on an inclined surface, remove the blanking pin and put in your decoder, but make sure the decoder fits into the area in the body shell first or else you'll have a hard time getting it back together! When putting the body back on, make sure to carefully get all the wires out of the way or else you may damage detail work, or the decoder.
Points for DCC: 9/10
Hits & Misses:
Hits- Detail, faithful to the prototype, great haulage, good value
Misses- Small space for decoder, poor DCC running on the weathered versions due to paint on the pickups.
Hopeful Hints:
Hopefully at a future date Hornby will release a version with an 8 wheeled 'watercart' tender which is similar to the one supplied with the T9. Also the livery variations have yet to be completed; SR Wartime Black, a Maunsell version in Malachite, a six wheeled tender version in SR Lined Maunsell Green as a standard release, and early BRITISH RAILWAYS Black.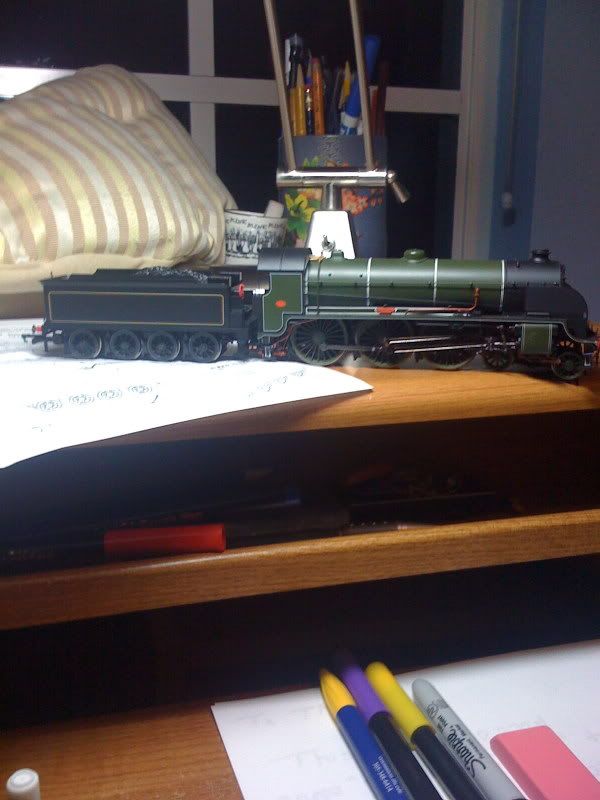 My version of the N15 with a 'watercart' tender, though its the wrong color and slightly smaller than the N15 'watercarts' were.
Overall:
Overall the N15 is one of my favorite locomotives, both as a model and in real life. Its excellent capabilities are very useful to any Southern Region layout, or if you just plain like the locomotive. It is a must have for anyone modelling the Eastleigh area, anywhere around Bricklayers Arms shed, Dover Marine, or any Southern enthusiast. They could be seen pulling express passenger trains such as The Southern Belle, The Bournemouth Belle, The White Pullman, and The Devon Belle, though when the Merchant Navy, Battle of Britain, and Lord Nelson classes were introduced they were relegated to more normal trains. I highly recommend this model for those who are Southern fans, steam power fans, or anyone who just likes the way it looks!
Overall Score: 37/40
Some notes: You might have noticed by now, that both of my N15s have been modified. My BR 30798 'Sir Hectimere' was a TMC edition that I had made for me, and my SR 751 'Etarre' has been modified to pre 1926 condition, when it did not have smoke deflectors as well as to go around sharper curves. 'Etarre' is also awaiting etched nameplates. I'm also looking into getting another N15 because the model is so good!