Mighty's Hornby T9 Review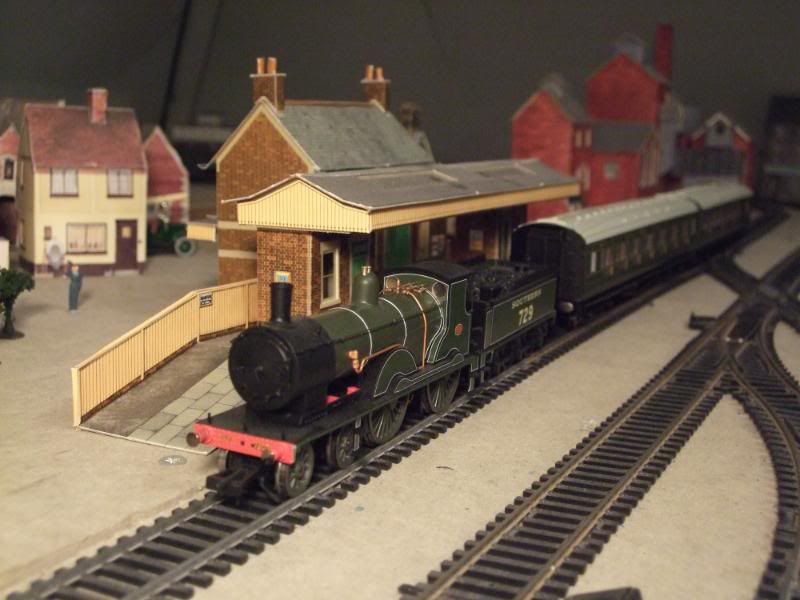 The prototype:
The Chief Mechanical Engineer of the LSWR, Dugald Drummond, is perhaps best remembered for his famous T9 class of locomotive. Nicknamed 'greyhounds' by their crews, the 4-4-0s were fast passenger locomotives that survived from first construction in 1899 to between 1950 and 1961.
66 locomotives were constructed, the first batches with narrow cabs and 'splashers' over the wheels, the last 15 built at Nine Elms locomotive yard with wide cabs and splashers. A number of the locomotives had watercart tenders – literally four wheel tenders rather than three, which held larger amounts of water that allowed the trains to travel further without stopping for water refills.
From the mid 1930s, locomotive 119 (BR 30119) was reserved for Royal trains.
Review – the basics:
Hornby have initially constructed several different versions, both in SR Olive Green and in BR Black, both early and late. The versions also take into account the differences in the four wheel watercart tenders.
R2690 – SR Olive Green – No. 120 – watercart tender, narrow cab
R2711 – SR Olive Green – No. 729 – 6 wheel tender, narrow cab
R2712 – BR Black (early) – No. 30724 – watercart tender, narrow cab
R2713 – BR Black (late) – No. 30310 – watercart tender, wide cab
R2829 – SR Wartime Black – No. 314 – 6 wheel tender, wide cab
R2830 – BR Black (early) – No. 30285 – watercart tender, narrow cab
R2831 – BR Black (late) – No. 30726 – 6 wheel tender, narrow cab, weathered
In addition, one T9 will be released as part of the Southern Suburban Train Pack:
R2813 – SR Olive Green – No. 312 – 6 wheel tender, wide cab, with 3 Maunsell Coaches.
Note – and 'X' after the catalogue number indicates that the locomotive is DCC Fitted, the absence indicates it is DCC Ready.
Cost – reasonably priced by Hornby at RRP of between £90 and £100 depending on the type of locomotive you order. If you shop around, it is possible to pick them up from £75, putting it on a par with Hornby's M7.
Cost/Value for money: 10/10
Looks:
Quite simply, the locomotive must be Hornby's best effort for years, and is superlative. The detail on this model, R2711 is stunning, from the carefully modelled smokebox with visible riveting and pipework to the inside cylinder motion, which must be the first time this has been modelled. (See this in the gap between the boiler and the chassis.) The cab interior is magnificent – clearly modelled, with detail even in the water and steam regulators. Take a magnifying glass, and have a look!
There are two noticeable problems, which you will only really know about if you read this review, or are familiar with the original prototype. Firstly, the guard irons on the six wheel tenders are at the front of the tender, rather than the back. This is only really visible if you are within six inches of the model however! Note, this is not affected on the watercart tenders. Secondly, the steam injectors between the two driving wheels are facing forward, rather than back. Yes, it is a glaring error when you know about it, but it should be fixable with a little care. Both problems should be fixed for some of the later models.
A number of detailing items, including brake rodding and other items are available for the purchaser to fit.
Looks: 8/10. Difficult really – I wanted to give it a 10, but the two errors knock off a point each.
Running:
The locomotive has had mixed reviews with this regard. A number of people have complained that their locomotives "couldn't pull the skin off a rice pudding"! A thread on another forum ran to over 300 posts, with various solutions suggested. I would suggest that if you buy one, and it doesn't work, send it back to Hornby.
All I can do is review my own model. It hauled eight coaches – five of the new Maunsells and three old LNER Gresley teaks with only a little wheel slippage on start off. This is helped by the fact that there is a traction tyre on the leading driving wheel. Some may baulk at this, but it does help the locomotive, and shouldn't be too hard to replace. Frankly, the prototypes didn't really haul much more than a six coach train, and in the BR period were relegated to secondary passenger routes, with only two or three coach trains.
The T9 runs smoothly over pointwork, and has pickups on all its wheels, helped by the plug socket that links the motor to the tender. A little fiddly to put in, but worth it in the end.
Running: 8/10
Conclusion:
This is a beautiful model, and is well worth the money for such a stunning addition to any loco shed. Yes, there is the odd problem, but I wouldn't hesitate to heartily recommend this to any Southern region enthusiast.
Overall: 26/30