Hornby M7 Review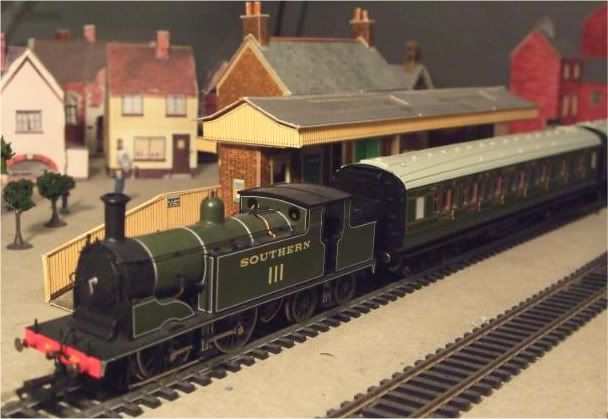 The prototype:
The original locomotives were designed by the London and South Western Railway's Chief Mechanical Engineer, Dugald Drummond, and they were his first major design. The 0-4-4 locomotives were designed primarily for local mainline and branchline services, and were first introduced in 1897. 105 locomotives were produced in five major batches. Some of the class were later converted to work with 'push-pull' carriage sets. In this instance, the train did not need to run round its train. The drive simply drove the train from a specially designed compartment in the rear coach, with air pumps controlling the brakes linked back to the engine. Nearly all of the class survived into nationalisation and they were finally withdrawn from service in 1964.
Review – the basics:
Hornby released their M7 locomotive in 2006, but are about to re-release the locomotive in 2009. Several versions have now been produced including both the short frame and long frame versions. This is by no means a comprehensive list, but gives an idea of the variety that you might find out there:
R2506 – BR (late) lined black, No. 30108 (weathered) – long frame
R2505 – BR (late) lined black, No. 30031 – long frame
R2504 – BR (early) cycling lion, No. 30051 – long frame
R2503 – SR Maunsell Green, No. 357 - short frame
R2625 – SR Maunsell Green, No. 111 – long frame
R2733 – SR Malachite Green, No. 676 – short frame
R2734 – BR (early), cycling lion, No. 30056 – long frame
R2735 – BR (late), lined black, No. 30036 – short frame
R2840 – SR Maunsell Green, No. 42 – short frame
Note – and 'X' after the catalogue number indicates that the locomotive is DCC Fitted, the absence indicates it is DCC Ready.
The cost of the locomotive is the one major downside. At a RRP of £90, it is expensive for a tank engine. The key is to look around before you buy. You can easily pick up one of these new for between £60 and £75 now with some research.
Cost/Value for money: 8/10
Looks: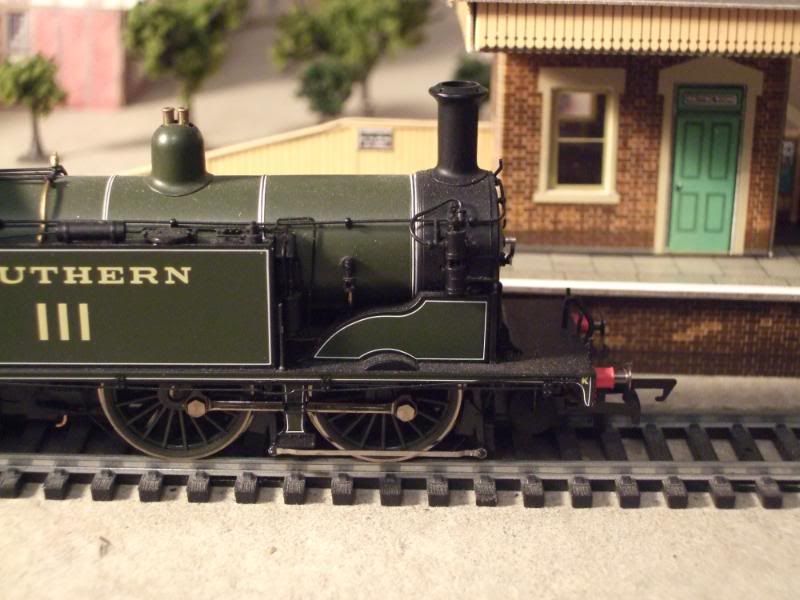 The locomotive photographed here is No. 111, and is superbly detailed. It has the complicated Westinghouse air compressor pump detailed, along with the air reservoir beneath the frame. It also has sprung buffers, factory fitted brake detail (so you don't have to fiddle to do it yourself), a very detailed interior and a variety of additional extras to fit yourself, should you wish. These include lamp irons, screw link couplings etc. Compared to the photographs, it is nearly spot on and goes well with Hornby's new Maunsell coaches. A fine effort from a 'super-detailed' locomotive.
Looks: 9/10
Running:
Some owners have complained that they had problems hauling more than a coach or two. I have to say that I've not had that problem. The locomotive is an excellent runner, hauling four of the new Maunsell's with ease and no slipping. It also hauls a variety of loaded wagons, in my case a dozen, with no problem. It very occasionally derails, but this is very much a rarity, and due more to poor track laying efforts than anything else.
Running: 8/10
Conclusion

If you model the Southern Region, then this is a must-have locomotive. Whilst it is not cheap, it is a good runner, superbly detailed and well worth the money. My advice – go get one before they sell out!

Overall: 25/30