Heljan Class 58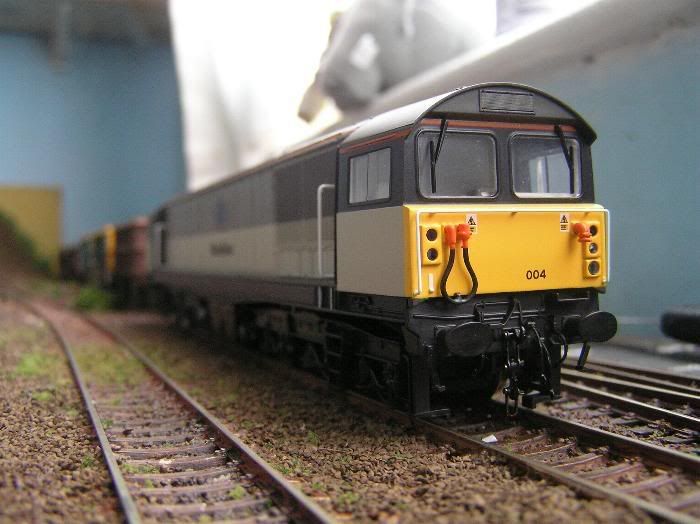 Name- Class 58 (58004 reviewed).
Manufacturer- Heljan.
Available- Mainline blue, Railfreight red/grey, Railfreight triple grey coal sector, Triple grey with mainline branding (as reviewed), EWS livery. Version one and two models available with detail differences.
Having finally got round to buying a successor to my much loved Hornby model here's a review of the Heljan Class 58. First of all this model has received much criticism from various parties and I wish to make clear that much of this is (in my opinion) unjustified nit picking.
Looks.
The model looks like the bulky, modular "58" it represents. All the detail on the body sides is there with the multitude of doors and fittings all rendered very well. Much criticism has been made of the lack of mesh grilles but the moulded ones fitted actually lend themselves incredibly well to the prototype. The grilles are very fine and the X shaped struts behind are cleverly rendered as if in relief to create more depth.
My only issue here is the painting of all these grilles in the same colour as the body side when they were dark grey, almost black on the prototype. This issue is repeated on the doors which are a continued theme of the Rf grey livery when they too should have been black.
The roof depicts the odd looking "58" silencer very well and the two fan grilles are see through mesh with the fans beneath. Heljan has been slammed for not providing working fans but they're far from essential and those provided look the part.
Cab fronts are the best area of the model and have well made multiple working cables separately fitted and incredibly good wire handrails miles ahead of Hornby's moulds. the body side handrails are also good.
Buffer beam detail if nice but can be a tad tricky to remove. The scale coupling is nice and loose and swings realistically as the loco clatters through point work.
Minor things that are noteworthy are the numbers, for some reason printed with the 58 in the number as bold type. Not really noticeable but still odd. Also noticeable are the open cab windows, one at either end on the sides. What were Heljan thinking here? Had they simply left all windows shut the model would have looked fine, opening them exposes the thickness of the glazing which looks ludicrous if you look close enough.
In the same area the cab interior is very crude compared with what is available elsewhere. Thankfully this isn't too noticable but if you're planning on adding a crewman to the cab he'll have to be sliced in half at the waist.
Below the body the chassis is well detailed enough for me at least, although some seem to have disliked the bogies which could possibly have had more relief.
Performance
Performance wise the "58" is a powerhouse of a loco. Heljan's AIA-AIA configuration (the outer axles of both bogies powered) is plenty and very strong. On the downside it seems to stall more readily than my other high spec diesels, but that's probably down to my track cleaning!
A word should be made on couplings, an area in which Heljan are ahead of the competition. Compared with Hornby's body mounted NEM pockets on springs (which derail wagons at every possible opportunity) Heljan's version, mounted on a flexible plastic arm is very reliable and usable.
Features
The biggest downside to this great model is in my opinion the lighting. In forward motion it's good, although not up to the standards of modern Hornby offerings. However the rear tail lights bleed into the headlight on one side making it look like there are two tail lights and one much dimmer third light. The white headlights also illuminate on both ends at some higher speeds, though I'm told this is a fixable issue.
The model is DCC ready although the decoder socket is not marked with pin one, I had to guess orientation and look to see if the lights were on in order to get it right.
The above is best done with the body off, as removing it even once is migraine inducing! There are four clips holding the heavy chassis block in place but even if you do, for a brief time have them all unlocked the thing still needed a screwdriver to prise it off.
Overall
This model is much improved over the Hornby offering and many of the issues people have had with it (lack of mesh grilles on body sides and incorrect number printing) are trivial. It looks like a "58" and performs like one, and by this fact it is a good model.
Rating- 9/10
Plus- looks, detail, performance, couplings, improves on Hornby model.
Minus- erratic lighting, open windows, poor cab interior, body shell difficult to remove.