Hornby Class 142 "Pacer" Old version (ie. no DCC, one motor)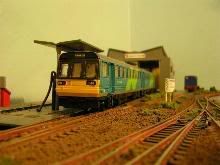 142065 takes on fuel at Octane Vale TMD.
Liveries produced-
Regional rail grey, Regional rail yellow, Manchester PTE orange, Provincial blue, Northern Spirit Turquoise (there were some others including a brown/cream livery and a grey/red one, if anyone can name them I'd be grateful)
* I can't be sure which of these were the one motor type and which were the earlier two motor.
Class History-
http://en.wikipedia.org/wiki/British_Rail_Class_142
Available from-
Ebay and other stockists of older models (Rolling Stock model shop in North Shields usually has some second hand).
Upgrading the model-
Branchlines do a replacement chassis with new drive and compensation units. There are also replacement doors available to correct the double folding ones on the Hornby model which were replaced with two rigid folding on later liveries. Express models also do a lighting system for every occasion, DC and DCC!
Writing this I can already see half the forum turning in disgust at the mention of the Class 142 and it's Hornby counterpart. There are however plenty of people who like the "Nodding Donkey" and would like a review.
My model is an example of the second attempt at a Pacer by Hornby. The original had a motor in each car and proved to be unreliable a the motors often ran out of sync. Mine is the later single motor version though it too has now been superseded by a new DCC fitted model (although this is restricted to a single livery at present).
Outwardly Hornby's effort is reasonable. The cab ends look the part (but would benefit from lights). The body sides and roof too are well made and covered with rivets like the real thing! The only thing I dislike about the appearance is the interior. It's a one piece beige plastic block with seats on it that rises up behind the doors on both sides and makes the model look like someone has been sick enough times to fill the gangways with vomit! The doors are also double folding type (I'm pretty sure these was a thing of the past by the time Northern spirit took over and they certainly are now). Glazing is flush and the livery is well applied with legible Northern Spirit lettering, running numbers and desitnation boards reading "Sunderland" (home sweet home!)
142065 at rest. The interior moulding clearly rises above the doors and makes the floor look rediculously high.
The under frame is reasonable and looks 142ish. On the rails the model performs as you'd expect. It rattles, shakes and squeals just like a real Pacer. While this could be dismissed as "authentic" it stops the thing being reliable. On curves the 142 slows to a crawl if it's at a normal running speed. This forces the operator to put his foot (or finger) down and power up on these parts of the Layout, slowing carefully to avoid the sudden burst of speed when the units reach the next straight!
A challenge to drive perhaps but if you're planning on sitting back and watching you've got another thing coming!
My 142 runs very jerkily also (though this is more likely due to lack of track and wheel maintenance.
The unit's pickups are on both cars and on three axles (the powered axle being fitted with traction tyres). The pickups should be adequate and are well spread out but still the thing continues to stutter. (I can't fault Hornby's efforts here as there are no more axles to collect current).
The coupling between cars is a semi permanent clip which also provides an electrical connection. It's a nice bit of kit and would benefit many other types of unit like the Lima/Hornby 156.
Overall I'd rate this model a 6 out of 10. It's appearance is mostly ok minus the interior but running really lets it down. Once again I must stress that this is not Hornby's fault. The real thing has just as many cornering problems and with just four axles there isn't much room from pickups. Removing the traction tyres in favour of more pickups would likely make the Pacer a nightmare on gradients (and it probably already is!).
Branchlines chassis could improve things but are expensive and I doubt whether they'd improve things much within the limitations of the long wheelbase (although I think they do offer flywheels). With some lights, weathering and maybe even some kadee couplings to model the four car sets somethings rushed out on a busy shopping day the 142 is nonetheless a unique unit and a must for modern image!
Rating- 6/10.
Good points- Liveries, overall appearance, interesting unit.
Bad points- running on curves, pickups, interior.