Posts: 221
Joined: Wed Oct 27, 2010 8:38 pm
Hi I am coming to the stage of wiring up my dcc points using hornby digital point decoders however isit possible to mount these under the board rather than onto if you ask me last thing I want are these black boxes sticking out on top
This train is about to depart stand clear of the closing doors please........ mind the doors
---
Posts: 1462
Joined: Tue May 29, 2007 2:59 pm
Location: Nottingham, UK.
Yes they can be fitted under the board
---
And further to that it really is worthwhile getting the most out of DCC by planning the wiring, and putting subsystems like point decoders in a convenient location for access. Arranging the bus wires and subsytems on a vertical board just under the front edge of the baseboard is one good plan. (There are many ways about this, but the general rule is that an hour of extra thought put into the design for ease of build and maintenance will pay back a hundredfold in the years to come.) Less of that grovelling about underneath and trying to solder above your head with an inadequte light basically. Been there, done that once too often.
---
Posts: 221
Joined: Wed Oct 27, 2010 8:38 pm
Lol been well planned I have a very big living rroom my layouts 16ft long the mrs wantedd some storage space so I said I would build them from scratch so the layout I always wanted is built on top the storage she wanted were both happy lol
This train is about to depart stand clear of the closing doors please........ mind the doors
---
Posts: 153
Joined: Thu Apr 13, 2006 2:05 pm
Location: 16A
Good thinking Bigmet..... Exactly what I've done.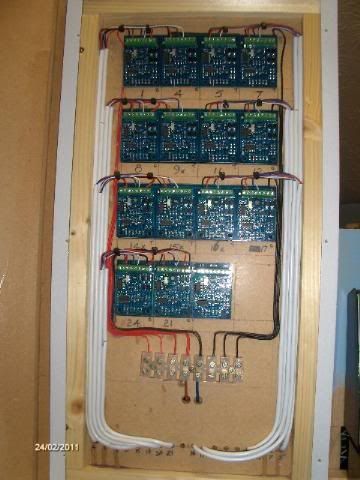 These are all Cobalt point decoders which don't require any soldering...
Mike
Hawkers Bridge -
A work in progress
__________________________________
'A Diesel engine is a machine - A Steam engine is a living being, almost human'
---
---
Who is online
Users browsing this forum: No registered users and 5 guests