madmack wrote:have ever made bridges for order as i have planned a n gauge layout & have a of set triangle shaped bridge on it
I dont
build to order
for others, only for myself , but with the exception of the bridge I'm currently modelling for a friend/member of this forum, as building this serves the "
shows you how
" aspect which is intended to inspire yourself & others.
The rail bridge you describe sounds like a Warren pattern /truss girder, the
basis
not sure about N gauge, but to build this in 00 would be a Peco LK11 (I think, or use peco's N gauge version if its N gauge you're modelling) ,that in itself would be fairly easy to build
as it is
, as you'd only need to make your own base for trackbed, but I say the
basis
as I try to make things more realistic by adding other componants, for example the 2 girders supplied in box for normally making 1 bridge, those 2 girders would need be assembled side-by-side & have additional truss girder profiles from plastruct (OWTS-6) placed inbetween girders, so I'd need to have 2 packs (4 side girders) for 1 bridge & lots of plastruct OWTS-6 & other components, some have overhead bracing girders, these are'nt supplied, so these would need to be made out of plastruct or similar, all the extra's needed total up to being very expensive, but achieving something as realistic as possible is the idea.
See photo's below;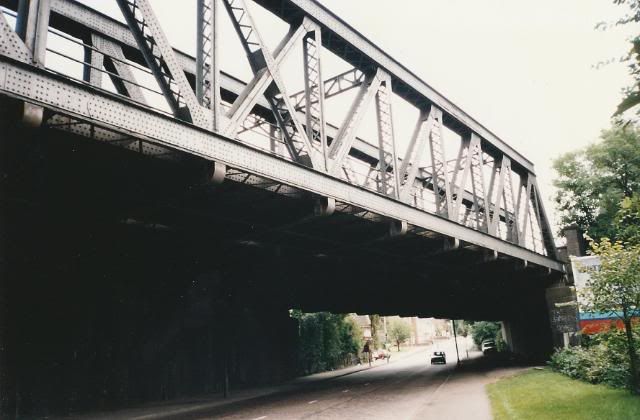 A huge span due to the skewed angle, the strength of this bridge design is in its height factor of assembled steel girder profiles.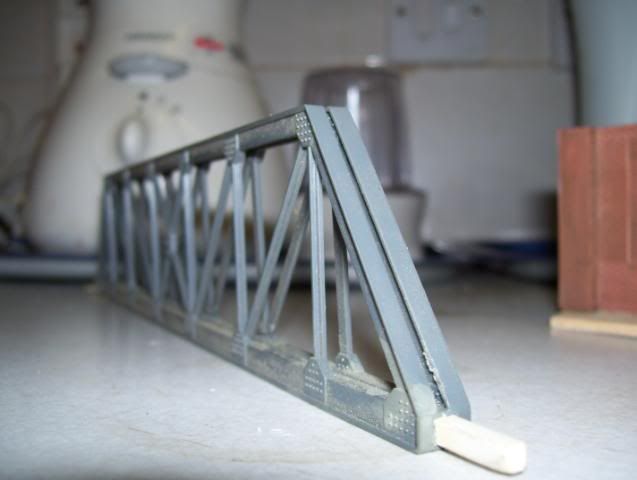 2x Peco girders side-by-side, an abandoned / unfinished project that I'd started.
Hope this gives you some idea's Mack, I look forward to seeing some bridge building from you sometime in the near future
_____________________________________________________________________________
I've been working on the underside of
plate girder
part of bridge today, I had the option weather to do this or not, as the underside is something that generally wont be noticed in
most
photograpic poses...,
most
....

Also, as part of the "shows you how" aspect intention, I thought it would be a nice idea to model the underside to a basic degree.
Photo's of the bridge underside & how I did this, will be revealed in my next post in a short while
Dave.