Hi again Chaps!
Here are a couple more videos of the layout. I post these because it's far easier to give an overall view of the layout. Just like most of you who are stuck in the loft or the attic it is difficult to get the full picture with photos. Admittedly the quality is nothing like as good as photos but I think it is a reasonable trade off. Having said that, sorry about the dark image on the one following the Black 5.
As you can see, there is a mountain of work to do on it. All the green and black stuff on the baseboard is from the last layout. I hope to put housing stock and a park there.
As always, comments, crits and suggestions are more than welcome as I am in no bursting hurry to get it finished.
I hope you like them and I promise not to post any more videos for a while as I am sure I'm boring the pant's off you all.
As always, thanks for taking time out to view my humble efforts.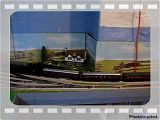 BILL.