Recently I have been working on my Hornby DCC ready Class 55001 St Paddy.
It has had a complete make over.
Flush glazing
Craftsman detailing kit
Fox Transfers numbers
Fox Transfers name plates
Fronts bogey parts off the Dapol prototype Deltic kits
Piece of plasticard
Wire for coupling hooks to latch on.
Bachmann decoder
It has had the work don on it to bring it to more a mainline engine just like the real thing. The new identity of the loco is 55022 Royal Scots Grey with full transfer kit put on it. and detailing parts painted to give it that new out the paint shop look.
The start of work was the buffer beam detailing
Then the next part was the prototype Deltic front of the bogey parts with the rail guards.
Then the numbers were worked upon.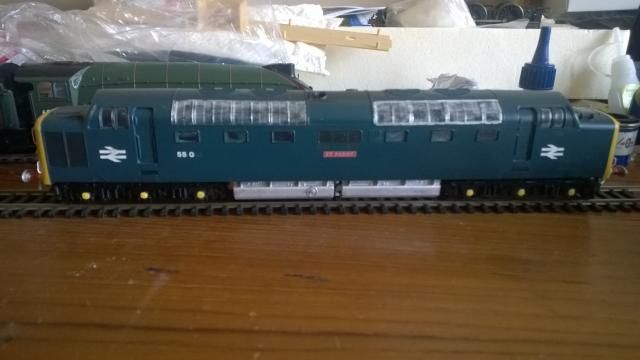 I carefully scraped the numbers off with a sharp scalpel and placed the new transfers on and the nameplate went over the top of the old one that was on it.

And the new identity of it looks great compare to how it looked before. I will at some point finish with the silver paint detailing around the windows. It looks so much better than the standard dcc ready Hornby Class 55.
I feel that it looks so much better. I had a slight accident with the super glue when the nameplate went on but luckily I had some diesel blue paint that I touched it up with.
Work will continue on the other projects that I have put down so I didn't go and mess up the work I had done. Some while ago I was working on a Black 5 but I put it down and didn't finish it as I started other stuff like the A4s I have nearly finished Dwight D Eisenhower, however there are some detailing parts left to go on it. But first I will finish the black 5 by the new numbers and name plates going on it. Then carry on with the A4s. DoC, DDE, Bittern, Sir Nigel Gresley and see if any work will need to be don on the Mallard that I already have.
For my Birthday my lovely girlfriend has bought me Merlin experimental purple LTD EDN for £123.50 when there was another that went for £165 on eBay, talk about a BARGAIN. I will at some point get one to do UoSA, so the A4's are complete (ok there will be 7 of them).