Hey Everyone,
So after much umming and ahhing on here looking at some of the amazing N gauge layouts I have finally given in and decided to give it a go even though my OO layout isn't finished yet....hmmmm gonna be busy!
The difference with this new layout is that I am going to take a lot longer in creating it and hopefully make far fewer mistakes.......oh and spend less cash as I can hardly afford to do this but I thought I would take it slow and spread the cost a little.....
I have been very lucky indeed in the fact that I have Tim, Mumbles (Michael) and Derek helping me out on a suitable track plan....here it is so far with a few amendments to come....
I love the idea of this trackplan as it goes end to end 2 different ways and also has a long long loop available to run something around, I am very excited about it.....
I am going to run Modern stock only, no passenger or only a small one in the shape of a 2 or 3 car DMU and only small loco's and wagons, the idea is a provincial branch line somewhere with some industry, oil and a lot of hilly countryside.......
So the baseboard then, it is 203cm wide by 72cm deep...it is a door that I was using as a workbench just below my shelving for my OO layout.
Here are the pics...
Well this is messy....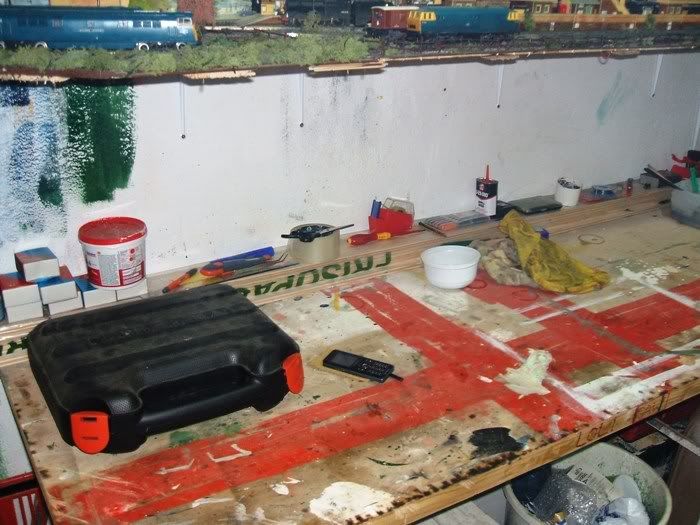 That's a bit better.....
Let's turn it over and see the other side of the door.....
Now all I need is some nice horrible paint.....this stuff is perfect, it says "Horrible Brown" on the lid, spot on!
Much better!
I am going to try to make a little optical illusion on the wall at the back of the board by painting the wall so it extends the colours on the board.....at the side will be a very simple board approx 20cm high on which I will paint a backscene of just greens and browns merging into a blue sky....I have seen this done on here somewhere and it looked great!
Trackwork will be all peco, some setrack, some flex etc.
I have had to decide to buy a starter set from the off as I am starting with nothing so at least this will give me something to start with to measure trackwork etc etc, also a controller. That will be it for now though as the old cashflow will dry up if I'm not careful so want to spread it out over a fair few months......
So that's it! Off we go, wait for the postman and some track and hope the guys get genius on the track plan as I am useless at it!
All the best, more updates as we go along......
Gav.