Well that's done it, she has called my bluff.
I have been going on about making a layout but we are likely to be moving around a lot so the idea of a layout in a coffee table was mentioned.
Well my wife has bought me a coffee table now. An Ivas from Ikea, 120cm long and 70cm wide.
Now all the planning I have been doing over the years have been based around one of the J.C.Frezer designs in "Layouts for Small Locations" ( coffee tables not being that big ). I can't find the book at the moment so can't say which one it is but here is a rough sketch of the layout.
The top layer.
The bottom layer.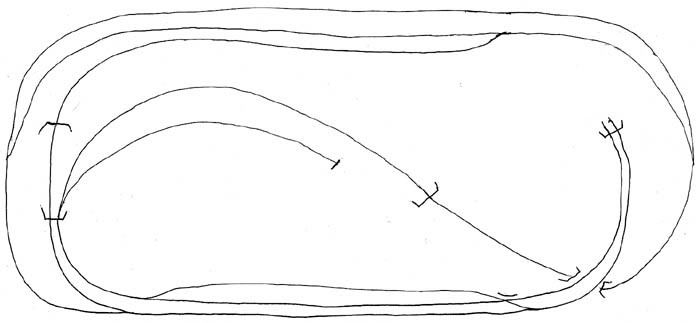 The original was 8'x6' but in OO so in general I have halved the dimensions as I am using N gauge but it has under gone a reduction in width as well.
With the lack of space I have had to put in some very tight curves, 8" radius, but before doing this I have made a test track/DCC programing/running in track with a spiral siding with the radius reduced by 0.5" at each end enabling me to test the running stock round different curves to check the running. It was quite impressive how many of the locos made it all the way to the middle round the 5" radius curve, the 9F did look silly doing it though.
The other thing that I am doing to maximise the use of space is to build my own points in places. Now this is a new thing to me as well so hopefully this will work.
More in the next instalment,
Tim