Right here we go!
I borrowed a friends video camera this weekend (thanks Ian)
I haven't a clue wot I was doing!
It's hard work running trains and operating a camera at the same time.
So we now have some very rough video's of Slightly shed and a pair of sound Class 20,s running round the shed.
I apologise in advance for the shaky hand and fast running loco's.
The two video's are meant to run as one but I don't know how to put them together so here they are as two.
[url][URL=http://s122.photobucket.com/albums/o242/peakxv7500/?action=view&current=MOV00003.flv]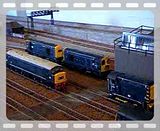 [/url][/url]
[url][URL=http://s122.photobucket.com/albums/o242/peakxv7500/?action=view&current=MOV00005.flv]
[/url][/url]