Okay, so this is a project I've had gradually getting some attention for a long while, and to be fair it really hasn't been that much attention. It's essentially a 12ft by 2ft layout (four 3ft sections), though the scenic area will probably just be 1ft wide.
The idea is that this is an end of branch single platform station with an old stabling point next to it. The platform line will be overhead electric, but not the yard. Off-scene a smaller branch will diverge which will probably end up being diesel only (for variety). The idea for the stabling point is that it was built to stable and provide light servicing to the diesel units that used to run down the line before the overheads were installed, but now will be used by a small company (perhaps railfreight, perhaps spot hire, I haven't really decided), and has a newer shed building erected at one end for better servicing facilities than the old shed (now demolished).
The layout will be based north east of London, possibly in the vague vicinity of Harwich and Felixstowe, which should give you an idea of what stock to expect, but I haven't decided on a name yet.
Below are two pictures to give an overview of the layout, one taken from either end.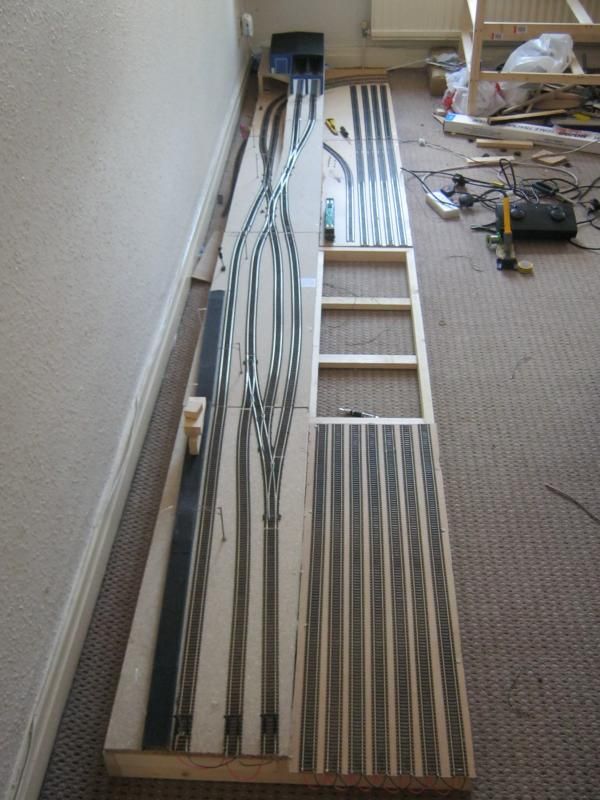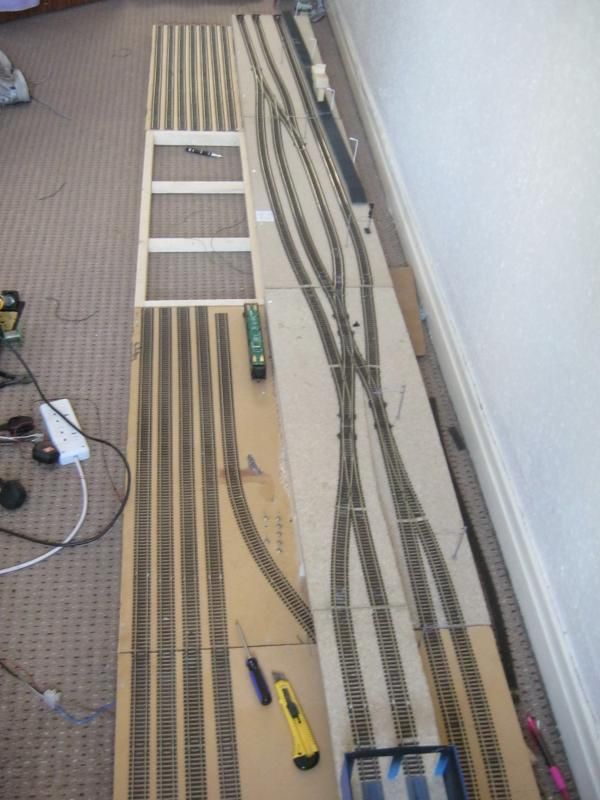 The area of no board you can see will house a traverser (I hope) to access the sidings of the 'fiddle yard'.
The only real thing of note on the layout at the moment (aside from track and a half built shed) is a signal, but it does four amazing things....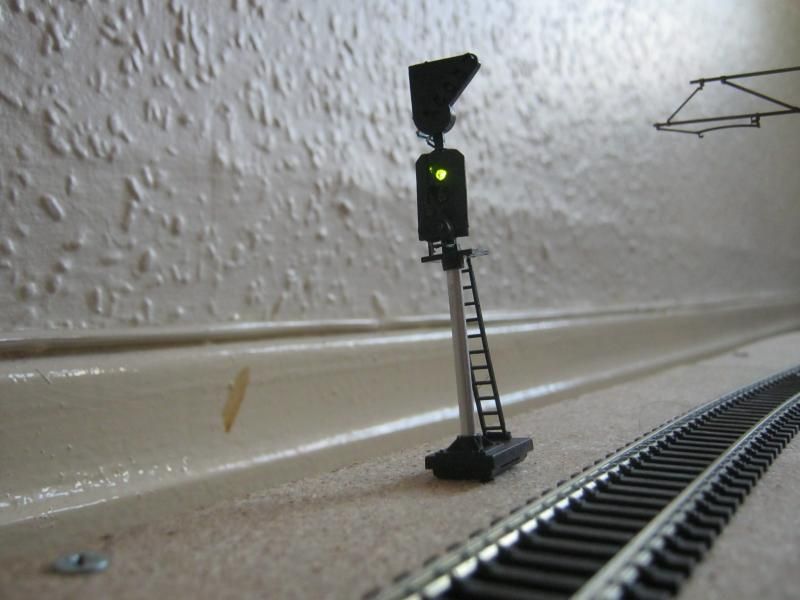 A green aspect (though to be honest I'd have prefered a darker green) which should please all the drivers.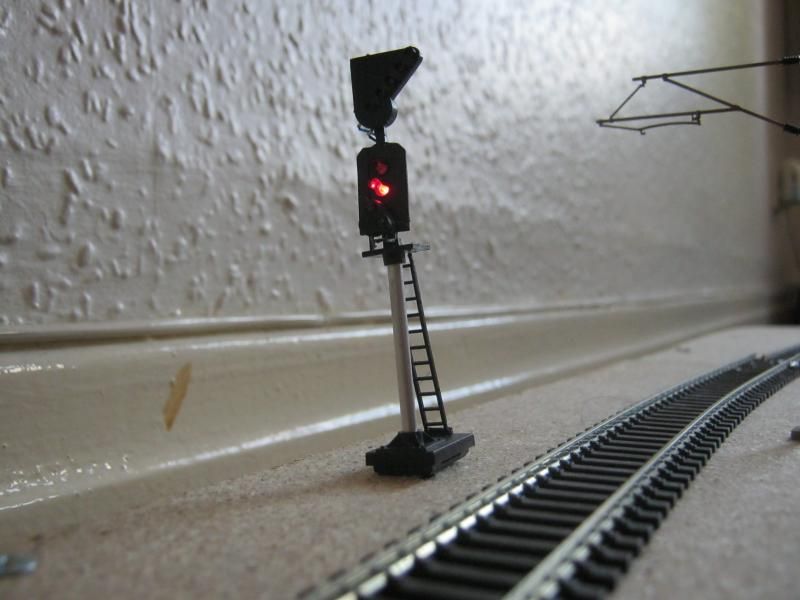 A red aspect, which most drivers won't like (but they have to exist).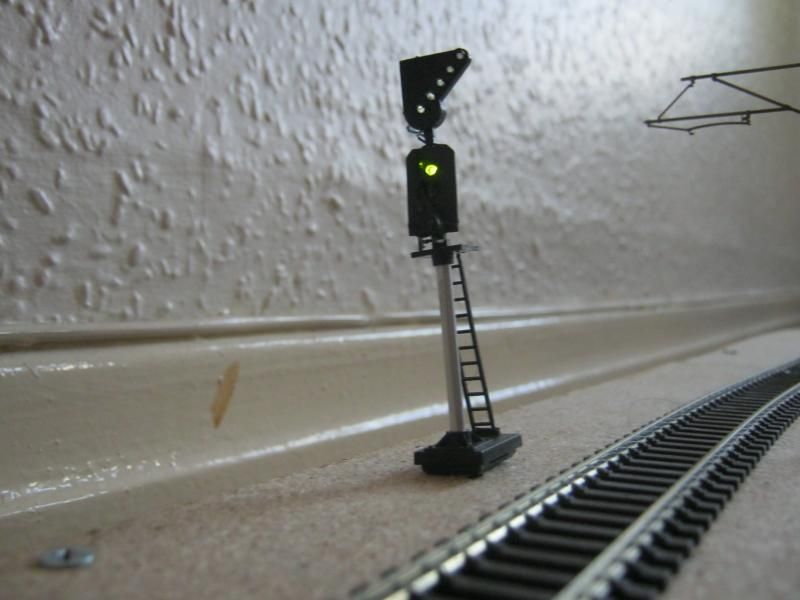 A green aspect with a right hand 'feather' (route indicator to be official), for access to the diesel branch that we can't see.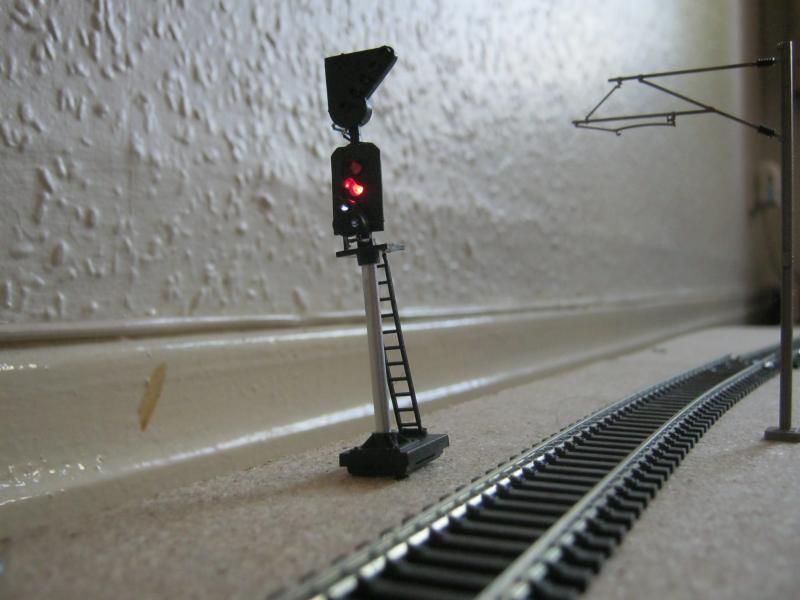 A red aspect with subsidiary aspect (it could probably be lit a little better), for shunting from the station to the stabling point/yard.
Now I realise that the pedantic among you will note that these four things aren't exactly amazing, but when you stop to think that I actually got it to work, I think it's pretty amazing.......
Plenty of really annoying little things to do before any scenics can go in, mostly to do with track alignment between board sections, although one section of track just doesn't want to work right now, but it's all a start.