Hi all
Apologies to those who have started to follow my little Bavarian layout, unfortunately I've been sidetracked into another project, and although running them in parallel this one is moving faster than the Bavarian one. I hope you find it of interest.
Back in April I was struck by the bug to build something in OO, not a scale I've ever worked in before. I wanted to build a small 'scene' approximately 1.8m long to fit in a shelf space. For reasons I have blocked from memory, I decided I fancied a semi-traditional GW BLT. Knowing nothing about railways in Britain I searched for a suitable prototype.
I was attracted to the idea of a small rural station, with minimum rolling stock and a very simple track configuration. Here the internet proved its value. I happened upon the Golden Valley Railway in Herefordshire, which ran from Pontrillas (those who have dealt with Ontracks should know Pontrillas) to Hay on Wye (of second hand book fame). With a nice website charting the history and containing lots of photos it was ideal. In particular I was struck by two photos of Dorestone:
And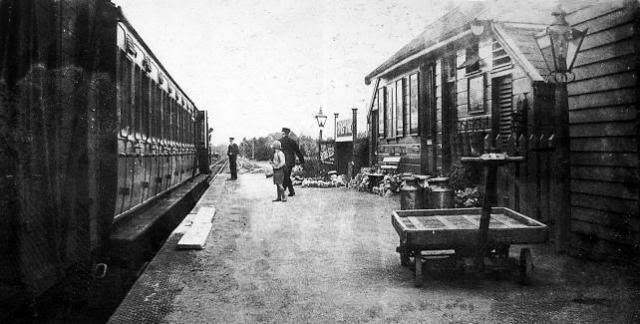 I liked the idea that though there was a few years between the photos the scene remained almost unchanged. Although originally a passing station, as the line drew towards the end of it's life the track from Hay was taken up and Dorestone for a short period became the terminus before being closed completely. I also purchased a book on the line (I was amazed that such a book existed!) that was packed with pics, and info.
So this was my prototype. I decided to model the scene a few weeks before final closure. The scene comprises the station, a passing loop, a single siding and a dis-used siding (originally the line was intended for two train use so an additional siding and ramp was built, from research it seems this was never used and fell almost immediately into dis-use.
At this point I had no stock, a small amount of track and it was raining...so I decided to build the station first. Preferring to scratch build and there being no kits available anyway, I scaled some drawings from the photos (and those of similar stations) and constructed the station building and storage shed (I posted this elsewhere on the forum at the time) from foam board and card/paper, the:
AS this layout is only an experiment really into OO I'm not too concerned about a few imperfections as it's a learning curve, so I appreciate the building is ok, but not perfect (I can see the gaps and flaws, even if others can't), and at least it's all my own work which is nice...
I won't bore with the woodwork, suffice to say it's a 2x1 ladder frame and 9mm MDF top. I also sandwiched two offcuts of MDF to make an 18mm platform. The track plan was simple, I had to compromise length a bit to fit the space, but not much and the passing loop was designed to accommodate the small train so it looks fine in practice, a few hours of cutting, trimming and stuff it was all down (code 75 track, DC, electrofrog points, manual operation):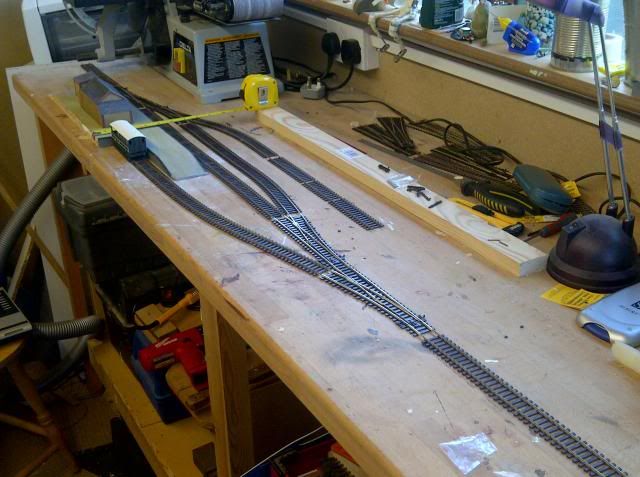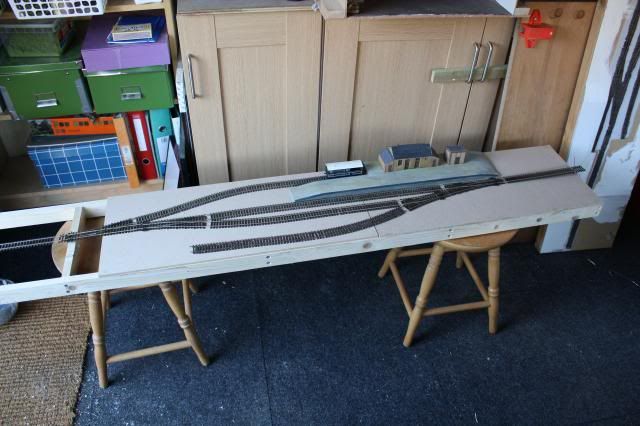 The platform was 'textured' with polyfiller and edged with card formed 'engineering brick'. Washes of acrylic were built up to give it some colour: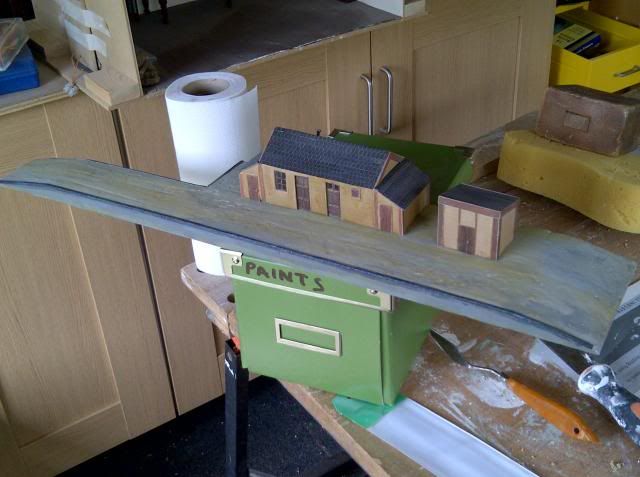 For rolling stock I only needed a single loco (an 0-4-2), and three or four wagons. The prototype was a 48XX, I've gone for a Hornby early crest BR 14XX which I'll re-number to a 48XX later. The wagons are all ex GW, a Toad, box-van and 7-plank open, I'll add a 5 plank when I find one, if I've got these numbers wrong please excuse my ignorance of GW locos etc.
Because of the limited stock I decided I'd like to have 3-link couplings, though dreading fitting them, they were in fact really easy to fit (albeit requiring some trimming and grinding):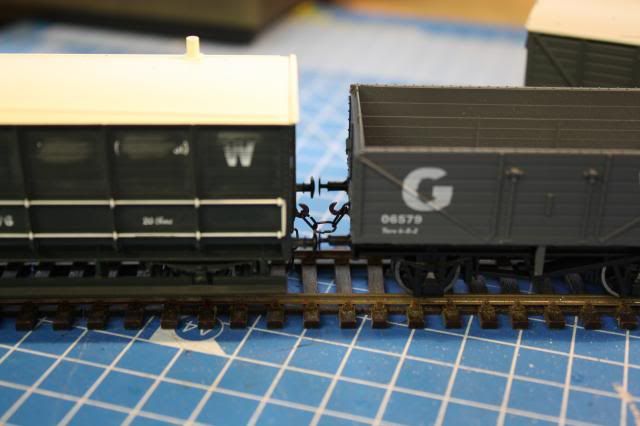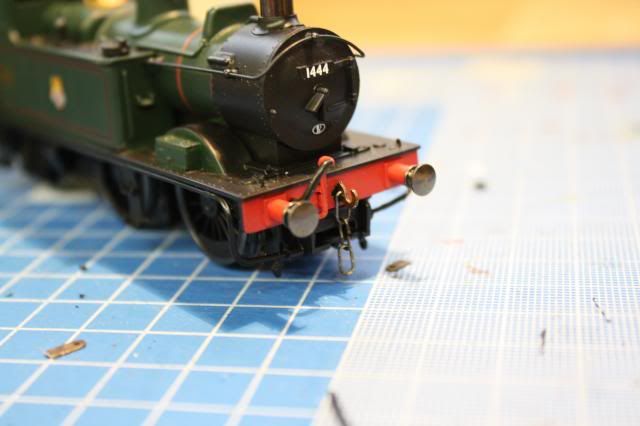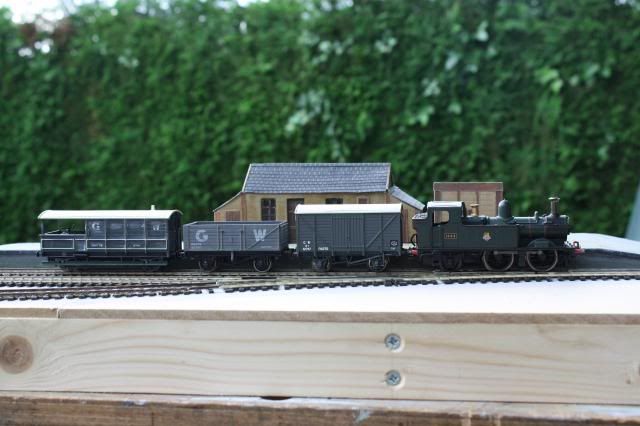 Finally the sun came out and about a week ago I could start ballasting, and I had a willing volunteer to assist too so progress moved on apace, I don't think we need pics of bare ballast.
Now the fun could begin, greenery and stuff. I've started on the middle section first, firstly getting some base greenery down, and then slowly adding detail with static grass: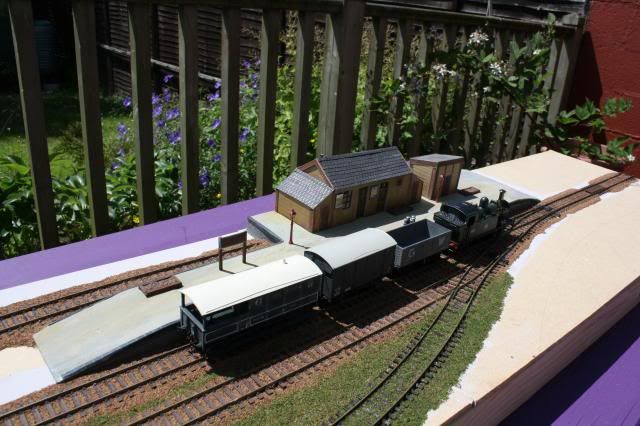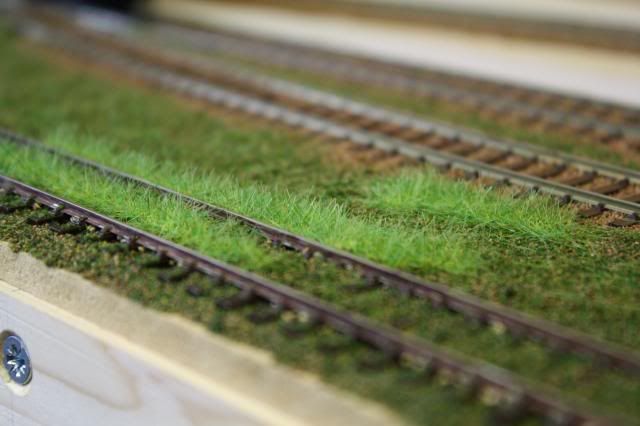 In parallel I've worked on the platform, adding details and my only detail purchase so far two Hornby Scaledale lamp-posts (they were perfect for my needs), and some PECO milk churns which I painted up: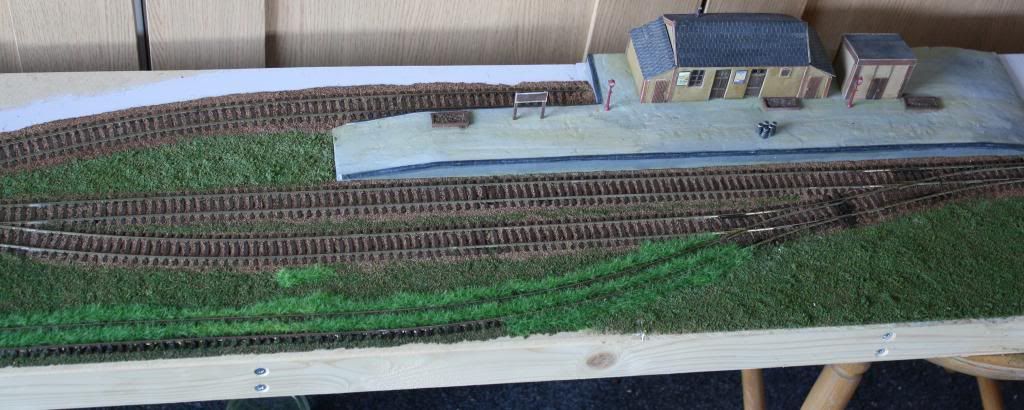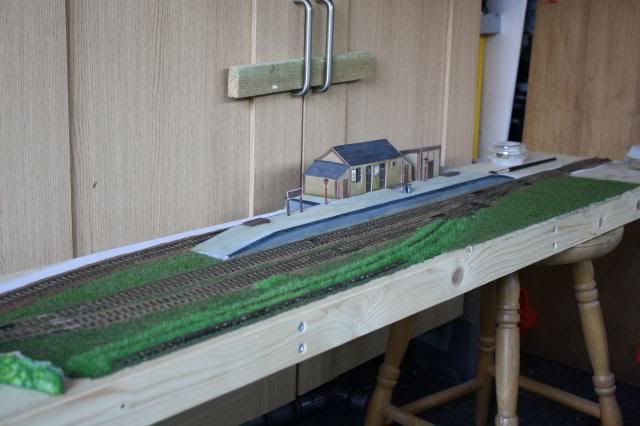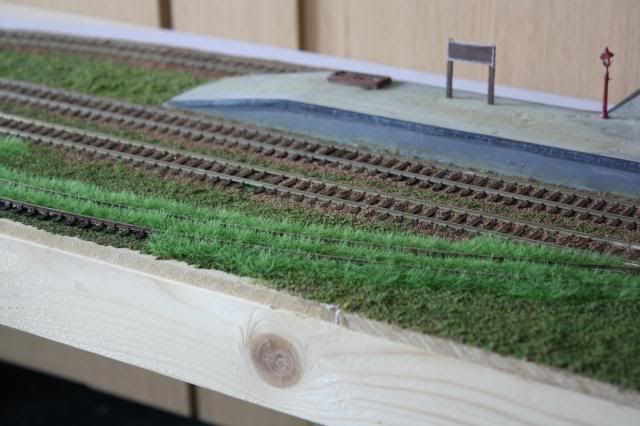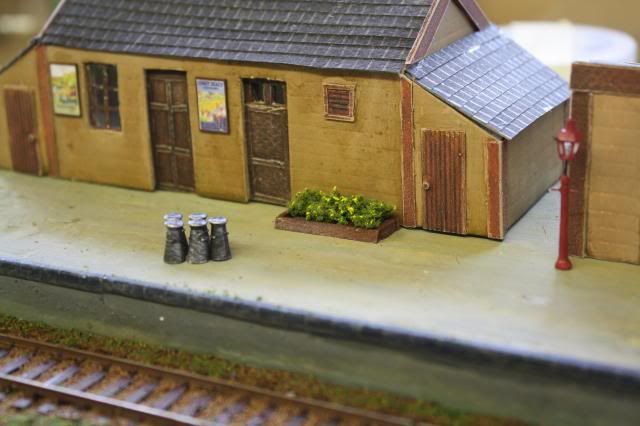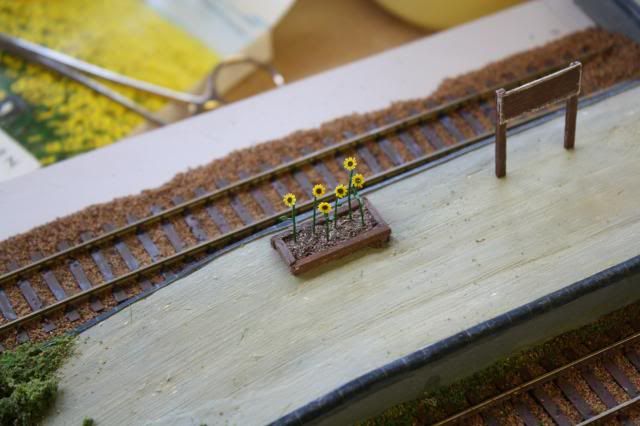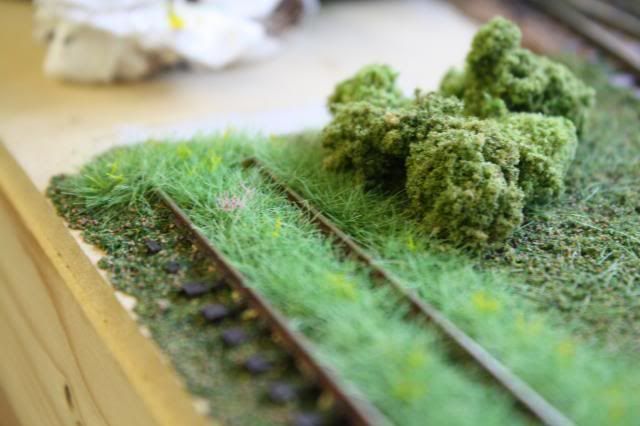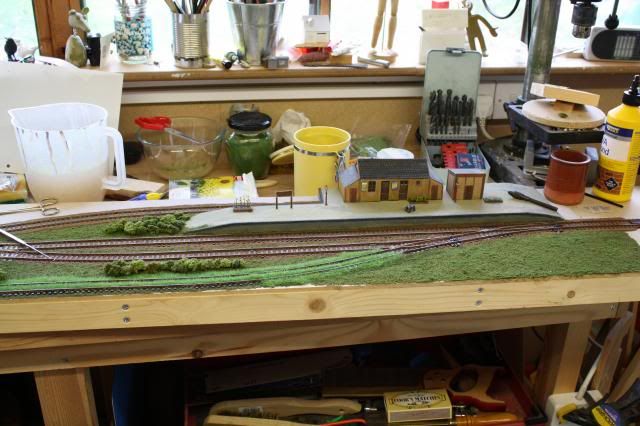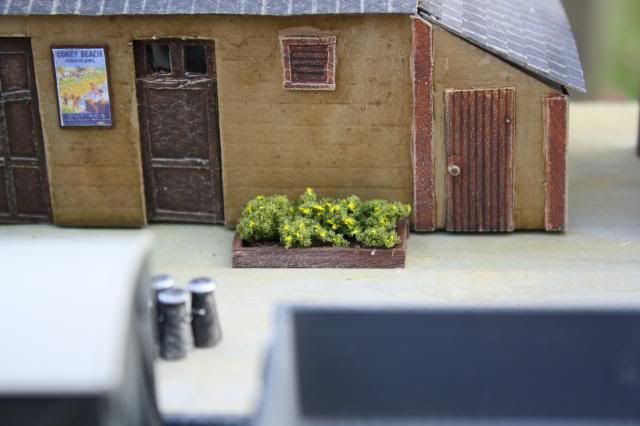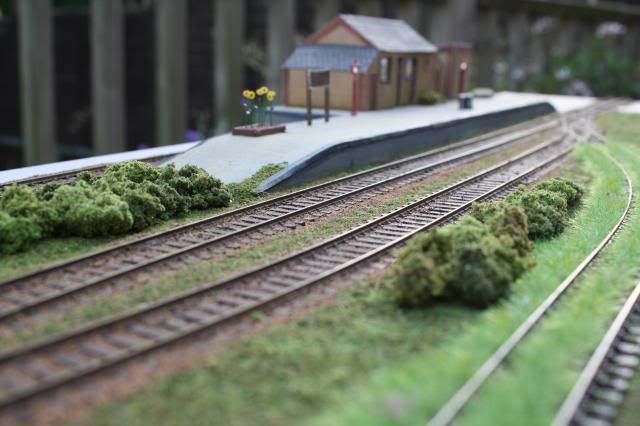 And there we have it, progress to date, I'll try and post updates as they occur.
I think it looks quite nice so far, and maybe I've demonstrated how easy it is to achieve nice effects with very basic materials, and in a short time frame. The long term future for this layout is uncertain, once completed I might dispose of it, as it's sparked an interest in something more ambitions. But for now I'm having fun though doing the scenery.
If you're interested, this is all that's left of the station, it's a farmer's field, you can just make out the platform edging (I drove past and took this pic over a hedge):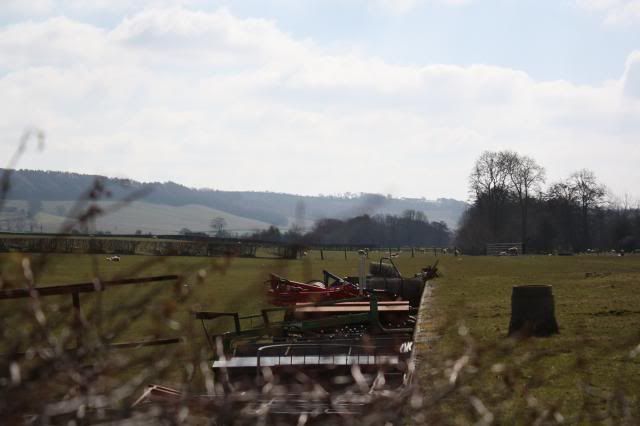 I hope you enjoy looking at the pics, please feel free to comment or ask any questions.
Pete