Hi all,
To try and combat my urge to keep going out and spending money that I don't have, I visited my parents the other week and picked up all of my n scale railway bits and pieces.
I currently have a spare room in the flat that I rent, and in lieu of getting another flatmate in, I thoought I may as well make some constructive use of the space - and attempt to justify effectively paying more rent than I actually need to!
My background is with computer software and electronics. My main reason for constructing this layout is to have some inherently complex operating possibilities that I can design some computer software and build some electronics myself to enable automated control of the layout. Oh yes, and to run some trains

As most of my stuff hasn't run for 20 odd years, with the exception of a controller I built for a college project about 15 years ago, all of my engines really need a good service. This will occur sporadically as time and money allow.
A trip to the local model shop with the intention of getting some track pins resulted in me buying a 2nd hand GWR saddle tank for £25. My head justified this by saying I needed something to test the track layout with!!!
A friend had some chipboard lying around, so 2 of these crammed into the car and some initial testing could take place:
Things then went silly as my mate Tim came round and we decided to "test some sidings!"
Well, you need to check the points work!!!!!
Finally, a small incline test: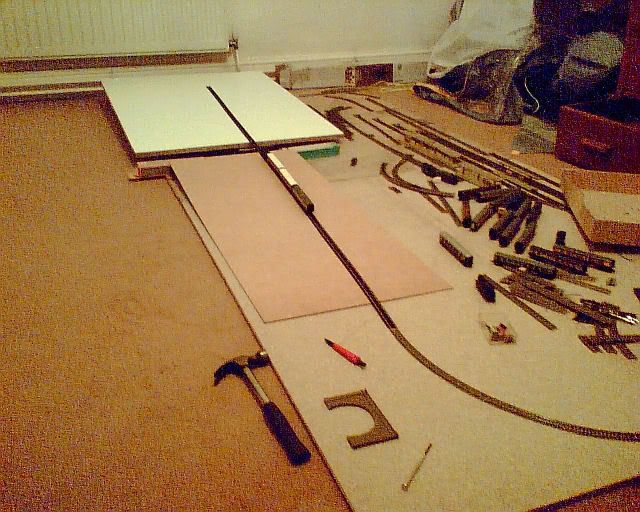 More to follow... (and I really must get round to packing the tent away!)