Hello all!
Well, it is time to start again! As previously discussed in my old layout thread (link at bottom of post) Ollerton met its fate at the hand of track issues at board joints.
So, for my new layout, a few things had to be met.
1. Continuous run. I like to watch trains go by.
2. All on the same board. As my layout is mobile, the larger they get the more boards I need. I needed to avoid board joints this time as they were my downfall last time.
3. Use Code 80 streamline. It is what I have in stock, bought and paid for. Will use code 55 next time!
4. Motorised points and colour lights. Tried both out on previous layout and I am now a convert.
5. Try out new materials and skills. One day I want that big layout round a room with nice finescale track, rather than a succession of smaller layouts. I can live in hope!
So with that in mind I came up with this (excuse the red bits they are an aproximation of later 'real' edits to the design!):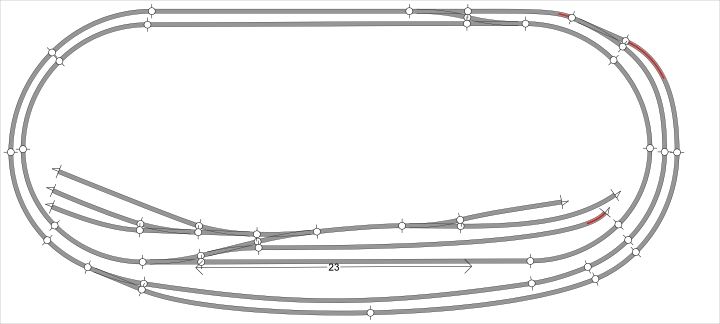 I decided to call it Chinley, I have moved my modelling wonderings further west to the middle of the peaks, hence the name picked from Google Earth. I discovered from my rail atlas that it does indeed in real life have a station with an island platfom, but I am no aiming to replicate what really exists. I don't have the room for a prototype.
So anyway, the back story is that the station is on a combination of ex-GCR/MR lines in the Peaks/Pennines areas. The normal closures happened in the sixities and seventies, which left the truncated lines to Buxton. However, I am working on the idea that for some obscure reason services from West Midlands and East Midlands still make it up to the area. Therefore, in my later period, I have a premise that London Midland have a through service from Wolverhampton/Birmingham to Chinley occurs with LM and from Nottingham with EMT. Must get my self a Northen Unit at some point!
Anyway, here are some pictures to show progress to date. Went for a liberal interpretation of the term 'open frame' baseboards. I was inspired by Layouts such as Frankland, Rayne St and Gresby where the rails stay at the same height most of the time but the landscape varies. Fed up with my flat baseboards. All of the track is down and painted, the station is under construction and the colour lights and point motors are in. This includes an excellent handbuilt (by CR Signals) cantilever Signal post at the end of 'London' end of Platform 1 and 2 (did I mention I have a GC HST!
).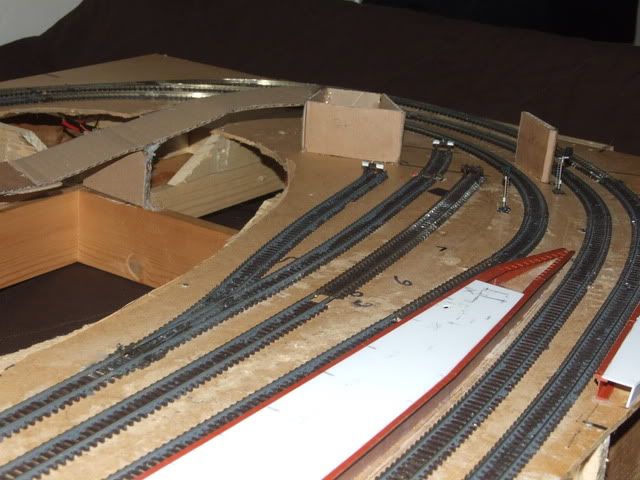 Thanks for looking!
Mat.