Grayholme
I should have posted this a month back but I wanted to have something to show.
The Plan
I'm not great with XtrkCad, but this gives a good idea of what the track plan will be. The biggest difference being that the station platforms won't be so thin!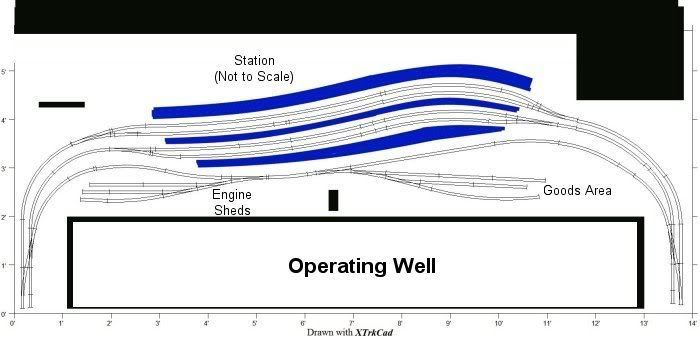 Aim:
Build a layout to play with in the loft.
Era:
My problem is there isn't really an era I don't like. The only one that really springs to mind is BR Blue, and even then it's only the small logo period. As a result the layout will feature loco's from any time from the Big 4 steam era to the present day. That said, trains will be prototypical. You won't see a Class 66 pulling LMS carriages or a Duchess pulling seacows.
Location:
Rather than say where it is, it's easier to say where it isn't. ie it isn't in Southern England, Scotland or Wales. Neither is it in the South West or Eastern England. The fixtures and fittings will be mostly LMS and its more than likely I'll decide where it "fictionally" is after it's finished.
Rolling Stock:
As hinted at under era, I'll be running lots of different stuff from steam to diesels. At the start though the chances are it will be more Diesel than Steam. However the advantage of steam is that there was a lot more diversity in the freight area. These days it's only bulk freight on the rails whereas in the past you had Goods, Coal and Livestock. This gives me an excuse for a Goods Shed, Coal Yard and Cattle Dock by the Station. Also I really want a turntable
.
Perhaps I should point out that steam wise rolling stock will be mostly LMS/BR. There won't be any LNER stuff at all. Though I may get an A4 one day just so that a Duchess can scream past it !!
The Layout:
Size 14ft x 8ft. Two loops with a 4 platform station on one side and a fiddle yard on the other. By the station will be a goods area and an engine shed.
Scenery:
Unfortunately the size of the station will restrict the amount of scenery. Any hills will be plaster cloth on chicken wire. Buildings will be Card initially though these will hopefully be replaced with scratchbuilt items once the layout is up and running.
So far:
At the moment progress is slow. God know's when it will be "nearly" finished. Here are some pics to be going on with. I'm hoping to have the two loops done by christmas and then onto the sidings in the new year.
General View of the Down Line through what will be the station area. I was thinking of keeping this bit straight to help with the platforms. However once the flexi track was on the board.....a little bit of curve and I thought, what the hell.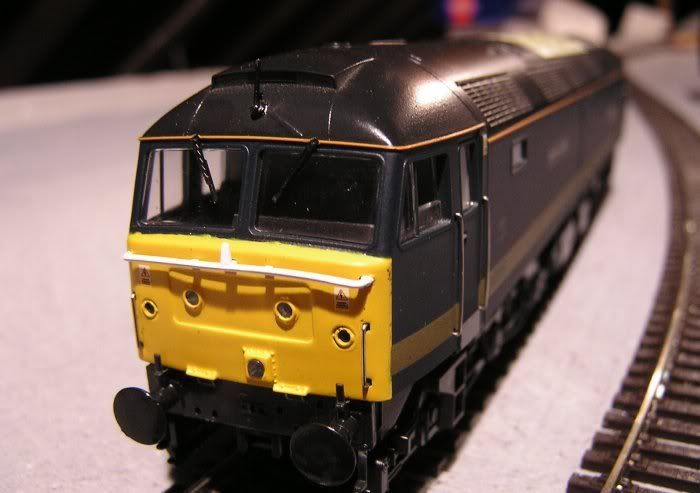 Heljan Class 47 "Abertawe Landore" in FGW livery. Bargain £45 from hattons. Great looking loco but another nail in the coffin of having the layout based in one particular region.