I'll probably change the Title in the upcoming weeks to resemble the latest little shelf layout that im doing, mainly to keep an interest and mainly because they are easier to build, easy to maintain and offer a small scene for the fleet to be placed on!
Anyway most of you will probably have seen this before on Brblue and on here, however time has past and memories forgotton
So a quick recap, back in late 2008.. i started a small shelf layout called "abidale" yard measuring a merely 2ft by 1/2ft! All recycled material used in construction. The Embankment was created using the simple method of modroc strips and a skeleton cardboard structure underneath, the modroc was painted lime green as shown below.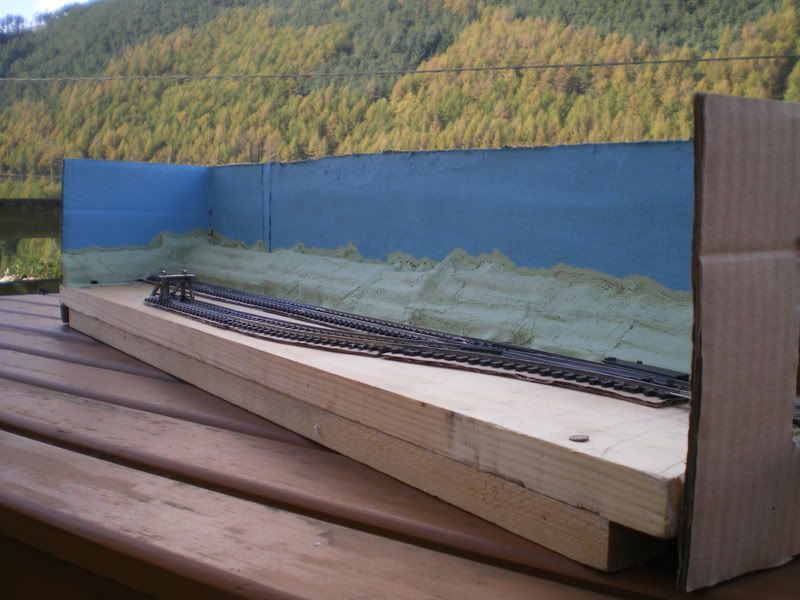 Some simple cardboard cut-outs later and up pop 2 industrial buildlings, to deter the viewer (you!) from the backscene which wasn't a success, but who's one to waste?!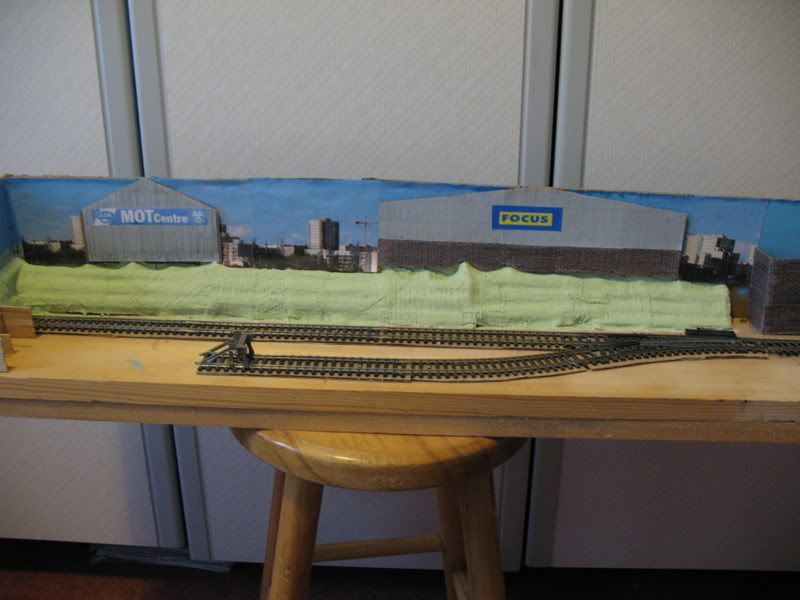 A few weeks and purchase of hanging basket liner later, resulted in the shelf layout looking a bit more real-like. The hanging basket liner was glued to the modroc embankment and to me improved the look, ten fold!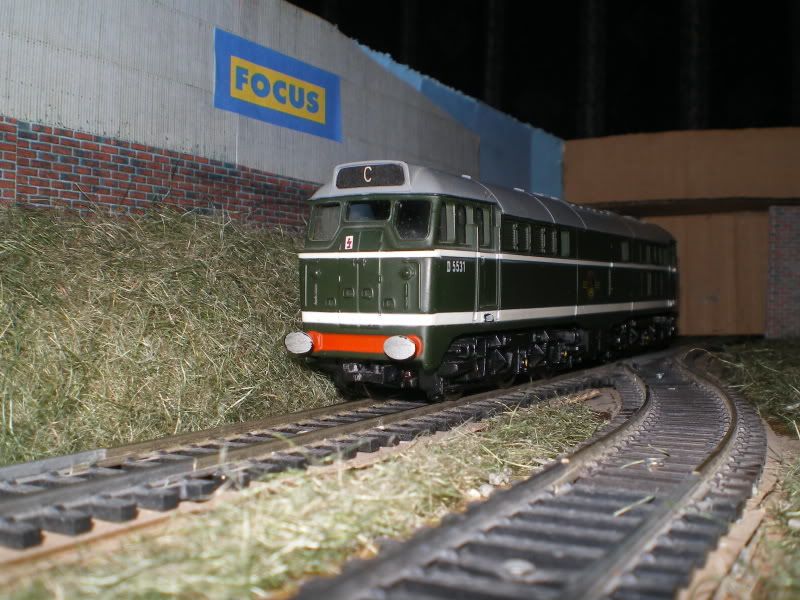 In the end, the shorter siding as shown in the first pic was being-under used and so i took the hard decision
to extend it to the embankment! and this provided the following fleet pic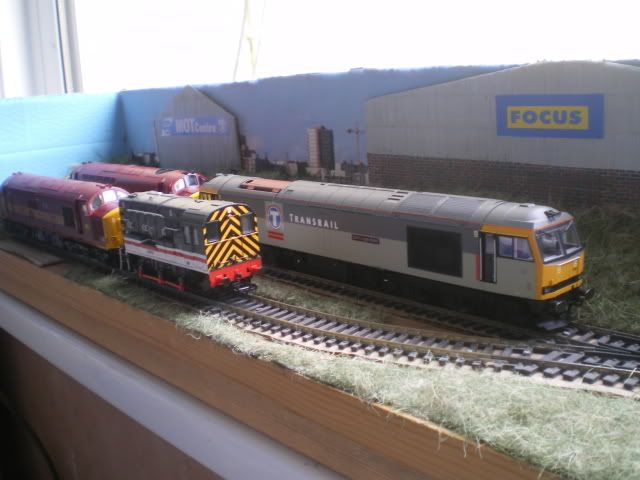 So here comes, the bridge and the hiding of the opening, to give the viewer a sense of its going or gone somewhere! Again, being recycled....Cardboard was used to create and then sprayed by Grey Car Primer! This strengthened the cardboard beyond, and so with added detail...it was finally getting there!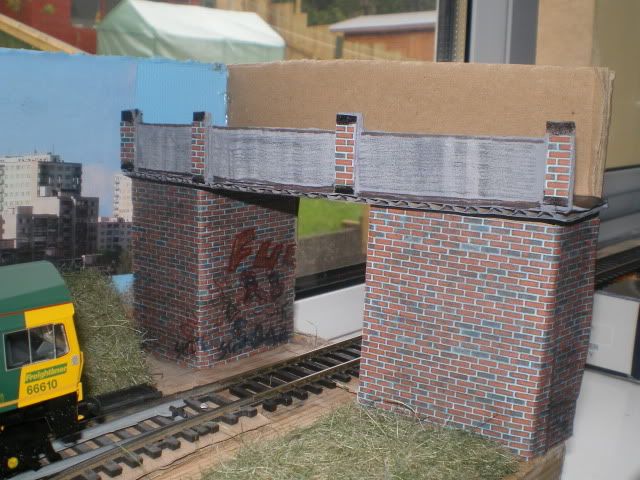 So it was back to the embankment, and adding more detail to what was there! First of all i added a 3D effect to the roof of the buildings by using very thin strips of balsa wood, i used a black felt tip permanent marker and coloured it before gluing it into place as shown below on the MOT centre building.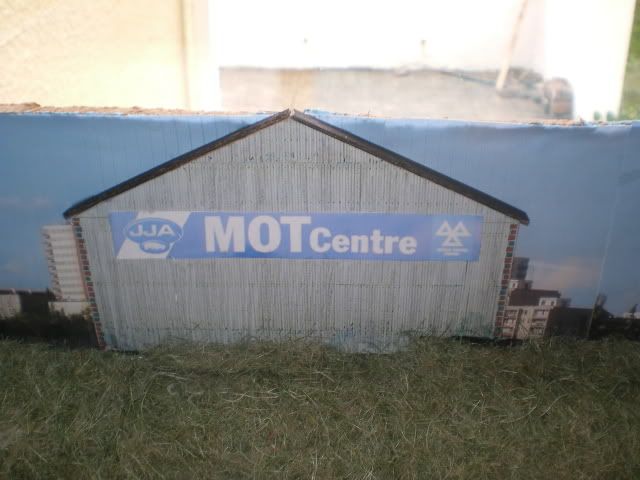 Whilst that was drying, my attention turned back towards the untouched backscene. I decided that i needed to put some sort of fencing on the embankment to again, give it depth and so i used some thin strips of balsa wood to create the fence. A bit of colour later and here was the result.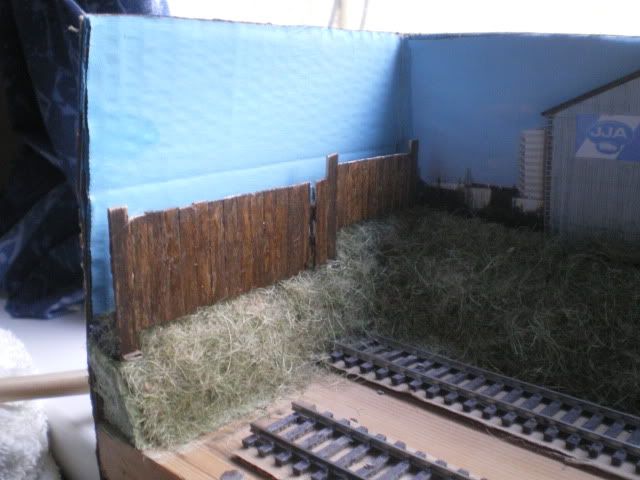 and while i was at it, an a ebay buy later....the second fence went up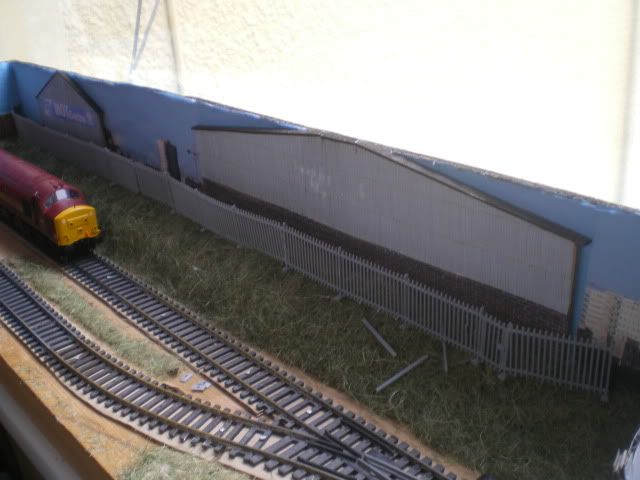 Thats it for now! Part 2 will be up after a cuppa!
Adam