Well, I have taken the plunge! Some of you may have seen my old layout, Bolsover N, which, after roughly two and a half years, I have called time on. It was fun whilst it lasted, but those 9 Inch curves and running problems have finally put paid to it. This is its replacement.
Space constraints havn't changed, but I have moved up to C80 medium points and flexitrack, except for the curves. Minimum radius is going to be 12", except for the use of setrack points in the fiddle yard (to save space)
.
One of my big bug bears with the last layout was the need to constantly take trains on and off the layout during and operating session-so a multiple road fiddle yard was a must.
Location? Well I wanted to use my current stock, so that would mean basing it somewhere in the East Midlands. It needed to cope with two periods-I have both BR Sectorisation stock and modern day privatised railway. I quite liked the idea of basing it somewhere between Nottingham and Sheffield, but didn't have enough space to model anywhere that was real......
So I came up with Ollerton. Its not based on the real place, I literally plucked the name whilst browsing the area on Google maps. I like roundy roundy type layouts, but I like something of interest that can be shunted. The idea is based roughly around the Lancashire, Derbyshire and East Coast Railway, but that unlike the real line it is imagined to have a link to Nottingham that is between the current Robin Hood Line and the ECML. Well, at least that is what i'm sticking to!

Here is the plan:
And over the past week I have been knocking together the baseboards. There is not much to see but it gives you an idea of the size of the scenic section: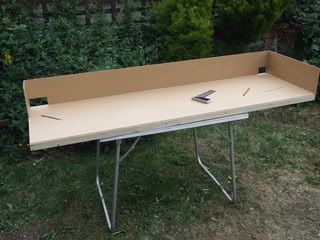 Anyway, that is as far as I have got so far!
Mat.