Hello everyone,
After being interested in this hobby for about 18 months I've started 5 layouts, a couple of which have made it on here in early stages but none of which have been anywhere near finished. This time I think I might have come up with a plan that might survive!! So I'd like to introduce my new layout Bloxwich Traction & Rolling Stock Maintenance Depot which I've been working on for about a month.
Customised from a Scalescenes.com element
It's N gauge, 90s-00s with a range of liveries, DC control, Peco setrack. The board is 1 foot by 4 foot. It's a totally fictional location but as the name indicates it's set in the West Midlands where I'm originally from.
My twist on the ever popular depot layout is that it features a very nearly 8 coach long depot building. The second twist being that an 8 coach train could never actually run onto the layout and the main front of the building is not modelled. In fact the building is actually just the backdrop/fiddle yard. This is the plan (not drawn to scale), blue shading indicates the depot building:

The imaginary story is that this is the South side of the depot which also has further sidings, a larger fuelling area and main line access to the North of the building. The main traffic in this area of the depot will be short engineer's trains coming and going/ 08s shunting wagons for repair/ locos and 2 car DMUs going to be rested.
Here's the fiddle yard tracks in place, the embankment started and a bit of testing in progress: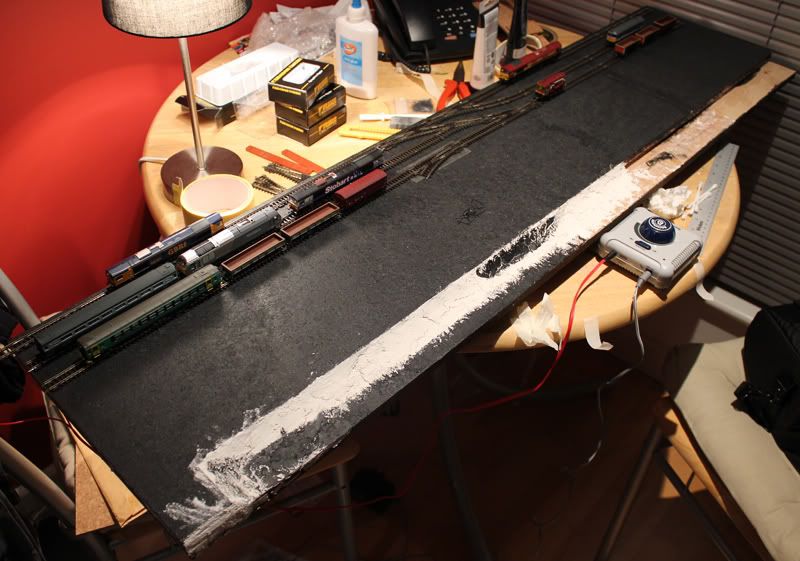 This is all the track in place and painted by hand, buffer stops added and the embankment painted:
The building started (which proved a little tricky as I had to leave room for fiddle yard access and still support the building.) Brick paper is from the excellent Scalescenes range.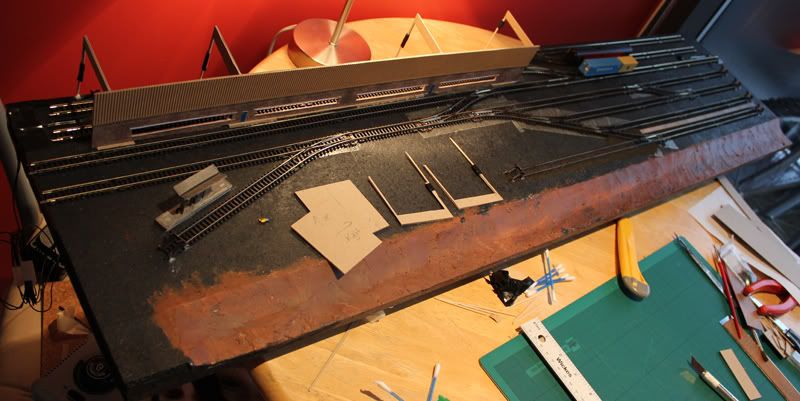 Main body of the building finished, but still to add a lot of details to break it up a bit – drainage, piping, walkways etc

Close up of the fiddle yard entrance in its current state
The first member of staff! He'll be waiting a while for anything to refuel!
There will be a yard/dumping site area towards the front with skips/storage containers/old rails etc. I'm hoping to fill the front siding (electrically dead anyway) with retired heavily weathered locos, 4 x 08s would fit very nicely! I'll be adding yard lights over the group of 4 sidings and a couple of lights to the outside of the building.
At the left end there will be a bridge carrying a single track passing over going from front to back and appearing either in a disused state or with a 153 passing across. This will hide the exposed fiddle yard tracks on that side. At the right side there will be stacks of containers, as the depot also sits on the fringes of an intermodal freight depot!
The next big job is ballasting which I hope to start properly soon.
Anyway all thoughts, questions and constructive criticism are very welcome.
Thanks
Nick