Hi Scott and Mark,
thanks for the good wishes!
Hi everyone else following this one,
I finally managed to get something done on the layout.
Remember those pipes I showed you some time ago? I added some more and made a stack out of them; as if the harbour area was used to store construction material.
Also I wasn't happy with the pile of sand I had added to that area. So it had to go and was replaced with a bigger one

. As I wanted to see how it turns out before I planted it on the layout, it was made off scene. The sand was piled up (Remember, nothing looks like a pile of sand like a pile of sand
) and glued using diluted PVA with a drop of washing-up liquid (with the side effect that the pile now smells like grapefruit and rosemary
). That wasn't as easy as I had thought, surface tension was still very high. But careful drop-by-drop application of the grapefruit-rosemary-PVA mix eventually got me there.
The pile was left to dry over night and was placed on the layout today using PVA. The edges were (hopefully well) hidden sprinkling sand around the pre-formed pile.
The construction storage area now looks like this: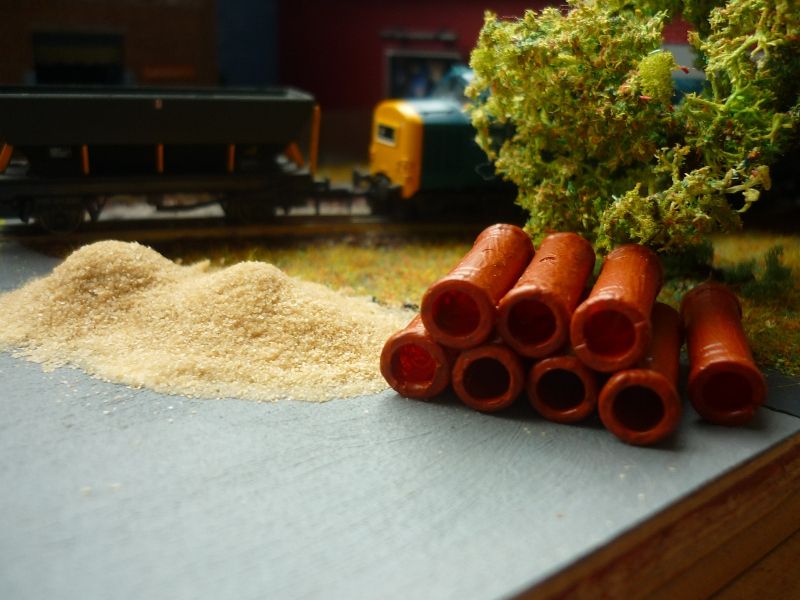 Hope you like it. Comments are always welcome.
That's it for now!
Michael