Its that time of the year again when an update is due. Since my last post I have spent the time trying to understand how point motors work using both Dc and Dcc at the same time. My plan was to use a motor that could switch polarity but be powered by a good old fashioned control panel. I dismissed the notion of controlling the points with a DT400 Digitrax hand controller simply due to the length of time required to enter a codes in order to select new routes whilst a train is in motion, besides having a control panel with lots of point switches and track diagrams has always appealed to me. Thus the time required to select routes would be a lot less than the DCC method. I purchased 24 Cobalt motors from DCC Supplies (who else?) and started to read the extensive documentation that is supplied on their web site. Now I have to be honest here and admit that electronics, wiring, wiring diagrams and other electrickery sort of stuff has always been and will be a complete mystery to me. It might as well be written in Martian. So I decided to rustle up a test track and experiment first before letting myself loose on the layout up in the loft. Using an old plank of wood, a couple of Hornby straights and a Peco electrofrog point I came up with "Wayfearers End". And here it is
A DCC bus was installed covering the length of the plank and using connecting blocks all the track pieces were wired up. I also purchased an installation template which enabled me to drill the holes required to hold the motor from above the plank.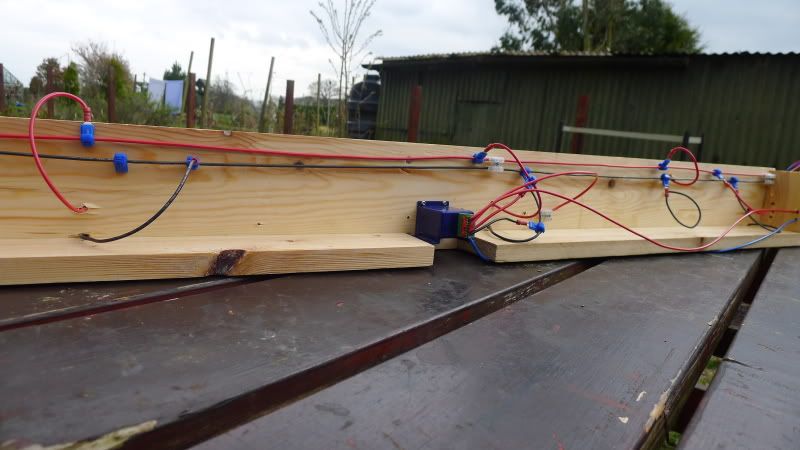 Each Cobalt has 8 crimp connectors (you can solder wires as 16 points are provided), plus 2 internal switches. This was the major selling point for me as a wire from the points frog can be connected directly to the motor and be switched accordingly. But as the motors operate at 9volts I had to purchase a small switchable power supply. One duly arrived and was then sent back because it was faulty. The replacement appears to work a treat. The wiring sequence for a Cobalt is as follows,
Pins 1 and 8 are connected to the 9v power supply. A DCC supply is connected to pins 2 and 3. The fouth pin is the internal switch output and is connected to the frog. A signal could also be operated off the same motor by attaching a power supply to pins 6 and 7 and connecting a wire from pin 5 to the signal. It sounds complicated but is much easier than using Seep or Peco motors. The other plus side is that if a shot occurs then the wires in pins 2 and 3 are the wrong way round and can be swapped in a matter of seconds. The Cobalts can be operated using a DCC source but they require accessory decoders but at a tenner each, I would need to spend around 300 pounds for the entire layout. Here is one connected up
To operate the point on this tester I bought 35 DPDT switches. My advice here is to try and buy these things with the cross over built in as I found it tricky getting wires connected in such a small space. However prices range from 35p to over a pound for each one, so if you see some cheap ones snap them up, I was quoted 8 week delivery times in some cases, but since I had recently taken up mugging old people as a pastime, money was no object so a pack of switches soon found its way into my sweaty and mostly hairy palms.
Finally everything was connected up and a loco was sent from one end of the track to another. Well it would have done had a short not sounded upon crossing the frog. The solution was to swap the wires over in pins 2 and 3. Everything worked fine. I now possessed the wisdom required to tackle the main layout.
I chose the name Wayfarers End after the painting "Winter Wayfarers" by Barry Freeman. These are available as jigsaws and are well worth getting as they are rich in colour and full of detail.