Hi everyone,
The shed is 95% complete now. Wiring is complete. This gives me 5 double sockets to play with. I only have some bits of trim around the door left to do (this is the 5%). Carpet is down and baseboards are started. Photos to follow later tonight...
In the meantime I thought I would add one of my many sketches to show my layout idea. This plan may change in the detail but the nuts and bolts of it are solid. It is basically a 'folder figure of eight'. So the top of the picture shows the station area, this also includes a raised mainline behind. The raised line crosses the station throat on a bridge into open countryside. This brings us to the bottom of the picture which will be a gravel depot. The sidings will be operated by a shunter and I am going to build a WORKING gravel wagon loader. This should make shunting very exciting indeed!!

The main fiddle yard will be hidden under the Gravel depot boards. The mainline then sweeps back around under the town scene (all green shaded areas represent hidden tracks) and into the station. There is some elevation change to achieve all of this but I have ample room for it not to be a problem. I had more severe (relatively) changes in elevation in Midville Junction mk1 than I do in this plan and none of my locos came close to struggling.
The Layout Sketch: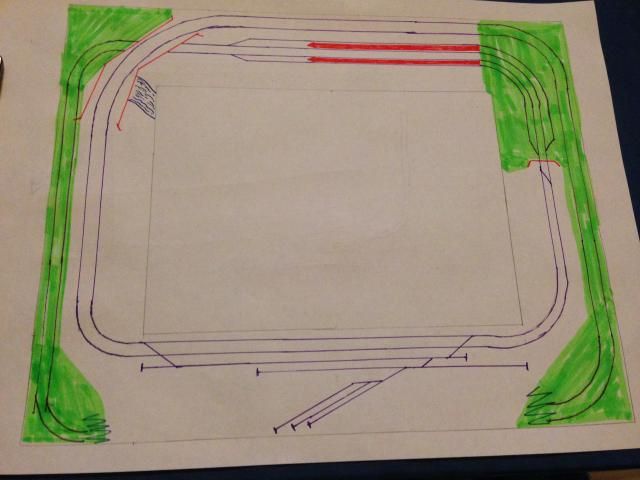 I have made more detailed sketches of the station plan (think Banbury-ish) and the gravel loading area. These are still a work in progress and subject to change/modification. I just wanted to give you a feel of how the new layout will look. I should also mention it is NOT TO SCALE. Across the top the picture is 6m / 20ft and the sides of the picture are 3.6m / 12ft
Any comments / thoughts please feel free to post
Thanks
Dan