No I'm not swapping and changing my mind, Canon Streets stock has been sitting in boxes for closing in on 2 years, I really do need somewhere to be able to stretch their legs and keep everything in working order. I also need somewhere to be able to stow away the four 2' x 4' baseboards for the
OO DCC layout
. What I'm thinking is to produce two 'chest of drawers' with each to hold two baseboards, so each chest will need internal dimensions of 2' x 4' by 3' high to house the boards. This in turn leaves me with a potential 2'2" x 8'4" workbench surface that is surplus to requirements; perfect dimensions for some N Gauge fun!
I'm thinking continuous run, with a twist. A classic dog bone trackplan twisted back on itself giving me 2 passing loops long enough to hold full length trains and allow a train to pass on each reverse loop. Now, a reverse loop in N takes up about 2' x 3', so that leaves a scenic section of just 2' x 5' or there abouts, and I don't like visible tight curvature so that cuts another 12" off the scenic run. Add into the mix that the reverse loops will need to be stacked on top of each other to save space means that the entire visible running line will need to be on a ruling gradient of 1:60 in order to meet the 50mm clearance required for the loops to sit one on top of the other. Quite the challenge, eh?
So the plan, this is the basic idea: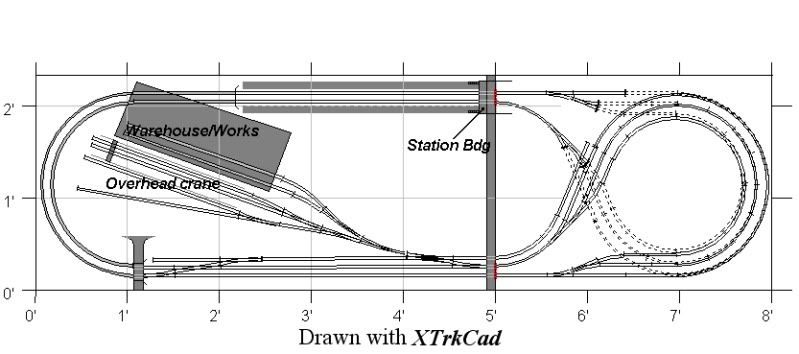 The problem I have with this plan is that the passing loop for the industrial sidings completes a reverse loop. However if I were to remove the crossing, bottom left, and just have the passing loop feed off the inner line, then there is no reverse loop on the layout at the expense of operational flexibility. To be honest, I'm not too fussed about that being as the yard spills directly into the upper storage loop, and that alone can soak up a lot of train movements to/from the yard. The alternative is some complex switching for DC to govern the yard feeds or two storage loops, or to convert to DCC and use a reverse module on either the entire yard, or a module for each of the loops. Personally, I think it would be easier to omit the crossover.
Any thoughts?