Welcome to my thread guys, I hope this is a successful build after the last couple of layouts have hit problems pretty early on.
So I am out of the dingy, damp basement room where my layout's used to be and after much bribery and cajoling have managed to persuade my son to let me use his spare bedroom for my layout in the future. Of course a cash transaction was required to secure the room but hey ho, a small price to pay for the luxury for a workroom with a window, no damp and no threat of demolition due to external parties.
After much help and assistance in the forums regarding baseboards and the like this is where I am right now...
As is usual for me I am going with 12mm mdf with many batons underneath, both screwed onto wall brackets and plenty of legs to stop sagging.
Then after all the joins have been glued tight the whole surface is covered with 6mm polystyrene, the joins taped over and the whole surface painted in grey.
I have added sheets of 15cm high hardboard to the whole of the back of the boards, I will not be having photographic backscenes on this layout, instead I will making backscenes of actual modelling such as a pathway, a rock face, low relief housing and the like.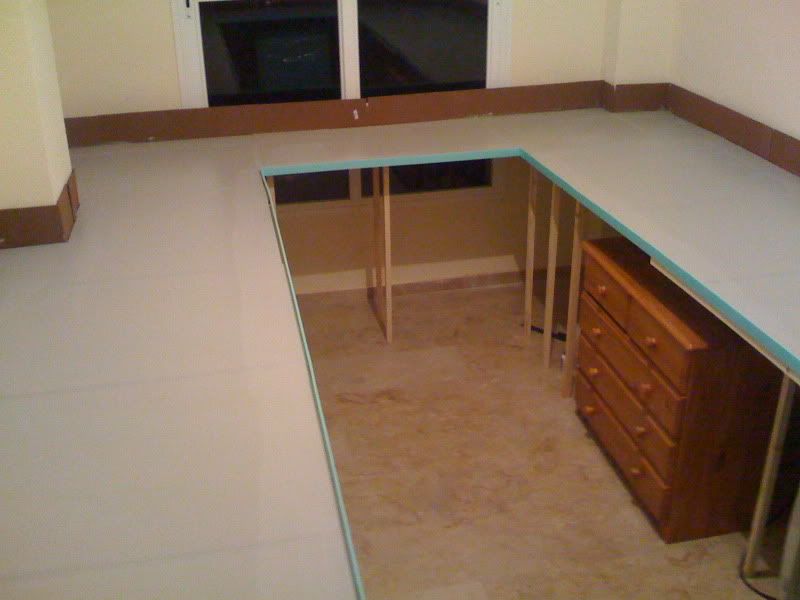 I am very happy with the boards so far and they certainly look ready to go, the small inner wall of polystyrene is just to create an edge and stop scenic scatters falling on the floor, I will detail these walls as I work around the layout.
So the boards on the sides are a total of just over 4 metres long and 90cm wide.
The boards at the ends are a little under 3 metres wide and 60cm deep.
A good size for me and I'm pretty excited about getting started.
I'll update soon with a proposed track plan, as usual I'll be going DCC with my ramshackle selection of stock in OO, I'm leaving the N gauge alone for a while....that's for another time.
Thanks for looking,
Gav.